This is AI generated summarization, which may have errors. For context, always refer to the full article.
New York-based Human Rights Watch says it chose not to give the Duterte administration an advance copy of its report, adding it doubts a dialogue with the current government is possible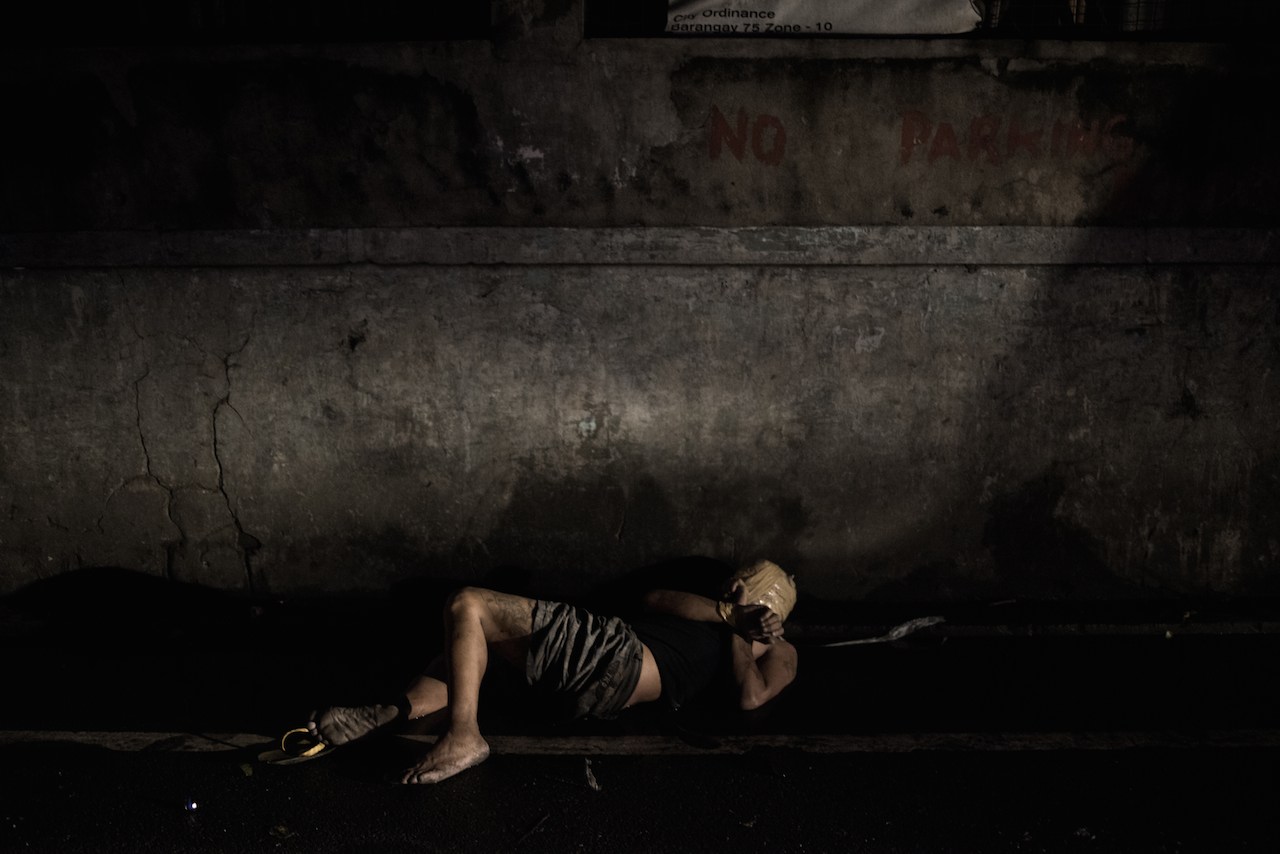 MANILA, Philippines – The Philippine National Police (PNP) is responsible for the extrajudicial, vigilante-style killings of drug suspects, New York-based group Human Rights Watch (HRW) said in a report released Thursday, March 2. These incidents, now in the thousands, is attributed by the police to unknown killers.
"These killings were not carried out by 'rogue' officers or by 'vigilantes' operating separately from the authorities," read the HRW report. "Our research indicates that police involvement in the killings of drug suspects extends far beyond the officially acknowledged cases of police killings in 'buy-bust' operations."
Since July 1, 7,080 people have been reported killed during the enforcement of President Rodrigo Duterte's drug war. 
On January 30, President Rodrigo Duterte accused members of the PNP of being "corrupt to the core" after the brutal murder of South Korean national Jee Ick Joo. The President dismantled the entire police apparatus he had empowered to enforce his war against drugs, effectively calling a halt to all police-led drug operations.
On Tuesday, February 28, the President allowed the PNP's return to the frontlines of the war on drugs. 
No distinction
Official numbers from the PNP distinguish between "suspected drug personalities killed in police operations" and extrajudicial killings – those killed by "unknown suspects" and marked as deaths under investigation. Incidents of extrajudicial killings typically involve masked assailants on motorcyles, or bodies left along roadsides with their heads wrapped in packing tape, their hands bound, with signs marking them as drug dealers or users.
(READ: Murder as Meme)
HRW has "found no such distinction" between extrajudicial killings and deaths during police operations. 
The police list 2,555 people killed allegedly in self-defense by the police in various operations. At least 3,603 are listed as deaths under investigation. 
In its 117-page report, "License to Kill': Philippine Police Killings in Duterte's 'War on Drugs," HRW examined 24 incidents resulting in 32 deaths between October 2016 and January 2017 from Metro Manila and nearby provinces.
HRW noted that although the number does not constitute a scientific sampling of the killings, "they share similarities with the vast majority of the cases reported in the media." 
At least 12 of the 32 cases HRW investigated have been reported as extrajudicial killings. Those with existing police reports offered data markedly different from the testimonies of relatives and witnesses, whose names were withheld for their safety.
Although HRW did not seek comment from specific police officials or station commanders regarding allegations of murder, none of the policemen referred to were named in the report.  
"We believe that people have the right to a fair procedure," Peter Bouckaert, HRW Emergencies Director who wrote the report, told Rappler in an interview. "We do not want to accuse individual police officers by name in a report which is a broader investigation.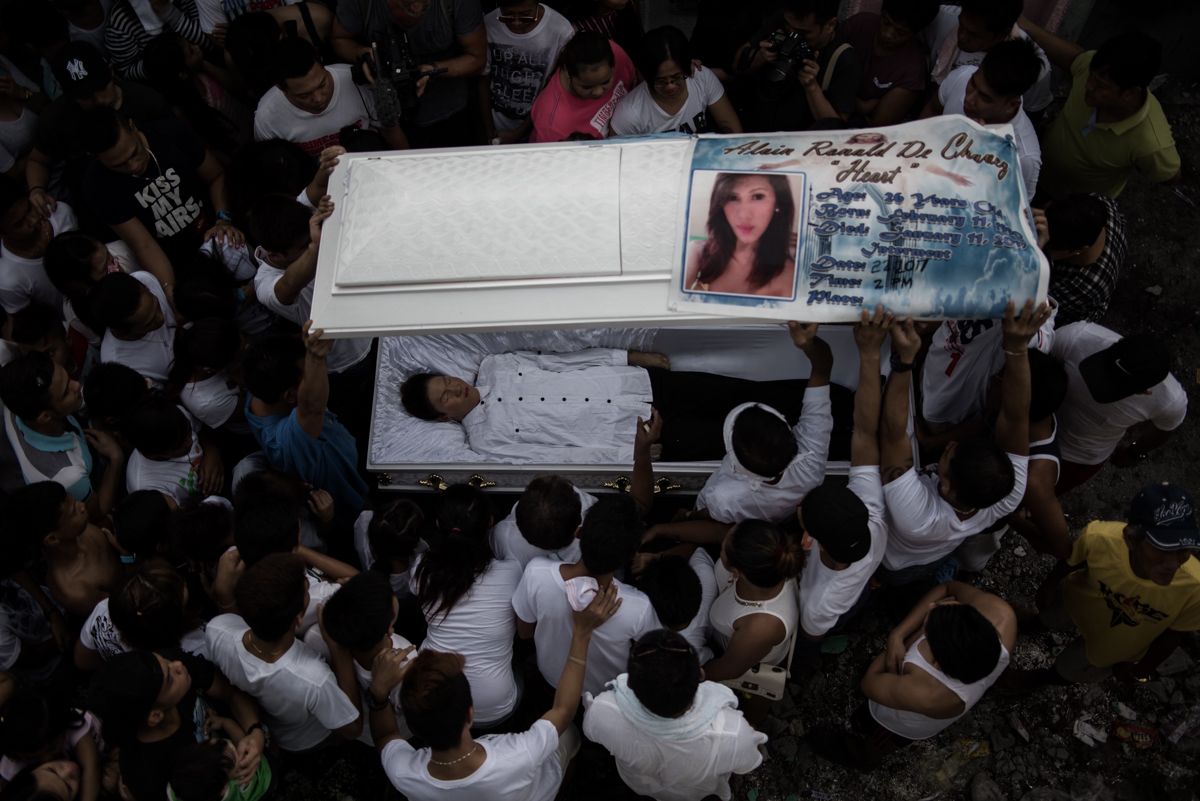 Undercover police
The narratives enumerate patterns that point to direct or indirect police responsibility in extrajudicial killings.
HRW pointed to the use of face masks, arrests in white vans, and the arrival of groups of armed men that "mirror countless other operations by undercover police."
They also note the presence of allegedly unknown assailants who openly cooperated with responding policemen or, as in the case of Heart de Chavez, freely walked through heavily policed neighborhoods after a killing.
De Chavez, 26, was killed on January 11. Her mother Elena told Rappler that police had attempted to extort P50,000 when de Chavez was detained 4 days earlier. Relatives and neighbors testify that de Chavez had been beaten and dragged out of their Barangay San Jose home just before she was shot. The family added they recognized the killers as policemen, an accusation that Navotas Police Chief Dante Novicio denied to Rappler – "We don't go into homes and kill people," Novicio said. (Read: Welcome to the End of the War)
Question of reality
"It comes down to the question of reality," said Bouckaert. "If you go to these neighborhoods and see how heavily policed they are, ask yourself, is it possible to have a group of killers, 8, 10 people, to drive around every night, night after night, around these neighborhoods and kill people, without working together with the police? It simply, it doesn't meet the test of reality."
The President has denied the police have any connection with the thousands of extrajudicial killings.
"For the extrajudicial killing," said Duterte in an August 21, 2016 press conference. "We say it's not the work of the police to be wrapping people with [plastic tape] and put him in the bag, that is not a job of the police." 
(READ: Execution at Cessna) 
Perhaps the most compelling evidence comes from cases where victims were taken into the custody of either police or local officials just before their bodies were classified as "found bodies" or deaths under investigation.
"Such cases," said HRW, "call into question government assertions that the majority of killings were carried out by vigilantes or rival drug gangs."
On August 18, 2016, a released convict named Angelo Lafuente, 23, was with two other companions – Benji, 24, and Renato Forio Jr., 26 – when they were detained at 4 pm by 2 uniformed police officers and 4 armed men in plainclothes and masks. The 3 were put into a white police van in the presence of relatives, just after their hands were tied behind their backs with plastic straps.
Lafuente's relatives told HRW that they followed the police to the Navotas Police Station. They were told to wait while the 3 were being tested for drug use. Lafuente had P15,000 ($300) in his pocket meant to secure the release of his father, at the time detained for marijuana posession. 
Twelve hours later, the 3 were dead. Police showed relatives photos of their corpses, pocked with gunshot wounds, their arms still bound with plastic straps. Lafuente and Benji were found under the C-3 bridge in NBBS. The police claimed shabu was found in both of their pockets. Forio's body was found in a different area of the neighborhood. The P15,000 in Lafuente's pocket was gone. 
The police attributed the killings to unknown gunmen.
HRW said the police report "does not address the evidence that the three men were taken in police custody hours before their bodies were found, and that their bodies were found still handcuffed. Furthermore, a witness later told Lafuente's relatives that he had witnessed plainclothes men with masks beating Lafuente under the bridge the evening of his death." 
HRW also included the story of brothers Aljon and Danilo Mesa, killed within 6 days of each other in Navotas City.
On September 20, Aljon, 23 and a local drug dealer named Jimboy Bolasa were beaten by 6 masked men inside a house, allegedly with uniformed police deployed to secure the perimeter. Neighbors say the two were blindfolded before being put on motorcycles. Thirty minutes later, a uniformed policeman told Aljon's relatives that Aljon could be found under a nearby bridge, "breathing his last breath."
Both Aljon and Bolasa were found by relatives with their wrists bound, dead from gunshot wounds. Relatives claim the masked men were still at the scene when investigators arrived. 
The police report described the nature of the case as "Found Bodies." The police claimed a "concerned citizen" had alerted the police to the presence of the two bodies. 
Six days later, Aljon's brother Danilo, 34, was detained by what relatives claimed was a group of 10 policemen, some of them uniformed. Danilo was supposedly taken to the barangay municipal hall. His family said 2 others who were detained with him were released after bribes were paid. The Mesa family, fresh from paying for Aljon's funeral, could not raise the funds. Danilo was left in the custody of barangay officials. The family believed him safe. 
Danilo, an occasional drug user, was taken out of the municipal hall 6 hours later. His body was found a block away shortly after. He had been shot through the mouth, his hands tied behind his back, his head wrapped in packing tape. 
The circumstances, said HRW, "indicate involvement by both by the police and barangay officials."
Dialogue 'not possible'
Unlike in previous investigations, HRW did not supply advance copies of the report to concerned government agencies for comment. Bouckaert said they'd give it if "the government is genuinely interested in telling the truth because we are interested in dialogue." In this case, "we don't think that it's possible to have that kind of dialogue."
"We know exactly what the response of the Philippine authorities will be," he added. "They will say we are a bunch of foreigners trying to meddle in the affairs of the Philippines. Well, we have been investigating the drug war for the last 20 years. We have been here since martial law, and we've been protecting the rights of the Philippines for all this time. And we will continue to do so under Duterte."
Bouckaert said HRW's decision against acquiring comments from government officials and police officers in specific cases also stems from security concerns.
"Duterte has made very serious threats against human rights activists and against journalists," he said. "So our first priority is to make sure that all of the people we work with are safe, including ourselves." 
(READ: In the Name of the Father)
No evidence vs Duterte
The report is clear that there is "yet no evidence that President Duterte directly ordered specific extrajudicial killings."
However, HRW holds the President responsible for "statements encouraging vigilantes among the general population to commit violence against suspected drug users could constitute incitement to violence."
The rights group noted that since his inauguration, no police officer has been arrested or prosecuted for any role in the alleged extrajudicial killing of a drug suspect. HRW said the failure "sends a message that those involved need not fear being held to account, and that future killings can be carried out with impunity."
The eliminination of drugs was one of the pillars of Duterte's campaign promises. He swore to end the drug scourge in 6 months, later revising his deadline to the end of his term in 2022. – Rappler.com