Asked about transparency, Senate Majority Leader Vicente Sotto III says individual members can divulge their own votes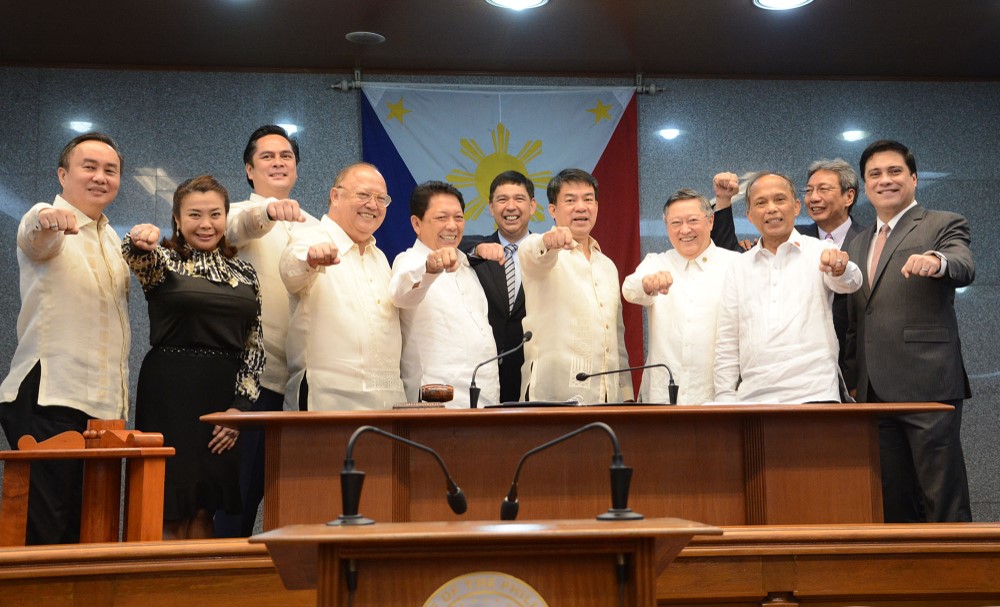 MANILA, Philippines – The powerful Commission on Appointments (CA) on Tuesday, March 7, approved new rules to allow, upon a motion, secret voting by members on appointments.
CA committee on rules chair Isabela 2nd District Representative Rodolfo Albano III said the panel conducted 3 meetings in November, January, and February to hear the matter.
Senate Majority Leader Vicente Sotto III, also CA assistant majority leader, said the secret ballot would allow members to follow their "conscience vote."
"Kasi mas ma-e-exercise ng CA member 'yung kanyang conscience vote imbes nag-su-succumb to lobbying, pressure. Ito sarili niya talagang desisyon kung i-reject [ang] nominee," Sotto told reporters, citing his long years in the CA. (Instead of succumbing to lobbying, pressure, the CA member will be able to exercise his or her conscience vote.)
"'Di katulad dati, napipilitan. Sa tagal ko sa CA, nararamdaman ko na nararamdaman ng iba," he added. (Unlike before, they've felt forced. In the years I've spent with the CA, I already feel what others are feeling.)
Once a nominee is rejected, Sotto said he or she can no longer be reappointed by the President.
Sotto said the secret voting would be implemented starting Wednesday, March 8, during the confirmation hearings of two controversial Cabinet members, Foreign Secretary Perfecto Yasay Jr and Environment Secretary Gina Lopez. (READ: CA members to reject Yasay appointment)
What about transparency to the public? Sotto said individual members could divulge their own vote if they want to.
"'Di muna [malalaman ng public] unless gusto mo. Ikaw as member gusto mo i-divulge, sabihin mo, you're not prevented from doing so. Although if the entirety of the result is necessary, it has to be done in plenary," Sotto said. (Unless you want to, the public won't first know your vote. If as a member you want to divulge, then say so, you're not prevented from doing so.)
A two-thirds vote (16 votes), he said, is needed to divulge details of an executive session.
3-strike rule, membership at large
Sotto said the CA also adopted 3 other new rules in the confirmation process, which would be effective after 15 days.
These include the 3-strike rule, the shortening of the required notice before hearings from 3 days to one day, and the automatic membership of all 25 members in all CA standing committees except the committees on rules and accounts.
Under the new policy, the CA would now be mandated to vote – either to reject or confirm – the appointment of a nominee who has been bypassed thrice.
Bypass is when the CA fails to schedule a nominee while Congress is in session. Rejection, on the other hand, is when an appointment is categorically thumbed down by the CA.
Asked if the influx of controversial appointees is a factor in the CA's changes in rules, Sotto said: "Yes and no. Yes, because may mga gano'n (there are such cases), it's been the experience of the CA especially in the last admin. I'm not confining it to the last administration, it happened in other administrations."
He cited the case of former social welfare secretary Corazon Soliman, former justice secretary and now Senator Leila de Lima, former environment head Ramon Paje, and the late justice chief Raul Gonzales.
"'Pag naba-bypass, renew lang nang renew. (When they're bypassed, they just keep on renewing the appointment.) In the last administration, at least 2 to 3 were bypassed 20 times and reappointed 20 times. At 'yung iba naman 'di sinu-submit, 'di nag-su-submit ng dokumento. Ilang bypass na paulit-ulit na (And the others don't submit documents. Several were repeatedly bypassed)," Sotto said. – Rappler.com