(3rd UPDATE) The Ilocos Norte governor joins the trip to meet Ilocano OFWs in the Middle East. Uson is there to 'boost morale and well-being' among OFWs, says Malacañang.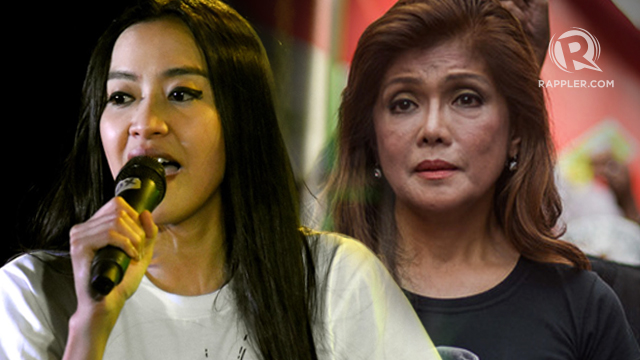 MANILA, Philippines (3rd UPDATE) – Ilocos Norte Governor Imee Marcos and Movie and Television Review and Classification Board (MTRCB) member and Duterte online defender Mocha Uson are part of President Rodrigo Duterte's official delegation to the Middle East.
Presidential Spokesman Ernesto Abella confirmed Uson's inclusion in the official delegation in a message to reporters on Tuesday, April 11.
"The appointed official of the Movie and Television Review and Classification Board is part of the Philippine delegation," said Abella. 
Duterte's spokesman made it clear Uson was part of the foreign trip as a blogger.
"She has a large following among the overseas Filipino communities, especially in the Middle East, and it is in their interest that she has come to help boost morale and well-being," said Abella.
Asked about  Uson's inclusion in the govenrment delegation, Abella said in a news briefing in Riyadh, the first leg of Duterte's Middle East trip, Thursday afternoon in Manila that this was based on the request of OFWs in the Middle East.
"They wanted to have fellowship with her. So it's just a question of basic fellowship and encouragement," he said.
On Monday, Uson posted a video of her riding the presidential plane along with Cabinet members and Presidential Management Staff personnel.
Uson, being a government official, was included in the official delegation and not the media delegation which arrived ahead of Duterte. During the President's visit to China, another Duterte online defender, RJ Nieto, was considered part of the "social media" delegation given accreditation by the Presidential Communications Operations Office.
Abella was tentative on his answer on whether the government, which invited Uson, shouldered her trip. Uson is expected to grace the President's meetings with the Filipino communities in the 3 countries.
"She was part of the entourage so I suppose. I'm not sure but I'm assuming she was," he said in Riyadh.
Personal request
Marcos told reporters she personally requested to be part of the Middle East visit.
"I really requested to join because of the overseas, migrant, labor [issues] in the Middle [East]," she told reporters in a mix of English and Filipino on Monday, April 10, at the Davao International Airport.
"Napakaraming Ilokano, napakaraming kababaihan, so importante sa akin na kahit papaano ay malaman 'yung sitwasyon nila kung nag-improve na ba dahil ang pagkaalam ko, libo-libo pa rin ang naiiwan doon although we have to work on it," said Marcos.
(There are so many Ilocanos, so many women, who are important to me so, at least, I can find out their situation, if it has improved because from what I know, thousands are still there although we have to work on it.)
It was during the regime of her late father, former president Ferdinand Marcos, when Filipino workers headed in droves to the Middle East to escape the economic crisis in the Philippines.
Marcos, the eldest daughter of the late strongman, joined Duterte's official delegation in two previous foreign trips: China and Singapore.
She caused a stir when she was seen in China because at the time, her province was under a state of calamity after being hit by Super Typhoon Lawin. 
She was joined in the China visit by her brother, defeated vice presidential candidate and former senator Ferdinand "Bongbong" Marcos Jr.
Marcos explained that she had joined the China visit because it was her father who began diplomatic relations with the Asian giant in the 1970s.  She joined Duterte's Singapore trip because of her familiarity with the country, having lived there for a time. 
Like Marcos and Uson, defeated senatorial candidate Sandra Cam said she also belonged to Duterte's official business delegation to the Middle East.
Cam said she is "helping our President for the repatriation" of 93 distressed overseas Filipino workers (OFWs)," Cam said in an interview on the sidelines of the Philippines-Riyadh Trade and Investment Forum in Saudi Arabia on Wednesday, April 12.
"And of course as you all you know, my advocacy is really for the overseas Filipino workers, and that's the reason why I'm here in the kingdom," she said.
Asked how exactly she was helping OFWs there, Cam responded: "Well I don't need to tell you what I did because I'm not that kind of person. But you can check it out with the OFWs that will be repatriated this afternoon kung ano ang ginagawa ng isang Sandra Cam pagdating sa OFWs (about what a Sandra Cam is doing when it comes to OFWs).
Francis Tolentino, another defeated senatorial candidate, also joined Duterte in his Middle East trip. Tolentino, who once chaired the Metropolitan Manila Development Authority (MMDA), said he was part of Duterte's "accompanying delegation" and declined to comment further. – Rappler.com