Reporters Without Borders, in its annual World Press Freedom Index, warns President Rodrigo Duterte's insults and open threats against media do 'not bode well'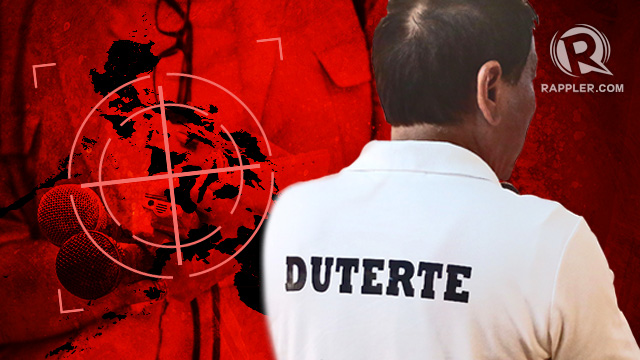 MANILA, Philippines – The Philippines continues to be one of the most dangerous countries for media despite a decrease in the number of journalists killed in 2016, according to the 2017 World Press Freedom Index. 
Media watchdog Reporters Without Borders (RSF) noted in its report released on Wednesday, April 26, that "insults and open threats against the media by President Rodrigo Duterte, another new strongman, do not bode well."
The country currently ranks 127th out of 180 countries with a score of 41.08 points from 2016's 138th place with a score of 44.66 points. 
"The media are fairly free and diverse, but Rodrigo Duterte, who was sworn in as President in June 2016, has alarmed media freedom defenders with his unveiled encouragement of violence against journalists," it said.  
RSF also named private militias and blocktiming as tools that "blur the frontiers of journalism" in the Philippines.
"Private militias, often hired by local politicians, silence journalists with complete impunity," it said. "An airtime rental system known as blocktiming is widely practiced, allowing anyone to host their own political program." 
'Never under so much threat' 
Globally, the RSF index found that at least 2/3 of all countries registered a deterioration in their situation. The number of countries where the media situation was "good" or "fairly good" fell by two points. 
The media watchdog called out the situation of press freedom as "never been as threatened as it is now" especially in the era of fake news following the election of United States President Donald Trump and Britain's Brexit referendum. 
"Attacks on the media have become commonplace and strongmen are on the rise. We have reached the age of post-truth, propaganda, and suppression of freedoms – especially in democracies," it said in its report. – With a report from the Agence France-Presse/Rappler.com