Both leaders expect a boost in trade between the two countries with the opening of the new Davao-General Santos-Bitung route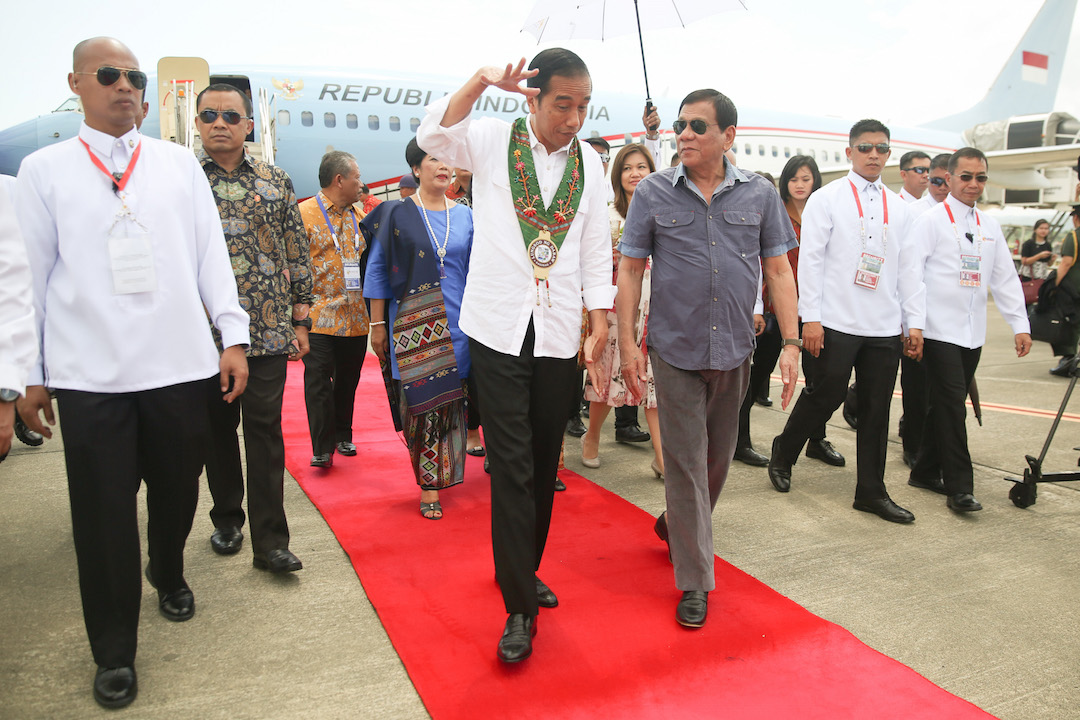 MANILA, Philippines – Philippine President Rodrigo Duterte and Indonesian President Joko Widodo launched on Sunday, April 30, a ferry route between the two neighboring countries.
The roll-on, roll-off (ro-ro) ferry is set to ply the Davao-General Santos-Bitung route, with both leaders expecting a boost in trade.
Widodo, popularly known as Jokowi, was in Duterte's hometown Davao City with his wife Iriana to join the launching of the pioneering transport route.
"This route shall be the first of many routes to be formed for the international ro-ro network envisioned by our ASEAN leaders to provide more accessibility and opportunities for our countries," Duterte said in a speech.
"I once again thank President Widodo, the government of Indonesia and our private partners for helping us make this first ASEAN Roll-On, Roll-Off route possible. Let this event serve as a reminder that our relationship is not just between trade partners, but between friends that are tied together by a bond that transcends borders," he added.
Jokowi, for his part, said the trade between the two countries would increase with the new route, which is expected to cut shipping time of goods from 5 weeks to 2-3 days.
"[This] is an important milestone. It will cut the amount of time for the transportation of goods between the two regions from 5 weeks to 2 days. This launch is happening at a favorable time. Last year, trade between our 2 countries increased by more than 30% from the year before," Jokowi said in his speech.
Goods from Mindanao such as animal feeds, fertilizer, construction materials, ice cream, poultry, fresh fruits, and synthetics would be among those shipped to Indonesia.
Imports from Indonesia, on the other hand, include matured coconut, copra, corn, feed ingredients, lumber, cement, high-value crops, vegetables, meat, peanuts, aqua products, charcoal, soya, coffee beans, and sugar.
Giving chance to provinces
The Indonesian leader also recognized the importance of granting opportunities to provinces. Like Duterte, he said he was also a mayor of a small city far from Indonesia's capital, Jakarta.
"This wonderful city, this great treasure, like you, Mr President, I too was a mayor of wonderful city like this. President Duterte and I sincerely believe that people in the outer regions are just as smart, strong, and resourceful as the rich people in the capital cities. They only need one thing and one thing only. And that is to be given a chance," Jokowi added.
The M/V Super Shuttle ro-ro ferry service with a capacity of 500 TEUs (twenty-foot equivalent units), operated by the Asian Marine Transport System, will be the first to set sail and will provide weekly services along the route.
The new Davao City-General Santos-Bitung shipping route, which is within the Brunei Darussalam-Indonesia-Malaysia-Philippines East ASEAN Growth Area (BIMP-EAGA), is the Philippine government's maiden accomplishment under its ASEAN chairmanship this year. – Rappler.com