For 2017, law schools that intend to accept non-passers of the Philippine Law School Admission Test will have to submit a justification to the Legal Education Board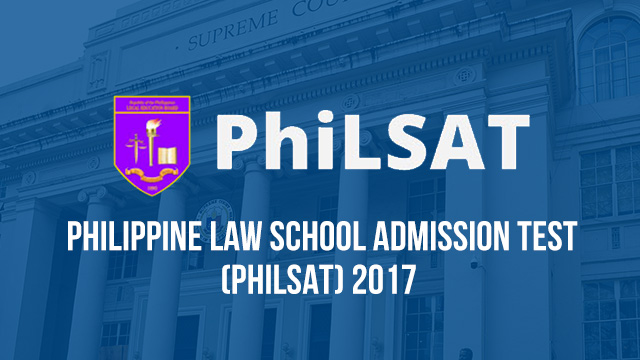 MANILA, Philippines – A total of 6,575 from the 8,074 examinees passed the first ever Philippine Law School Admission Test (PhilSAT), representing an 81.43% passing rate. (See list of passers here.)
Joy Ann Moral Duran topped the entrance test with 96%, followed by Jan Michael Mendoza Say and Ryan Daniele Yang Uy, who both scored 95%. The passing grade was adjusted to 45% as consideration because the examinations have limited review materials.
The Legal Education Board (LEB) released on Friday, May 5, the results of the 2017 PhilSAT following a record high passing rate of the Bar examinations also this week. (READ: More 'reasonable' Bar exams resulted in high passing rate)
LEB Chairman Emerson Aquende clarified that those who did not pass the PhilSAT this year may still have a chance if the accepting law school can justify the reason.
"There is a transition provision in our regulation that gives law schools the discretion to accept even those who did not pass, but they will need to submit a justification to the LEB," Aquende told Rappler.
"A most justifiable example is one who got a score slightly below the passing grade but their grades in college were very satisfactory and scored well in the entrance test of the law school," Aquende added.
The PhilSAT will become mandatory in 2018, meaning no student may be accepted into a law school if they did not pass the PhilSAT.
Law schools can still implement their own entrance examinations as a second screening for aspiring law students.
This may all still change because there is a petition before the Supreme Court (SC) that challenges the constitutionality of the PhilSAT.
Earlier in April, the SC ordered LEB to justify Republic Act 7662, which paved the way for the creation of the PhilSAT.
Aquende refused to comment on the SC case. The Philippine Association of Law Schools also refused to comment. 
"There being no temporary restraining order, and consistent with the presumption of the constitutionality of all statutes enacted by Congress and approved by the President, the LEB continues to function and our regulations continue to be effective," Aquende said. – Rappler.com