(UPDATED) The newly appointed assistant secretary for social media will get a monthly gross salary of at least P106,454, plus allowances and bonuses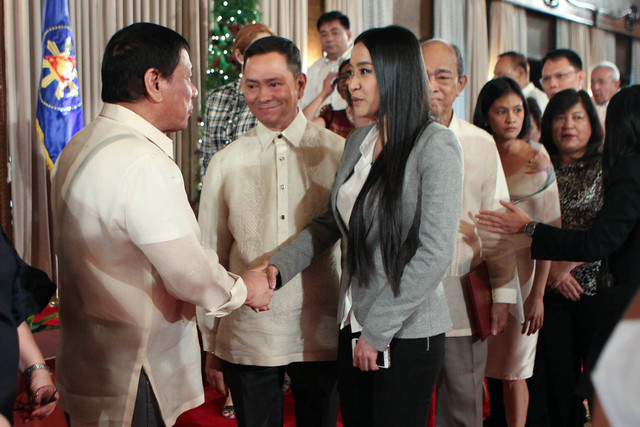 MANILA, Philippines (UPDATED) – The appointment of celebrity dancer and blogger Mocha Uson as assistant secretary of the Presidential Communications Operations Office (PCOO) has caused a stir among the public.
Uson was appointed assistant secretary for social media, a new post created just for her.
But how much exactly will the government pay the dancer-turned-public official, who is also a staunch defender of President Rodrigo Duterte?
Assistant secretaries, according to the Department of Budget and Management, have a salary grade of SG 29 or a monthly basic gross salary of at least P106,454. This amount already reflects the second tranche of increase starting January 1, 2017, as signed by former president Benigno Aquino III, one of Uson's targets in her blog.
Based on the 2017 General Appropriations Act (GAA) or the national budget, an assistant secretary is also entitled to a total of P20,000 monthly RATA or representation (P10,000) and transportation (P10,000) allowance, a P5,000 monthly "extraordinary and miscellaneous" expenses (or a total of P60,000 annually for assistant secretaries), and a P2,000 monthly personal economic relief allowance or PERA (for all government employees).
The P10,000 transportation allowance may not be given if an official is provided with a government vehicle and driver.
Section 42 of the General Provisions of the 2017 GAA defines "extraordinary and miscellaneous" funds as "expenses incurred for the following":
Meetings, seminars, and conferences
Official entertainment
Public relations
Educational, athletic, and cultural activities
Contibutions to civic or charitable institutions
Membership in government associations
Subscription to professional technical journals and informative magazines, library books, and materials, among others
This means Uson would get at least P133,454 monthly before taxes (P106,454 gross salary + P20,000 RATA + P2,000 PERA + P5,000 extraordinary and miscellaneous expenses).
On top of her monthly salary and allowances, Uson, just like any government employee, is entitled to a mid-year and year-end bonus, which are both equivalent to a month's salary. She is also entitled to a yearly P5,000 clothing allowance and a P5,000 cash gift.
But more than the monetary benefits, Uson now wields influence and power as an assistant secretary serving in Malacañang. (READ: Duterte on Mocha Uson: 'Utang na loob ko 'yan sa kanila')
Power of social media
Uson, in a televised interview, said she would focus on harnessing the power of social media to reach more Filipinos, especially those abroad.
"Naka-focus tayo do'n sa mga nais matulungan, maraming hinaing. At sa social media do'n na nga nagiging sumbungan ng mga kababayan natin, lalo na OFWs (overseas Filipino workers) na 'di nabigyan ng pansin noong nakaraang administrasyon, ngayon lang nagkakaroon ng boses," she said.
(We are focused on those who need help, those who have many complaints. And social media has become a venue for our countrymen, especially OFWs who were neglected by the past administration, to air their grievances. They just gained their voice now.)
Before getting a post at the PCOO, Uson was appointed board member of the Movie and Television Review and Classification Board (MTRCB).
Her show over radio dzRH was suspended after she bad-mouthed Vice President Leni Robredo on air.
As PCOO assistant secretary, Uson would be involved in relaying the government's efforts and messages to the public and to the media. (READ: How Facebook algorithms impact democracy)
Uson, who has a wide following on social media, has been accused of spreading misleading news online, something she denies. (READ: Photo used by Duterte camp to hit critics taken in Brazil, not PH) 
Uson became popular for leading the Mocha Girls, an all-female group of dancers who appeared during Duterte's sorties in the 2016 presidential elections. 
Before Duterte's campaign, she was known for giving sex tips online. – Rappler.com
Editor's note: An earlier version of this story indicated that Uson's representation and transportation allowance amounts to P10,000. Section 54 of the 2017 General Appropriations Act however provides for a P10,000 representation allowance and a separate P10,000 transportation allowance. The necessary correction has been made.