The announcement comes almost 5 days after martial law was declared in Mindanao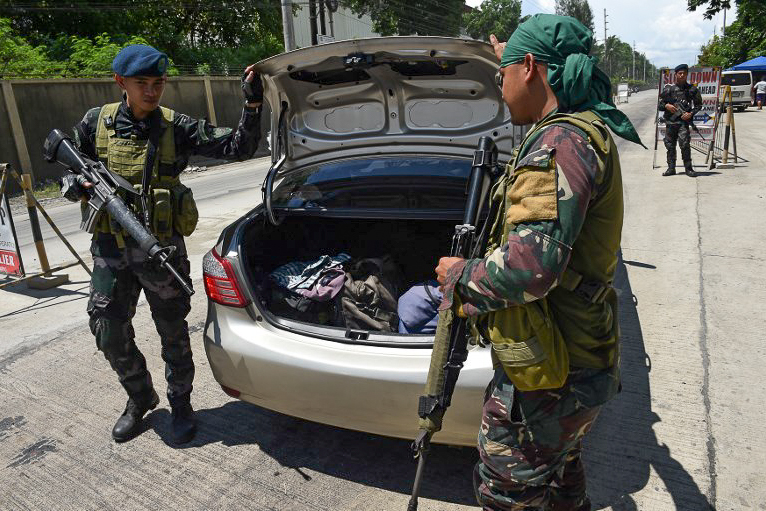 DAVAO CITY, Philippines (UPDATED) – Following the declaration of martial law in Mindanao, the Philippine National Police (PNP) on Saturday, May 27, announced the suspension of all permits to carry firearms outside one's residence. 
PNP chief Director General Ronald dela Rosa made the announcement through the Director for Operations, Director Camilo Cascolan. Dela Rosa, as PNP chief, will be working with martial law administrator Armed Forces of the Philippines chief General Eduardo Año. 
"In connection with ML in Mindanao, ALL PTCFORs (permit to carry firearms outside of residence) in Mindanao are hereby suspended," read the message to all directorial staffs, regional directors, and national support units. 
Military, police, and other law enforcement agents performing officials duties are allowed to carry firearms, provided they are in uniform, Cascolan said in a text message. 
The PTCFOR allows registered owners to carry their firearms outside their residence or place of residence. No less than the PNP chief or an authorized representative issues these permits, which are coursed through the PNP's Firearms and Explosives Office. 
The whole of Mindanao was placed under martial law following clashes between government forces and the terrorist Maute and Abu Sayyaf Groups in Marawi City. President Rodrigo Duterte also suspended the privilege of the writ of habeas corpus. 
The declaration allows the military to take over the local government and police's duties in areas where they are unable to handle peace and order.
The suspension of the writ means soldiers and police cannot be compelled to produce the body of a person believed to be in their custody. 
The martial law declaration, however, does not mean that basic rights will be curtailed. In various memorandums and verbal pronouncements, the military and police have reminded personnel that the rule of law and human rights norms still apply in areas under martial law. 
The government has yet to release clear guidelines on the implementation of martial law.
Martial law will remain in place for 60 days, the maximum period set by Constitution. However, Duterte can request Congress – which is dominated by his allies – to approve its extension.
The Supreme Court may also decide on the basis of the declaration. – Rappler.com