'The true believers in Islam have condemned this ideology,' Cotabato Archbishop Orlando Cardinal Quevedo says, as clashes continue in Marawi City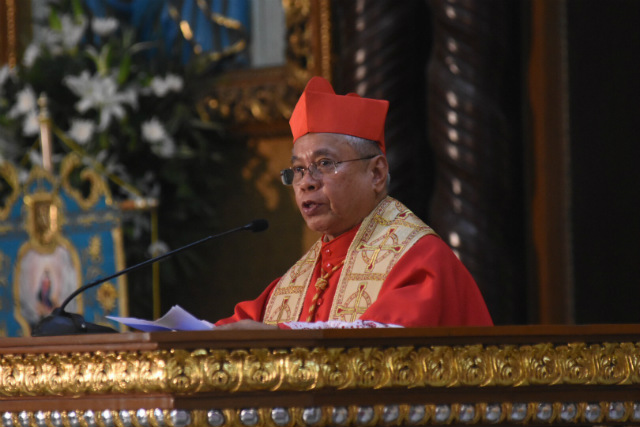 RIZAL, Philippines – Cotabato Archbishop Orlando Cardinal Quevedo slammed terrorism as a "demonic ideology" that is destroying friendships between Christians and Muslims, as the terrorist Maute Group wreaks havoc on Marawi City.
Quevedo, the first cardinal from Mindanao, also stressed the need to educate the public to prevent anti-Muslim prejudice. 
"The friendship of Muslims, Christians, and indigenous peoples in Mindanao – a friendship shown in the streets and markets, in offices and schools – is being destroyed by the terrorist ideology that asserts the morality of killing another in the name of God. This is a demonic ideology," Quevedo said on Wednesday, May 31.
"The true believers in Islam have condemned this ideology, and this violence of terrorism is creating the greatest of fear and anxiety in Mindanao," the cardinal continued.
Quevedo made these remarks on Wednesday during his homily at a Mass for the crowning of an image of Mary at the Shrine of Our Lady of Aranzazu in San Mateo, Rizal.
Quevedo, who is based in Cotabato, spoke as clashes between government troops and terrorists continue in Marawi City. The Marawi clashes prompted President Rodrigo Duterte to declare martial law in the whole of Mindanao. 
Quevedo, 78, is the most prominent Catholic bishop from Mindanao. 
The 1.2-billion-strong Catholic Church has only 222 cardinals, all of whom serve as the Pope's advisers, and around half of whom can elect the Pope's successor.
Quevedo is one of the Philippines' two active cardinals – the other one being Manila Archbishop Luis Antonio Cardinal Tagle. 
Fighting anti-Muslim prejudice
In his homily on Wednesday, Quevedo added that Catholics need to imitate Jesus Christ and his mother, Mary, in serving the poor and the needy, including those who fled their homes due to the Marawi crisis.
Data from the Department of Social Welfare and Development said the Marawi crisis has forced more than 71,100 people out of their homes in Marawi City. 
Quevedo said: "Look around us, my brothers and sisters, and see where that kind of loving service is needed. Service is needed in violent, broken families; in homeless street children and exploited people; in victims of drug abuse; in the evacuees of Marawi and Iligan and Cagayan de Oro and Maguindanao; in children traumatized by violence." 
"Service is needed in the poor of your own neighborhood. And Our Lady and her Son are calling us to help them in any way we can," the cardinal said. 
In an interview with reporters after Wednesday's Mass, Quevedo pointed out that "prejudices rise" when people, "especially those outside of Marawi," hear the stories of Marawi evacuees.
Asked how he would address these revived prejudices against Muslims, Quevedo answered: "By education. And I say, let them live and get exposure in two, 3 weeks with Muslims in Cotabato, for instance." 
Quevedo views injustice as the root of the conflict in Mindanao, the Philippines' poorest island group that has endured a 4-decade Muslim separatist insurgency. 
The 78-year-old cardinal, who grew up in Mindanao, has served as a priest and bishop also in Mindanao for nearly 4 decades. – Rappler.com