3
Casino targeted with suicide attack because it's 'haram' – ISIS

MANILA, Philippines – A Filipino ISIS operative responded to police statements on Friday, June 2, that claimed the Resorts World attack was a robbery.
"The police is covering up," wrote "Semion Almujaheed" on pro-ISIS chat groups. "It's not the soldiers of khilafah (caliphate) because they don't want to be foolish in the media briefing earlier this morning (Friday, June 2)."
Semion Almujaheed is the account that provides daily updates on pro-ISIS channels of the ongoing battles in Marawi, where fighting enters the 12th day. In house-to-house urban warfare, Filipino soldiers are reclaiming land from the Maute Group, which pledged allegiance to ISIS and calls itself the Islamic State Ranao.
Almujaheed posted photos and video of the Marawi Catholic priest, Father Teresito Suganob, held hostage on Tuesday, May 30.
Early Friday morning, this same account posted the first ISIS claim a few hours before the first police press conference. ISIS, or the Islamic State, is also known as IS, ISIL or Daesch.

Forbidden by Allah
Almujaheed gave the attacker his first public identity: "Abu Khair al Luzonee" or Khair from Luzon, perhaps a signal that the Mindanao-based group has now attracted members in Luzon.
Why was the casino targeted and gambling tables burned?
"His main objective is to burn the casino because it is the main cause of HARAM in the region," wrote Almujaheed. Haram is an Arabic word meaning "an act forbidden by Allah."
"He attained his shaheed and did not hesitate to surrender," Almujaheed said. Shaheed is a Muslim honorific for those killed during jihad – a martyrdom fighters aspire for. A shaheed dies deliberately for his faith.
This provides some context to the strange description of how the attacker killed himself.
"He lay down on a bed, covered himself in a thick blanket and apparently doused himself in gasoline," Phiippine National Police chief Ronald dela Rosa told reporters Friday.
If Almujaheed is correct, this is the first time an act of immolation for jihad has happened in the Philippines in the last 30 years.
Given numerous conflicting statements, it's still unclear whether he purposely entered Resorts World as a suicide attacker or if a bullet wound left death as his last option.
Why didn't he target and kill more people like other suicide attackers? It's a question that remains unanswered.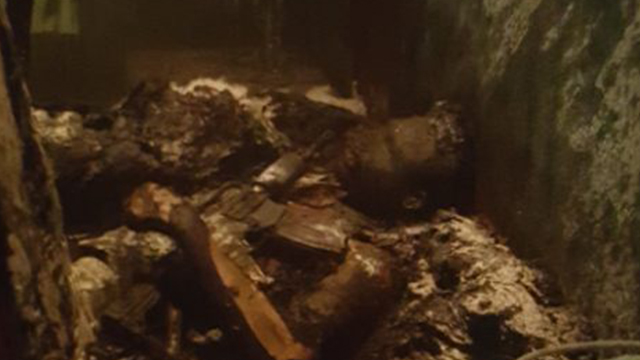 What we're left with is an almost ritualistic photo of his body, charred beyond recognition, with his hands embracing his armalite in death.
ISIS central
Shortly after Almujaheed's post Friday, Amaq, the news agency of ISIS, announced that "Islamic State fighters carried out the Manila attack in the Philippines yesterday."
Two hours later, ISIS issued a formal communique from its East Asia division, giving the attacker an Arabic nom de guerre:
With guidance from Allah and His granting of success, the brother Abu al-Khayr al-Arkhabili – may Allah accept him – was able to immerse with his machine gun amidst a gathering of Christian combatants in the resort "Resorts World" in the city of Manila in the Philippines.
The kunya or component of an Arabic name, according to Stratfor's Scott Stewart, shows the attacker from Southeast Asia. From statements, this means we can glean that they call him Khair and he's from Luzon in Southeast Asia.

The formal statement continues and builds on Almujaheed's claim of suicide attack and martyrdom:
He took action inside it, inflicting death and causing harm, until he dismounted as a martyr, as we consider him and Allah is His advocate.
The statements vary in terms of casualties and inflate figures as ISIS has done in the past. Analysts have long pointed out that ISIS has a sophisticated propaganda machinery and believes at least 50% of the battle is fought in the media. (READ: How to fight ISIS on social media)
"Groups like that will always try to project themselves and take advantage of the fact that not everybody can determine whether what they're saying is true or false," former interior secretary Raffy Alunan told me during an interview Friday. Alunan handled the discovery of al-Qaeda and the subsequent attacks of its arm in Southeast Asia, Jemaah Islamiyah.
He said, "It cannot be emphasized that at a time like this, when you have ISIS on the march worldwide, and in Marawi, and in Sulu and Basilan, and Zamboanga, you have to assume ..."
"Even in the region, right?" I interrupted. "A day after Marawi, there were twin suicide bombings in Jakarta at a bus terminal."
"That's right," Alunan agreed. "In Jakarta, Egypt, Manchester...so you have to assume that Manila is a target."
While all ISIS statements should be viewed as propaganda, they provide clues about what happened and hints at potential plans ahead.
Alunan said, "I think that notwithstanding the absence of enough information as to determine whether it was a terrorist attack or not...I think it's still prudent for people to be vigilant and assume that there are terror threats out there lurking in the shadows ready to pounce." – Rappler.com