'Just apologize,' Senator Paolo Benigno Aquino IV tells Justice Secretary Vitaliano Aguirre II who has yet to make a public apology to the senator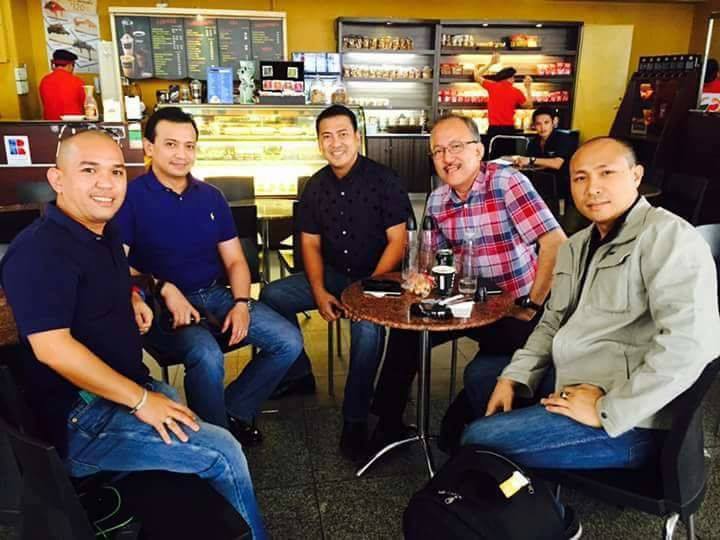 MANILA, Philippines – Justice Secretary Vitaliano Aguirre II on Friday, June 9, denied that he ever released a photo of opposition lawmakers who supposedly met in Marawi City on May 2 – his basis for linking them to the Marawi siege and a destablization plot against the Duterte administration.

The justice chief made the denial a day after he personally apologized to Senator Paolo Benigno "Bam" Aquino IV for making the allegation, and promised him a public apology which was nowhere in Aguirre's statement released early Friday morning.

"I did not give, release, or send to anyone any picture of any Marawi meeting. The picture of an alleged meeting allegedly taken in 2015 did not come from me. Thank you," Aguirre said.

This is contrary to clear footage from television news crew, including this one from TV 5, which show the Cabinet official presenting the photo in a news conference on Wednesday, June 7. (READ: Fact-check: Aguirre uses old photo to tag opposition lawmakers in Marawi crisis)
On Thursday, June 8, Aguirre had already insisted in a chance interview with reporters that he did not show them the supposed May 2 photo of opposition lawmakers and Ronald Llamas, political adviser during the previous administration. The photo was, in fact, taken at the Iloilo airport in 2015.
'Take responsibility'
Instead of delivering on his promised public apology to Aquino by Thursday, Aguirre instead issued a "clarification" on his allegation against the senator on Friday.
"Upon further verification, I was able to establish that Sen Bam Aquino went to Marawi City on May 19, 2017, upon invitation of Gov Soraya Alonto-Adiong to promote the Go Negosyo Program. He was not present in the alleged meeting of opposition leaders said to have been held in Marawi City on May 2, 2017," he said.

The Department of Trade and Industry had already issued a statement in defense of Aquino on Thursday, giving the same details. The DTI called the justice chief's allegation against the senator "misinformation."
"The clarification that his (Aguirre's) office issued is merely stating the obvious," said Aquino.
When pressed by reporters at the 116th anniversary of the Office of the Solicitor General (OSG) on Thursday when he would make the public apology to Aquino, Aguirre told them he would do this on Monday, June 12.
Aquino said he was "baffled by the delay in the issuance of Sec Vitaliano Aguirre's public apology."
"There's no reason to wait until Monday to correct his mistakes," Aquino said. "The Justice Secretary should simply apologize and take responsibility for his reckless accusations."

The controversy started when Aguirre on Wednesday insinuated in a news briefing that a supposed meeting among Marawi clans and opposition lawmakers might have triggered the crisis in Marawi.
He named the lawmakers as Aquino, Senator Antonio Trillanes IV, and Magdalo Representative Gary Alejano, who were supposedly with  Llamas in Marawi City on May 2. All of them presented documentary proof that they were not in Marawi on May 2.
On Thursday, members of the Justice and Court Reporters Association (JUCRA Press Corps) issued a statement calling out Aguirre for alleging that they misquoted him. They cited videos and audio recordings of the interview also captured in their respective Facebook Live coverages.
The National Union of Journalists of the Philippines (NUJP) also released a statement telling Aguirre that media will not be scapegoats for his "lies." – Rappler.com