Ramadan this year hasn't been easy, particularly for tens of thousands of families displaced due to the Marawi City crisis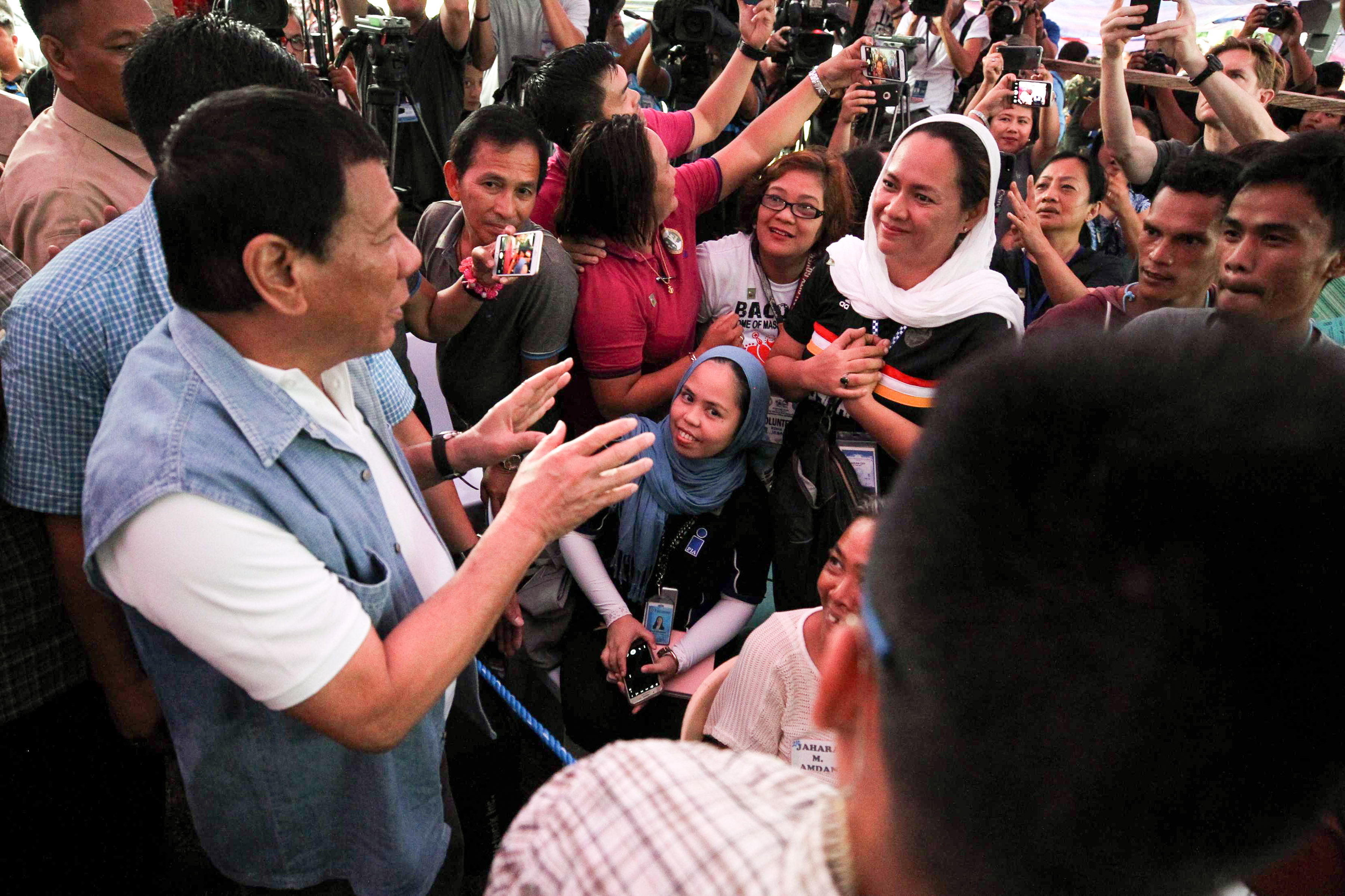 MANILA, Philippines – Amid an ongoing siege in an Islamic city that has claimed the lives of hundreds of people and displaced tens of thousands of families, President Rodrigo Duterte on Sunday, June 25, reminded the Muslim Filipino community that it is through "fostering national unity" that people can best "demonstrate our devotion to God."
"On this special day, remember to thank Allah for bestowing upon you the resolve, courage, and fortitude to obey His commandments during the blessed month of Ramadan," said Duterte in his second Eid'l Fitr message as the country's first president from Mindanao.
"May this renewed sense of spiritual accomplishment give you the strength and courage to cultivate our communities. In times when all odds seem stacked against us, it is our willpower and faith that will always see us through."
This year's Ramadan has been tough, particularly for Muslims displaced by the Marawi crisis. On May 23, just days before Ramadan began, two local terror groups affiliated with the Islamic State (ISIS) attempted to take over the city.
Heavily-armed fighters walked around the streets of Marawi, brandishing black ISIS flags and taking residents hostage. That same night, several buildings in Marawi were set on fire. More than 300 people – terrorists, soldiers, policemen, and civilians included – have died as a result of the month-long crisis.
Autonomous Region in Muslim Mindanao (ARMM) Assemblyman Zia Alonto Adiong, also the crisis management committee spokesman, said this year's celebration of Ramadan has been the "saddest in recent memory."
At least 69,434 families were forced to flee their homes and instead live with nearby relatives or at evacuation centers.
"For centuries, this Islamic tradition has been observed uninterrupted until now. It pains us to see families who can't even share meals together, pray together, and continue observing this Muslim tradition simply because our current state doesn't permit such 'family gathering' to take place," said Adiong.
Duterte declared martial law and suspended the privilege of the writ of habeas corpus in the entire Mindanao island hours after the clashes began. He cited the ISIS threat as among the main reasons for his declaration.
While the President insists martial law is necessary, he has also apologized to those affected by the declaration. (READ: Martial Law 101: Things you should know)
"Let us channel our energies towards fostering national unity – because dedicating our lives to the betterment of humanity is the best way to demonstrate our devotion to God. Together let us work towards building a society that is grounded on love, mutual respect, and understanding," added Duterte in his Eid'l Fitr message. – Rappler.com