Visa-free entry to Israel is one of the ways that the Jewish people have repaid the 'moral conviction' of former Philippine president Manuel L. Quezon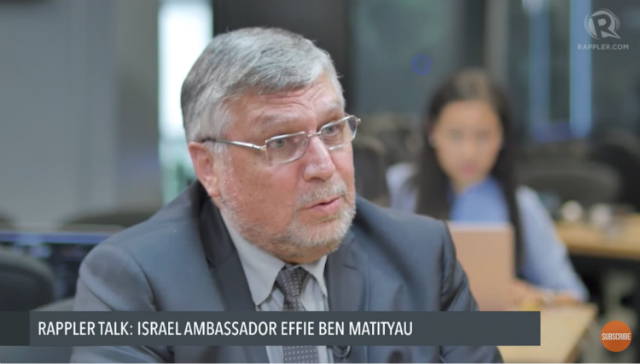 MANILA, Philippines – In the 1930s, the Philippines under President Manuel L. Quezon welcomed up to 1,200 Jewish refugees fleeing the Nazi regime. 
Quezon "agreed out of his moral conviction," Israeli Ambassador to the Philippines Effie Ben Matityau said in a Rappler Talk interview with Maria Ressa on Thursday, July 20. (READ: When the Philippines opened its doors to Jewish refugees) 
Back then, he explained, "nobody wanted to be humanitarian," and "everybody was closing the doors" on the Jews.
"There you have the biggest moral collapse of those who call themselves enlightened nations. That was a total darkness and collapse," Matityau said.
"And here you have the little Philippines, without any connection to the Jewish people, without any obligation to the Jewish people because they are not Filipino citizens, out of pure moral conviction, having one of its biggest moral victories," the ambassador said. 
This, along with another move by the Philippines, prompted Israel to grant visa-free travel for Filipino tourists since 1969. Filipino tourists can stay in Israel without a visa for 90 days. 
'Very sentimental' relationship
"In recognition of your opening the gates of the Philippines to the Jewish people, we open the gates of Israel to the Philippines," Matityau said.
The Jewish refugees, also known as "Manilaners," have more than 8,000 descendants in the Philippines today. 
One of them is Philippine President Rodrigo Duterte's former wife, Elizabeth Zimmerman, who Matityau said is a granddaughter of a Jewish refugee. 
The ambassador said Israel is also grateful that the Philippines, in 1947, became the only Asian country to vote for the statehood of Israel before the United Nations.
The Philippines accepting Jewish refugees, and later voting for the statehood of Israel, "are always the pillars that created this very sentimental relationship between the two peoples."
"So yes we have a close relationship. It's a growing one. It's across administrations, Matityau said. – Rappler.com