Of the 16 major promises Duterte made in his 1st SONA, his administration has taken first steps to fulfilling most of them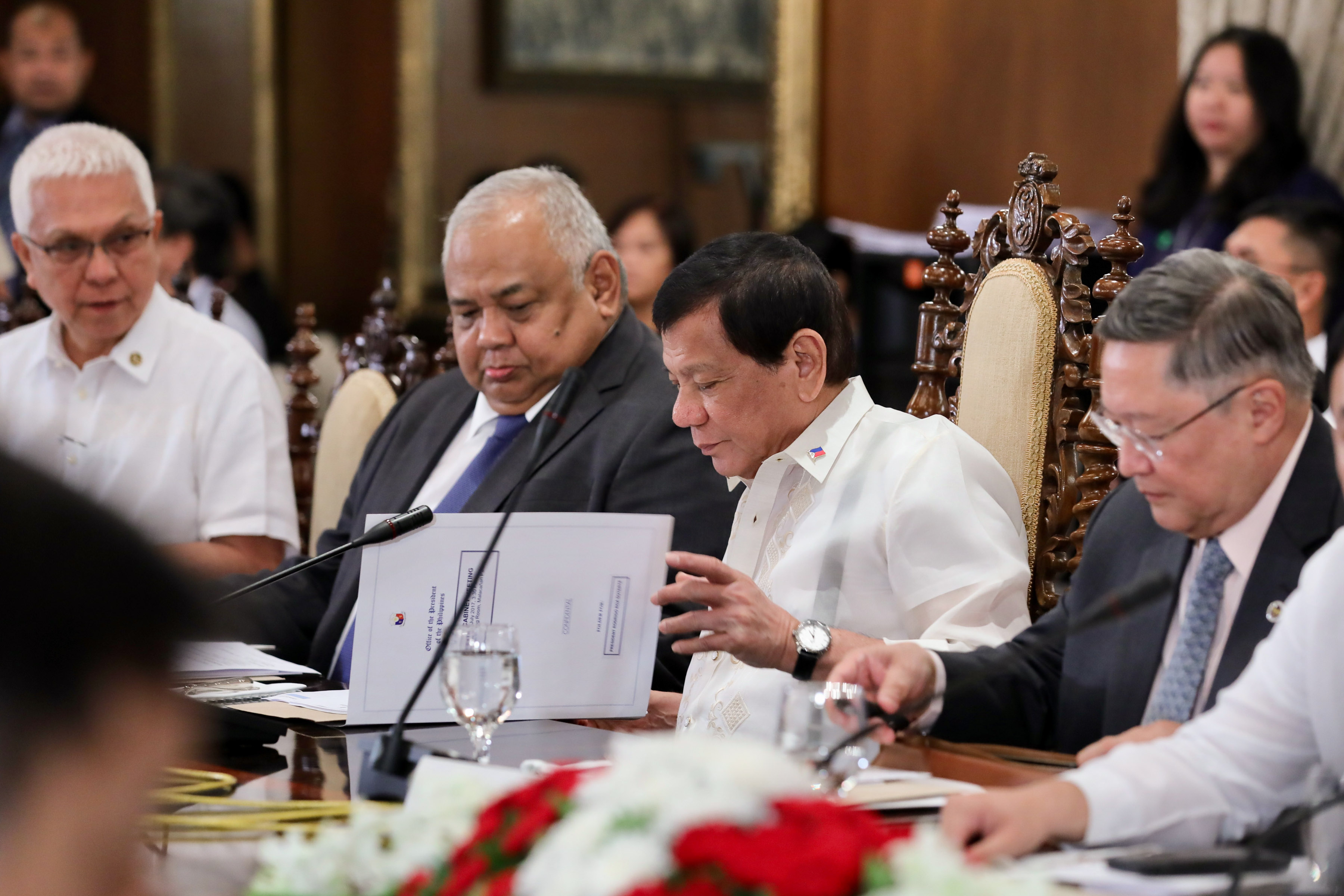 MANILA, Philippines – President Rodrigo Duterte made 16 major promises in his first State of the Nation Address (SONA) in 2016. A look at the year that has gone by shows that his adminstration has taken initial steps for a majority of these promises.
These first steps are mostly the approval of plans or the issuance of executive orders to get jump-started on programs to fulfill his pledges to the people.
Let's take a look at where the government is in living up to these promises.
1. Relentless campaign against illegal drugs. "During my inauguration last 30 [June] 2016, I said that the fight against criminality and illegal drugs and corruption will be relentless and sustained. I reiterate that commitment today." 
STATUS: Ongoing
Duterte publicized the names of around 160 persons suspected of involvement in illegal drugs. The government's campaign led to the arrest of over 64,200 suspects; over 50,400 anti-drug operations; and the surrender of over 1.2 million supposed drug pushers and users. Duterte called mayors and governors to Malacañang and warned them not to dabble in drugs trafficking, or else. Duterte signed Executive Order 15 creating an inter-agency committee to spearhead the drug war. Despite the President's promise, however, Visayan drug lord Peter Lim is still at large. 
2. Strip LGU chiefs of power over police. "The DILG is also directed to strictly monitor how LGUs perform their supervision functions of the police and those found not performing will be sanctioned including the loss of police deputation from the NAPOLCOM."
STATUS: Implemented
Seven governors and 132 mayors in Mindanao lost their power over the police, after the Napolcom issued Resolution Numbers 2017-334 and 2017-335. Napolcom said the deputation of local executives was suspended for their failure to "impose measures to suppress terroristic acts and prevent lawless violence in their territories."
3. Prioritize rehabilitation of drug users. "We will also prioritize the rehabilitation of drug users. We will increase the number of residential treatment and rehabilitation facilities in all regions of the country. The Armed Forces of the Philippines (AFP) will facilitate the preparation for the use of military camps and facilities for drug rehabilitation."
STATUS: Ongoing 
The first phase of a mega drug rehabilitation facility was inaugurated in Nueva Ecija by Duterte and Chinese donor Huang Rulun. As Duterte promised, the building stands on military camp grounds. The government has also raised almost P5 billion from private donations for drug rehabilitation. But funds will go to "smaller" rehab centers. Of the over one million drug surrenderers, 96,000 are involved in community-based rehabilitation programs. Meanwhile, 2,508 of them were admitted in the health department's treatment and rehabilitation centers.
4. Crush terrorists. "The full force of the AFP will be applied to crush these criminals who operate under the guise of religious fervor. The AFP shall enhance its capability to search and engage these rogue and lawless elements."
STATUS: Ongoing 
Including terrorists killed in Marawi City, government forces have neutralized at least 565 terrorists. In a bid to once and for all to rid Mindanao of terrorist groups, Duterte declared martial law over the entire island on May 23. Government operations have since led to the deaths of high-value targets like Abu Sayyaf sub-leader Alhabsy Misaya and Abu Sayyaf spokesman Muamar Askali and the capture of Maute matriach Farhana Maute and her husband Cayamora. But Omar and Abdullah Maute and Abu Sayyaf leader Isnilon Hapilon remain at large. The Abu Sayyaf is also still holding over 20 hostages. Congress has extended martial law until December.
5. Address global warming. "Addressing global warming shall all will be our top priority, but upon a fair and equitable equation. [applause] It must not stymie our industrialization."
STATUS: Ongoing
President Duterte, despite his personal qualms, agreed to ratify the Paris Agreement on Climate Change. However, he only agreed to sign it after being assured that the Philippines can still revise its ambitious contribution – to reduce carbon emissions by 70% by the year 2030 provided there is aid from the international community. Despite the government's commitment, there was a huge cut in the Disaster Risk Reduction and Management Fund for 2017. It is P23 billion less than its budget in 2016.
6. Affirm Hague ruling. "We strongly affirm and respect the outcome of the case before the Permanent Court of Arbitration as an important contribution to the ongoing efforts to pursue the peaceful resolution and management of our disputes."
STATUS: Failure
Citing a supposed war threat from Chinese President Xi Jinping, Duterte said he will not bring up the issue of the Hague ruling any time soon. The Philippines began bilateral talks with China in May on the South China Sea (West Philippine Sea) dispute. It's not clear if the Hague ruling will be tackled during these talks. 
7. Continue Aquino economic policies. "On the macroeconomic management, my administration will continue and maintain current macroeconomic policies." 
STATUS: Fulfilled
So far, there is no drastic change in economic policies. Duterte chose a respected career official at the Bangko Sentral ng Pilipinas, Nestor Espenilla Jr, to helm the critical agency. His administration has also adopted the Aquino government's plan for the Philippines to become a high middle-income economy by 2040. While Duterte threatened economic "separation" from the United States, this has not become actual policy. The Duterte government is also planning to spend billions on an ambitious infrastructure program. 
8. Cut red tape. "Processing time in issuing permits and licenses shall be reduced to the barest minimum…Three days."
STATUS: Ongoing 
Three departments – Trade and Industry, Interior and Local Government, and Information Communication Technology –  signed in August a joint memorandum circular ordering local government units to process business permits and licences for new applicants in two days. The same order wants renewal of such documents done in only one day. Other efforts at cutting red tape include the scrapping of the Overseas Employment Certificate as a requirement for overseas Filipino workers and the issuance of an OFW ID to serve as Social Security System (SSS), Pag-ibig Fund, and PhilHealth membership IDs all rolled into one. However, guidelines for this have yet to be released.
9. Implement RH law. "The implementation of the Responsible Parenthood and Reproductive Health Law must be put into full force and effect."  
STATUS: Ongoing
The full implementation of the RH law is primarily hindered by a Supreme Court order prohibiting the Department of Health from distributing implants, but Duterte tried to help by signing Executive Order No 12, ordering government to meet all the family-planning needs of Filipino households.
10. Lengthen driver's licenses and passport's validity. "For the driver's licenses, its effectiveness will be extended from the current 3-year period to 5 years."
STATUS: Pending 
Duterte's signature is all that is needed to extend the validity of drivers' licenses to 5 years and passports to 10 years. Both chambers of Congress already approved the final versions of the bills. But Duterte has not yet signed them into law.  
11. Improve Metro Manila trains. "Passenger capacity congestion shall be addressed by increasing the number of running trains from the current 16 trains [applause] with a total of 48 cars per hour, to 20 trains with a total of 60 cars per hour. You increase the train speed from 40 [kph] to 60 [kph]….Specifically for the LRT, the operating hours shall be extended from 9:30 to 10:30 p.m."
STATUS: Ongoing
The operation of new cars for Metro Manila trains continues to face several hindrances. The 48 train carriages delivered by a Chinese company after being purchased by the Aquino administration for the MRT3 are unusable because they lack signaling system device.  But LRT1 management (Ayala Corp and Light Rail Manila Consortium) was able to add 12 more carriages since July 2016, bringing the total to 103 from 91 then. As for the extension of train operating hours, LRT2 extended its operation until 10:30 pm for trains leaving Recto station. LRT1 also has a new weekday schedule, with service starting 30 minutes earlier, at 4:30 am, and ending 10:15 pm.
12. Start Mindanao Railway. "So, we shall also pursue rail projects in Metro Manila and the major key-points in the country including the Mindanao Rail Project."
STATUS: Ongoing
Under the first Mindanaoan president, the Mindanao Railway Project finally got the greenlight from the National Economic and Development Authority (NEDA) Board. The P35.3-billion first phase of the railway, which will connect Tagum City in Davao del Norte and Digos in Davao del Sur, will begin construction in the second quarter of 2018. 
13. Provide accessible and fast internet. "I have also directed the newly-created DICT, Information and Communication Technology, to develop a National Broadband Plan to accelerate the deployment of fiber optics cables and wireless technologies to improve internet speed….Wi-Fi access shall be provided at no charge in selected public places."
STATUS: Ongoing
Duterte approved the National Broadband Plan last March. In the plan, the government is expected to provide at least 10-Mbps connection to all households by 2020 at a much lower cost than today's average of P1,299 per month. The government signed a deal with Smart for free Wi-Fi in 21 transporation hubs including Ninoy Aquino International Airport (NAIA) terminals, airports in Davao, Iloilo, Bacolod, Dumaguete, Kalibo, Laguindingan, General Santos, Clark, Laoag, Cebu, Aklan, and Zamboanga. Last June 12, the government also launched free Wi-Fi along EDSA. 
14. Help 4Ps beneficiaries be independent. "The beneficiaries of 4Ps shall be made to become independent and self-reliant after they have graduated from the program."
STATUS: Pending
The Department of Social Welfare and Development is still conducting its review of the  Pantawid Pamilyang Pilipino Program (4Ps) by checking on the status of its 4 million beneficiaries. The government has imposed a moratorium on accepting new applicants until after its review. Last March, beneficiaries who complied with the education and health conditions of the program began receiving a rice subsidy, as promised by Duterte.
15. Improve education. "We are planning to increase spending on basic education and incorporate mandatory education about the evils of drugs. We will also intensify and expand Alternative Learning System programs."
STATUS: Ongoing
The Duterte administration allotted P600 million for the Department of Education's ALS program this year, P200 million more than its budget in 2016. The government wants to attract 4 million young people into the ALS program. Random drug testing of teachers is set to take place during the 2017-2018 school year. 
16. Improve healthcare. "The government will also provide universal health insurance for all Filipinos. The professional competence and operational capabilities of government hospitals and health facilities will be strengthened." 
STATUS: Ongoing
Duterte signed the Philippine Facility Development Plan 2017-2022 in which the government will upgrade and construct new health facilities throughout the country. The plan includes building 9,604 more barangay health stations; 2,289 rural health units and urban health centers, and 750 polyclinics. The government intends to build "mega hospitals," similar to the Philippine General Hospital in Manila, in Visayas and Mindanao. 
– Rappler.com