Twitter reports its base of monthly active users is unchanged at 328 million compared to the first 3 months of the year and up just 5% from a year earlier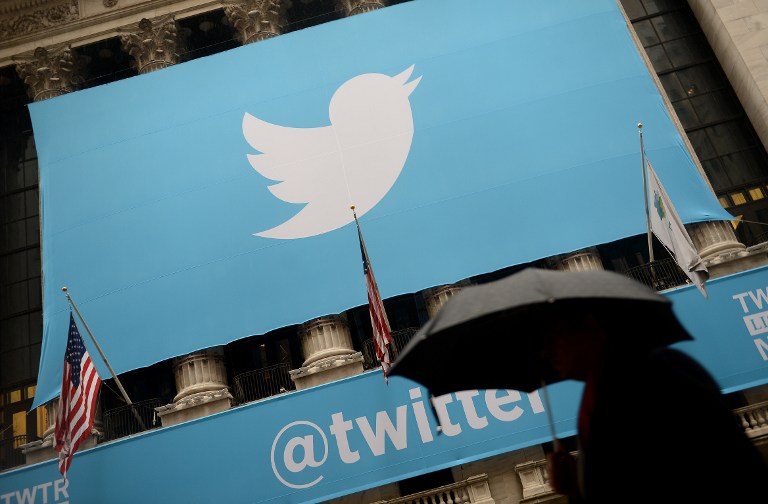 SAN FRANCISCO, USA – Twitter failed to boost its user base and saw a drop in revenues in the past quarter, the social network said on Thursday, July 27, sending its shares tumbling in pre-market trade.
The message platform, which has been struggling to keep pace in the fast-moving world of social media, reported a net loss of $116 million in the second quarter.
More significantly, Twitter reported its base of monthly active users was unchanged at 328 million compared to the first 3 months of the year and up just 5% from a year earlier.
Twitter said revenues in the quarter slipped 5% from a year ago to $574 million, and advertising revenue fell 8% to $489 million.
Shares in Twitter sank more than 9% in pre-opening trade on Wall Street following the release. 
Twitter, which has never delivered a profit, said it is making progress on improving its product, in the expectation this will boost growth and help it move to profitability.
"We're proud that the product improvements we're making continue to increase their overall contribution to Twitter's growth," Twitter chief executive Jack Dorsey said in a statement, 
Dorsey said Twitter was focusing on the metric of "daily active users" rather than the more closely watched monthly figure, and said daily usage was up 12%, without offering a specific number.
"We're strengthening our execution, which gives us confidence that our product improvements will continue to contribute to meaningful increases in daily active usage," he said.
"We're also encouraged by the progress we're making executing against our top revenue generating priorities as we focus on making Twitter the best place to see and share what's happening, where you can see every side and perspective."
Twitter has built a loyal core base of celebrities, journalists and political figures – and has been expected to see more engagement following the election of President Donald Trump, a prolific tweeter who frequently makes policy announcements on the social network.
The San Francisco group has been seeking to draw in users by offering more video including live streaming of sporting events, aiming to broaden its appeal. – Rappler.com