Opposition lawmakers say House Bill 5828 seeks to amend the Constitution without going through the proper channels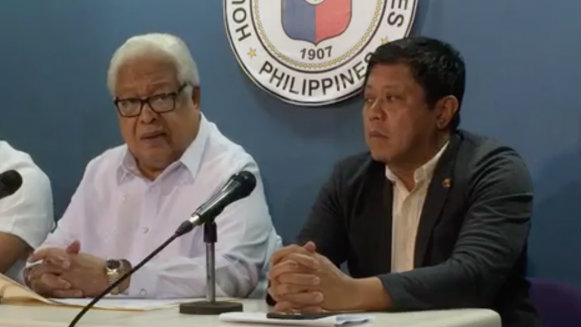 MANILA, Philippines – Lawmakers belonging to the House opposition on Tuesday, August 29, expressed alarm over a bill that would apparently allow foreigners to own public utilities in the Philippines, defying the Constitution.
"The bill is unconstitutional. The law that would be passed based on the bill [would be unconstitutional]," said Albay 1st District Representative Edcel Lagman during a press conference, referring to House Bill (HB) 5828 that seeks to define "public utility" and amend Commonwealth Act 146.
The Philippine Constitution states that at least 60% of public utility enterprises' capital stock must be owned by Filipino citizens or corporations.
"No less than Representative Arthur Yap, the chairman of the House committee on economic affairs, has admitted in the deliberations that once House Bill No. 5828 is enacted into law, foreigners will be allowed to own public utilities," said Lagman in a statement.
HB 5828, sponsored by Yap and Albay 2nd District Representative Joey Salceda, amends Commonwealth Act 146 to include in the definition of "public utility" persons who operate, manage, and control "the distribution of electricity system; transmission of electricity system; and, water pipeline distribution system or sewerage pipeline distribution system."
The bill would also allow the National Economic and Development Authority (NEDA) secretariat and the Philippine Competition Commission (PCC) to recommend to Congress the classification of a person, business, or service as a public utility, based on their performance of a public service.
"House Bill No. 5828 has deleted the requisite Filipino ownership requirement of public utilities under the Public Service Act, which is identical with Section 11 of Article XII of the Constitution," said Lagman.
He added that the bill also removes common carriers and telecommunication companies from the list of public utilities.
"[The House bill] has deliberately deleted the concept of ownership and limited the definition to the operation, management, and control of public utilities even as there can be no operation, management, or control without an owner," Lagman also said.
Lagman, who is part of an opposition bloc of 7, said it was likely that the bill would pass the House because "it is prioritized by the House leadership." The House of Representatives is dominated by a "supermajority" whose members are either from or allied with the ruling Partido Demokratiko Pilipino-Lakas ng Bayan (PDP-Laban).
Akbayan Representative Tom Villarin, also a member of the opposition bloc, said lawmakers seem to be in a "rush" to attract foreign investors.
Business groups earlier expressed support for moves to lift the cap on foreign ownership of companies in the Philippines. Duterte himself, when he was a presidential candidate, said he was open to lifting this restriction.
Both Lagman and Villarin wondered why legislators want to pass the bill when one of Duterte's key goals is a shift to a federal form of government. The Constitution may only be revised through a Constitutional Convention, Constituent Assembly, or People's Initiative. – Rappler.com