Misuari's spokesperson says 'no need' when asked if the MNLF founding chairman has posted bail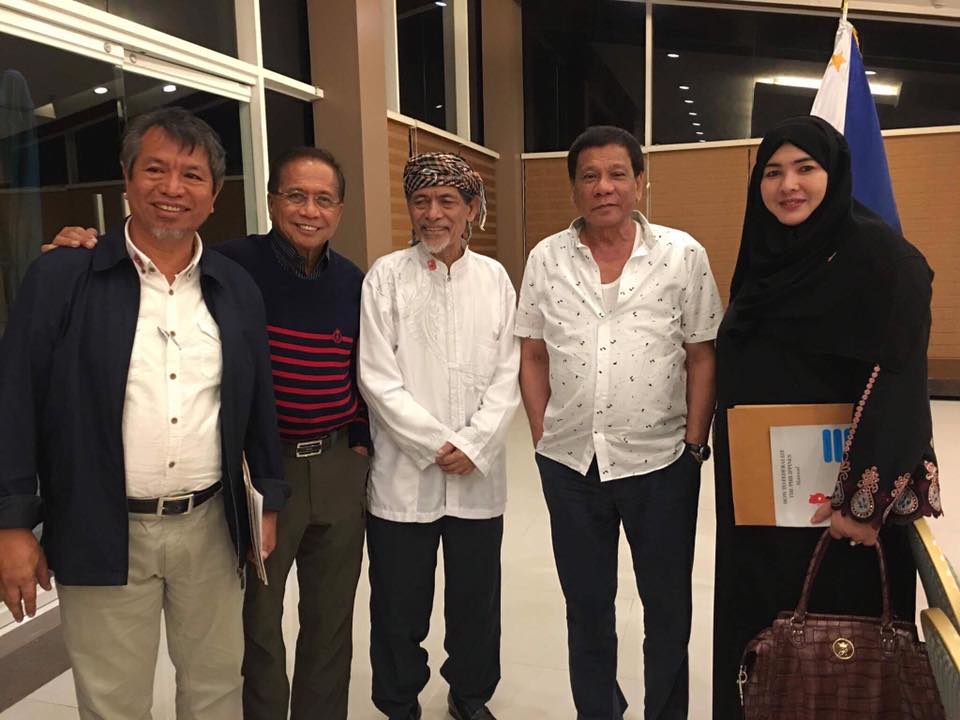 MANILA, Philippines – The anti-graft court Sandiganbayan confirmed that Moro National Liberation Front (MNLF) founding chairman Nur Misuari has not posted bail as of Monday, September 18.
This is in connection with his graft and malversation charges arising from multimillion-peso ghost projects in the Autonomous Region in Muslim Mindanao (ARMM) when he was governor.
His warrant of arrest was fielded to law enforcement authorities for service on August 31, or 18 days ago.
But on Saturday, September 16, Misuari met with President Rodrigo Duterte in Davao City to "discuss Bangsamoro concerns." In the meeting were Presidential Peace Adviser Secretary Jesus Dureza and MNLF Peace Implementing Panel Chairman lawyer Randolph Parcasio.
Dureza told Rappler on Sunday, September 17, that they were assured by Misuari that he was "attending to his graft case."
Sandiganbayan Third Division Clerk of Court Dennis Pulma said that as of Monday afternoon, Misuari has not posted bail before them. Nor have they received a notification from any regional trial court (RTC) elsewhere in the country that he has posted bail there.
A Sandiganbayan defendant is allowed to post bail in any RTC branch as long as it is not within the National Capital Region.
Asked on Monday if Misuari had posted bail elsewhere, his spokesperson Emmanuel Fontanilla said "no need" but did not elaborate.
"I can't explain," Fontanilla told Rappler in a text message. Asked whether Misuari was given a pass by the government not to post bail, Fontanilla said "no comment" and pointed to the 1996 peace agreement between the MNLF and the Philippine government.
Under the rules of court, the law enforcement officers tasked to serve the warrant must report to the court within 10 days, either with a return warrant, or to explain why the warrant has not yet been served. No such report has been submitted to the court either.
"All the court can do right now is await the report of the law enforcement authorities, as to the report, as to the warrant, the service and execution of the warrant of arrest," Pulma said.
Misuari was tapped by Duterte to participate in the ongoing Bangsamoro peace process which was initially an agreement with the Moro Islamic Liberation Front (MILF) under the Aquino administration.
Dureza has not responded to Rappler's request for additional comments on Monday.
Misuari's bail is set at P460,000 for two counts of graft and two counts of malversation through falsification of documents. Separate charges of one count each of graft and malversation through falsification remain pending as the court is still in the process of establishing probable cause to issue a warrant of arrest in this regard.
Misuari is the leader of the MNLF faction which seized parts of Zamboanga City in 2013. He was charged with rebellion and crimes against humanity but Duterte granted him temporary freedom so he could participate in the peace process.
His temporary freedom has been extended until November 16, 2017. – Rappler.com