Watch the hearing live on Rappler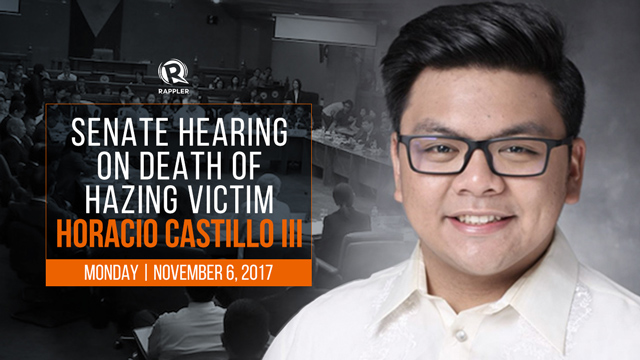 MANILA, Philippines – The Senate committee on public order and dangerous drugs, as well as the committee on justice and human rights, will jointly look into the death of Horacio Castillo III, due to alleged hazing by the Aegis Juris fraternity.
Senator Juan Miguel Zubiri earlier delivered a privilege speech condemning the "brutal" death of Castillo, a freshman law student of the University of Santo Tomas (UST) Faculty of Civil Law. Zubiri and Senator Paolo Benigno Aquino IV both filed resolutions calling for a probe into Castillo's killing.
Zubiri also said Republic Act 8049 or the Anti-Hazing Act of 1995 needs to be repealed. 
Watch the previous hearings here:
September 25, 2017
October 18, 2017
Read more:
UST law student Horacio Castillo III dies in suspected frat hazing
Castillo's parents: Aegis Juris treated our son 'like an animal'
How Aegis Juris fratmen are defending themselves in Atio Castillo slay case
Parents of Horacio Castillo III accuse Nilo Divina of murder
Senators slam Solano for 'lying, covering up' death of Atio Castillo
Solano names fratmen he saw the morning Atio Castillo was killed
A tale of 2 mothers in the Atio Castillo hazing 'coverup'
Lead fratman in Atio hazing: Prove there was abuse of superior strength
'Negligence' of UST officials partly led to Castillo's death – senators
Driver of Aegis Juris fratman denies he drove Atio Castillo to hospital
It took fratmen 30-40 minutes to bring Atio Castillo to hospital – witness