'Brotherhood that seeks to harm in order to bond does not come from God, but from the devil,' says the priest during Castillo's funeral mass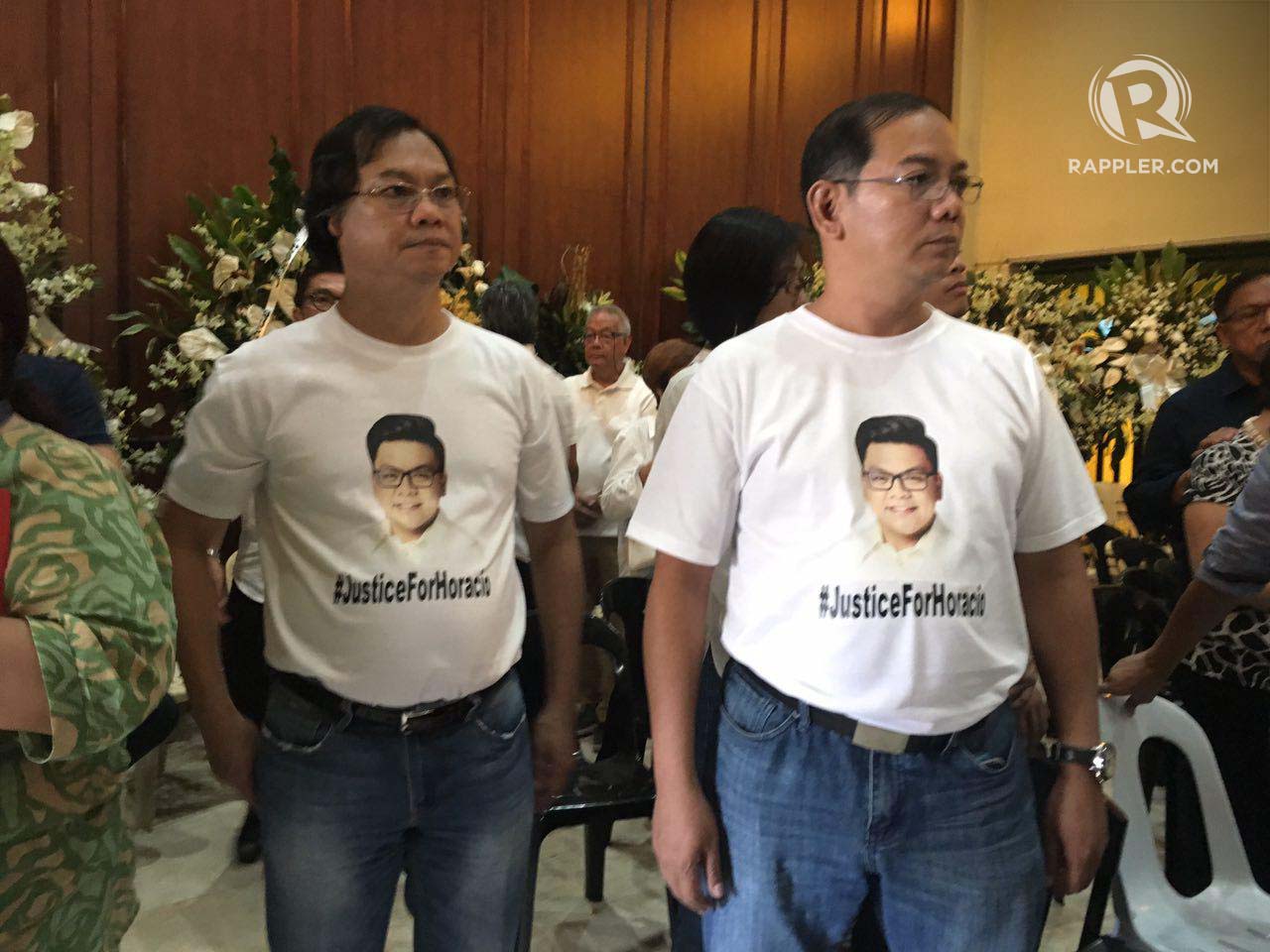 MANILA, Philippines – Horacio Castillo III, the law student who died due to hazing injuries sustained during fraternity rites, was laid to rest on Wednesday, September 27, at the Manila Memorial Park in Parañaque City.
Before Castillo was buried, family and friends held a mass presided by University of Santo Tomas priest Father Winston Cabading at the Sanctuario de San Antonio Parish, Makati City.
Castillo was a first-year student of the Faculty of Civil Law of UST when he succumbed to injuries he sustained while being initiated into the Aegis Juris fraternity. 
In the homily, Cabading spoke of the spate of senseless killings in the country coming from "left and right."  
"It seems that darkness has conquered our land and many do not know how to get out of it," he said. 
He condemned the fraternity members who inflict violence among their brothers. "Brotherhood that seeks to harm in order to bond does not come from God, but from the devil," Cabading said.
Castillo was declared dead on arrival when he was brought by John Paul Solano to the Chinese General Hospital Sunday morning, September 17.
Solano told police that he found Castillo wrapped in a blanket and sprawled in the ground in Tondo, Manila. He hailed a red Strada which helped him take the body to the hospital.
Police later found out Solano "deliberately misled" authorities in his statement by not informing them that he was a member of Aegis Juris.
During the Senate investigation on Monday, September 25, Solano said an Aegis Juris brother asked him to lie to police about where he found Castillo's body.
Also in that investigation, Solano said he was riding a motorcycle and followed the red Strada and a black Toyota Fortuner going into the hospital compound.
In the executive session with senators, Solano named 6 fraternity brothers and one non-member who were allegedly involved in the death of Castillo.
Members of Aegis Juris have been identified as suspects and persons of interest by the Manila Police District. 
Castillo's death puts the spotlight on the futility of the 22-year-old anti-hazing law.
Since its implementation in 1995, following the death in 1991 Ateneo law student Leonardo "Lenny" Villa in the hands of members of the Aquilia Legis fraternity, 15 more people have died due to hazing.
In stark contrast, there has been only one conviction. – Rappler