The bill will create a program that provides protection to journalists being threatened, intimidated, or harassed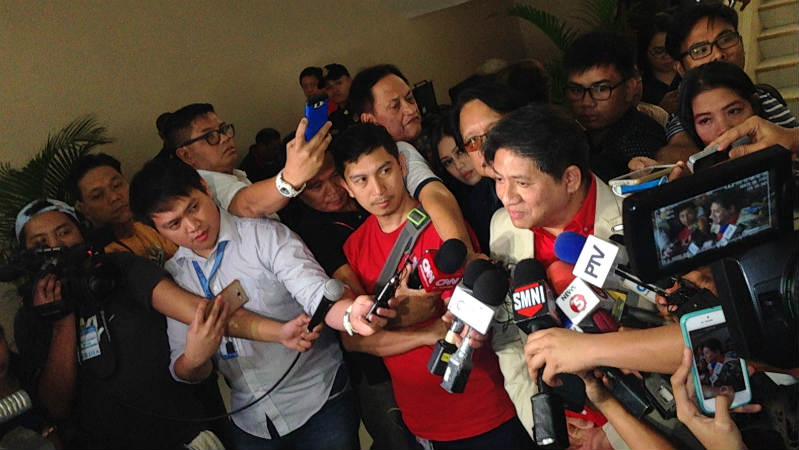 MANILA, Philippines – Kabayan Representative Harry Roque on Wednesday, September 27, called on a House panel to approve a House bill that would create a protection and security program for journalists who are being threatened, intimidated, or harassed.
House Bill Number 913 or the "Journalist Protection, Security, and Benefit Act" was filed by Roque in June 2016. It is currently pending in the House committee on public information.
The legislator cited a recent case of a journalist who was "sent threatening messages" after reporting on the non-existent bank accounts of Senator Antonio Trillanes IV.
"This issue is deeply personal to me, first and foremost because my wife is also a former journalist. Second, I have long been an advocate of the freedom of expression and freedom of the press," he said in a statement.
HB 913 would provide journalists a "secure housing facility to a journalist until the threat, intimidation, or harassment disappears or is reduced to a manageable or tolerable level." Journalists, as defined by the bill, is a person "who regularly imparts information to the general public, regardless of whether he or she receives compensation for rendering such service."
Journalists under threat will also be allowed to relocate and even change his or her identity if needed. The journalist and his or her family are also entitled to financial assistance. A security detail – either from the police or other law enforcement agencies – will also be offered to a journalist under the program.
Should an enrolled journalist be killed while under the program, heirs will be given a minimum of P500,000 in burial benefits. His or her children will also be entitled to free education from primary to tertiary level, in any state or private institution.
The bill tasks the Department of Justice, in consultation with the National Union of Journalists of the Philippines (NUJP), the National Press Club (NPC), and the Kapisanan ng mga Brodkaster ng Pilipinas (KBP), in the formulation and implementation of the program.
"A free press is a sign of a healthy and vibrant democracy. There is therefore a very urgent need to protect journalists and let them perform their jobs without fear of harassment," he said.
The Philippines is among the most dangerous countries in the world for journalists, according to media watchdog Reporters Without Borders. The problem persists to this day.
The group, in its report, noted that in the Philippines, "the media are fairly free and diverse, but Rodrigo Duterte, who was sworn in as President in June 2016, has alarmed media freedom defenders with his unveiled encouragement of violence against journalists."
Under the Duterte administration, journalists have reported cases of harassment, both online and offline. Duterte himself has launched tirades against media organizations.
Duterte, when he was still president-elect, triggered outrage when he said corrupt media practitioners are "not exempted from assassination." – Rappler.com