Sereno's disclosures of her assets in 2010 upon assuming public office include what remained of her P30-million Piatco earnings, says the Chief Justice's spokesperson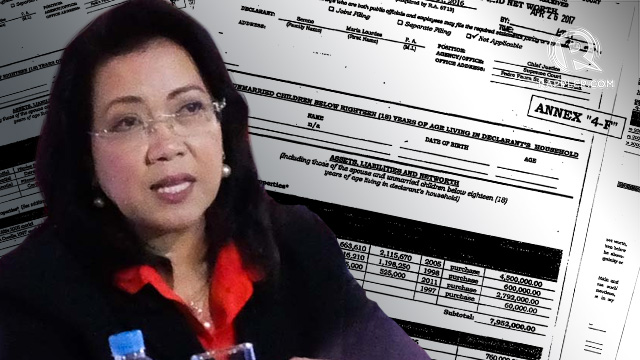 MANILA, Philippines – The same issue caused the impeachment of her predecessor not too long ago. Will allegations of non-disclosures in her Statement of Assets, Liabilities, and Net Worth (SALN) also pin down Chief Justice Maria Lourdes Sereno?
"All the documents are there, the income tax returns and everything, these would show the public that these particular allegations of Atty (Larry) Gadon appear to have been made perhaps on misinformation," Sereno's spokesperson lawyer Carlo Cruz said in a Rappler Talk interview on Wednesday, September 28.
In his impeachment complaint filed before the House of Representatives, Gadon said Sereno committed culpable violation of the Constitution "when she failed to truthfully disclose her SALN." (READ: How Sereno answered her impeachment complaint)
Gadon was referring to Sereno's earnings from the time she became part of the team of private lawyers that represented the government in an arbitration case in Singapore against Philippine International Air Terminals Co. Inc. (Piatco).
It was a damages suit after the Supreme Court (SC) nullified Piatco's contract in 2003 to build a terminal at the Ninoy Aquino International Airport (NAIA).
Piatco
"Sereno deliberately excluded in her initial SALN the exorbitant lawyers' fees in the amount of $745,000 or P37,000,000 which she received from the Philippine government," Gadon.
Two things, said Cruz. The amount is not P37 million, but P30 million. Cruz also said she earned the P30 million in a span of 5 years, from 2004-2009.
In 2010 when she was appointed Associate Justice of the SC, Sereno was required to submit a SALN. There, she declared a net worth of P17.7 million. Bulk of the amount is the worth of her real properties and vehicles. Only P1.5 million was declared as cash in bank and P1.5 million as investments.
Where are her Piatco earnings? "She lived. They bought a modest home, a modest vehicle, they equipped that modest home with furniture," Cruz said.
What Cruz meant was that from 2004 to 2009, Sereno had spent her P30 million Piatco earnings on properties and overhead expenses. What remained of it in 2010 is what she declared in her SALN.
Where are her other earnings? Another Sereno spokesperson, lawyer Josa Deinla, said that from 2004 to 2009, Sereno earned a separate P3 million from her other jobs. These were all taken into account in her SALN, Deinla said.
But why were they not specified? 
"The rules do not require a listing of specific properties as in 'yung isa-isa ganun (as in one by one)," Deinla said.
Financial interests
For example in her 2016 SALN, Sereno declared that she was a minor stockholder in companies SUDECO, Seaport, PLDT, RFM/Swift, and Uniwide. The amounts were not specified.
Deinla said the SALN form itself does not require such detail. Deinla said they can be lumped together in one entry. In the case of Sereno's 2016 SALN, the Chief Justice declared P8.3 million worth of investments. Her total net worth for 2016 was P24.2 million.
"If they were indicated in general terms, the bottomline figure is there anyway. I don't think there would be any problem in the Chief Justice's specifications of items listed as investments. She has the documents and I imagine that by certificates of stock, there can be no non-disclosure as to these things," Cruz said.
Asked why Sereno didn't see the need to divest of her interests, Cruz said they were considered minimal shares and that "there are no requirements for her to divest in this regard."
If a conflict of interest arises should one of these companies have a case before the SC, Cruz said Sereno has the "good sense" to inhibit herself from the proceedings.
Bank waiver 
Asked whether Sereno would be willing to sign bank waivers, Cruz said she does not need to, pointing to a provision in SALN forms that authorizes the Office of the Ombudsman "to obtain and secure from all appropriate government agencies, including the Bureau of Internal Revenue, such documents that may show my assets, liabilities, net worth, business interests and financial connections."
Cruz said that Gadon's allegations are insufficient to merit a demand for Sereno to sign a bank waiver.
"I do not see this issue arising because there was never any allegation to the effect that there was a disclosure of income or wealth during her incumbency, as a member of the SC," Cruz said.
In 2012, the late former chief justice Renato Corona was impeached over his non-disclosure of peso and dollar deposits in his SALN. Corona said then in his defense that foreign currency deposits are covered by the confidentiality clause.
In his convict vote, former senate president Juan Ponce Enrile said that Corona "was deemed duty-bound under the law, they being under his name by his own declaration" to declare the accounts.
"There can be playful minds in these proceedings and they may test the waters but I think our friends in Congress, in the lower house and Senate, would be able to distinguish a non-issue from a real one," Cruz said.
 – Rappler.com