Among those found in the Aegis Juris Law Resources Center were three paddles, says the Manila Police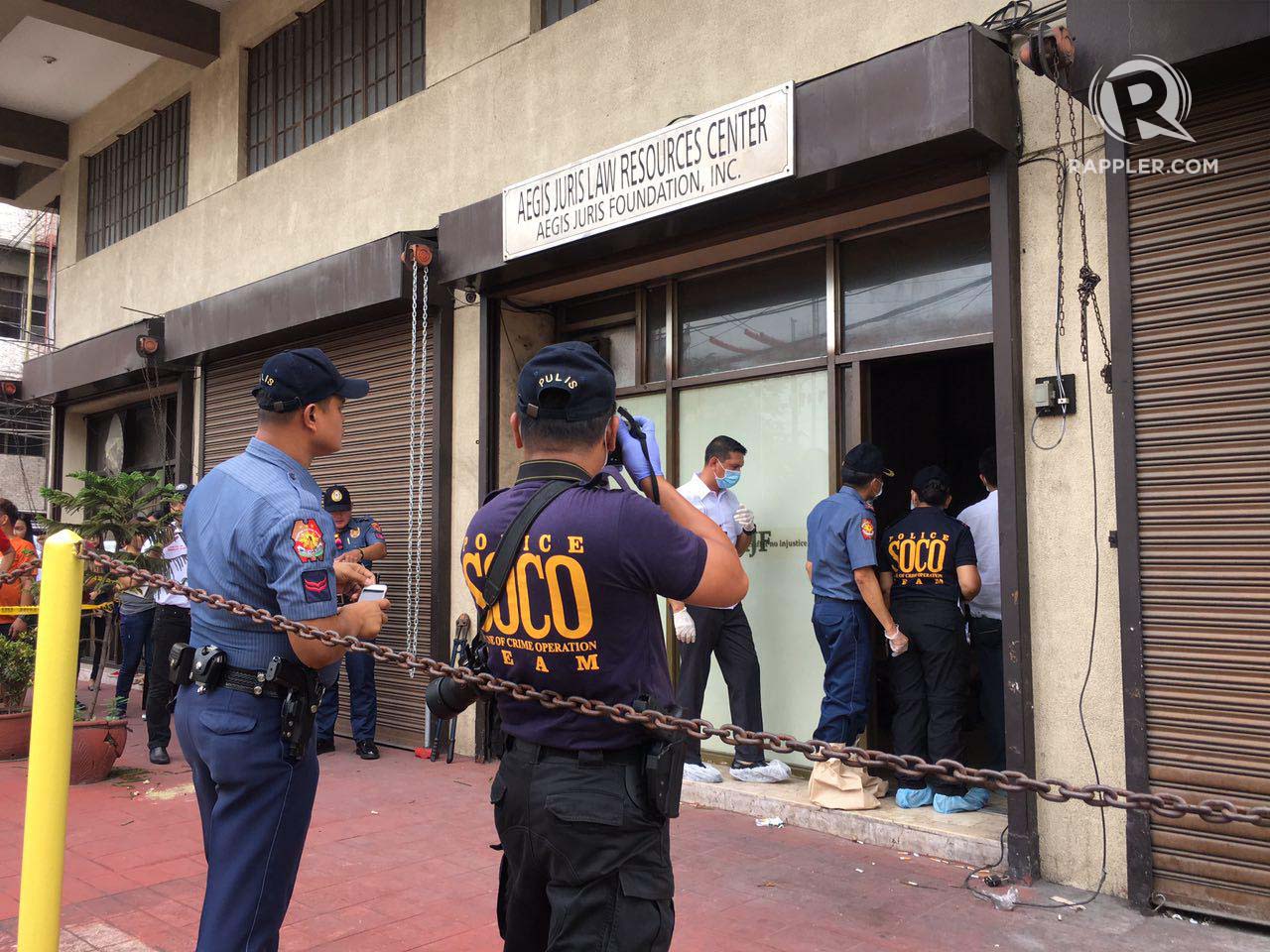 MANILA, Philippines – The Manila Police District (MPD) pinpointed Thursday, September 28, the Aegis Juris Law Resources Center (AJLRC) along Navarra St. in Sampaloc, Manila as "most probably" the venue where the fraternity hazing of law student  Horacio Castillo III occured. 
Castillo, a law student of the University of Santo Tomas, was pronounced dead on arrival when he was brought to the Chinese General Hospital on September 17. The MPD suspect Castillo succumbed that day to injuries he sustained while undergoing rites of the Aegis Juris fraternity.
MPD homicide section chief Police Inspector Rommel Anicete said, after inspecting the AJLRC office Thursday,  it was "most probably" where Castillo was initiated by the Aegis Juris fraternity.
The AJLRC office is situated at the ground floor of a building a few meters from the Dapitan gate of UST.
Anicete also confirmed that the AJLRC office, which is leased by the Aegis Juris Foundation, is also called frat library among members of the fraternity. 
Earlier, screengrabs of a group chat on Facebook Messenger believed to be by members of the Aegis Juris appeared on social media. That chat mentioned of frat rites to be held at the FL or frat library.
Anicete said the venue seemed "positive," after they found out that records of the CCTV camera attached near the entrance of the fraternity library were missing. "Nandito yung VTR, pero wala yung memory card ng CCTV," said Anicete. (We found the VTR, but the memory card of the CCTV is missing.)
The MPD also found 3 paddles which bore engravings of the words 'Aegis Juris' inside the library. 
The MPD forensic team also collected specimen of body fluids, but Anicete could not confirm if blood samples were among them. 
"It [the location] doesn't seem tampered as there are still pieces of evidence found, but the CCTV records are missing," Anicete said. 
Earlier, the principal suspect in the killing of Castillo, John Paul Solano was ordered released by the Department of Justice. 
It was Solano, a member of Aegis Juris, which brought Castillo to the hospital on September 17. He earlier claimed he found Castillo in a street in Tondo. He also did not tell MPD he was a member of the frat. 
In a senate hearing Solano said it was his frat brother who told him to lie about the circumstances surrounding his bringing Castillo to the hospital. 
MPD spokesman Superintendent Erwin Margarejo said whatever was collected in the AJLRC  will be considered as "supplementary evidence" to the case of Castillo.
"Forensic evidence is an exact science," Margarejo said. "Kapag may nakuha tayong forensic evidence sa isang crime scene at nag match yan sa body ng ating victim, it will be a big development, a big breakthrough for MPD." (Whatever forensic evidence we find in a crime scene, and it matches to that of the victim, it will be a big development, a big breakthrough for MPD.) – Rappler