'The constitutionally-guaranteed independence of the Office of the Ombudsman will be imperiled by any investigation, much more a partisan inquiry, exerting interference and pressure on the Ombudsman,' says Albay 1st District Representative Edcel Lagman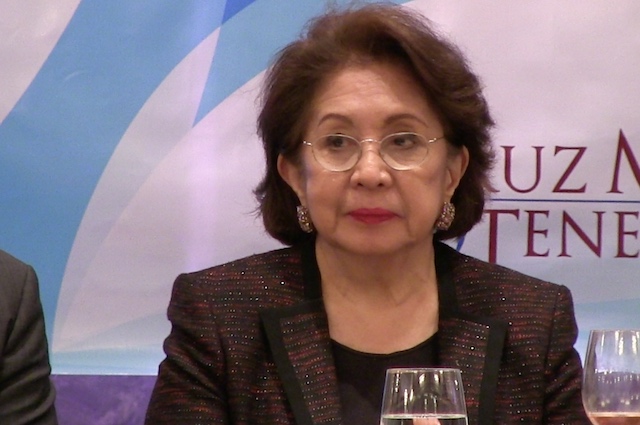 MANILA, Philippines – Following a pushback from Ombudsman Conchita Carpio Morales over President Rodrigo Duterte's pronouncements that the office should be investigated for "partiality," Malacañang on Saturday, September 30, insisted the Office of the Ombudsman "should to be open to any probe."
The Office of the Ombudsman is tasked to probe – through the filing of complaints or on its own – complaints against government officials, both elected and appointed. The office specifically prioritizes allegations of "grave offenses," including corruption.
The Ombudsman is current investigating allegations of corruption against Duterte and his family. The President's two eldest children, Sara Duterte-Carpio and Paolo, are mayor and vice mayor of Davao City, respectively. Duterte was mayor of Davao City for over two decades.
"We recognize that the Office of the Ombudsman has the Constitutional duty to probe erring government officials. As protector of the people, the Ombudsman is expected to act promptly on complaints filed against officers or employees of the government," Presidential Spokesperson Ernesto Abella said in a statement.
"The sad reality, however, is that the Ombudsman is not exempt from allegations of corruption, which the President said, need to be investigated. The Ombudsman should be open to any probe that would check into alleged corrupt practices amongst its officials and employees to underscore that there are no sacred cows in the government," added Abella.
Malacañang, through Abella, said on Wednesday, September 27, that Duterte "respects" the Ombudsman's internal processes and "trusts its impartiality in the conduct of its fact-finding duty."
But in an interview taped the same day but aired on Thursday, September 28, Duterte himself threatened to probe the Ombudsman for its "partiality." He said he would create a commission to probe the office.
In response, the Office of the Ombudsman said it "shall not be intimidated" and  stood by earlier statements on bank transaction records of Duterte and his family. Overall Deputy Ombudsman Arthur Carandang said the records from the Anti-Money Laundering Council (AMLC) show a flow of money that would amount to P1 billion.
The probe into Duterte's assets was triggered by a plunder complaint filed by Senator Antonio Trillanes IV, among the president's staunchest critics. Trillanes, who obtained supposed authentic copies of the Duterte family's bank documents, said that around there are around P2.4 billion worth of deposits in the former Davao mayor's accounts. He said the funds might have come from a ghost employees scheme in the city.
The Integrated Bar of the Phillipines has called on Duterte, himself a lawyer, to respect the Ombudsman's independence. IBP National President Abdiel Dan Elijah Fajardo also questioned Duterte's plan to create a commission to probe the Ombudsman.
Albay 1st District Representative Edcel Lagman, a member of the opposition, said on Saturday that instead of creating a commission to probe the Ombudsman, Duterte should create one to investigate killings linked to him drug war.
"The constitutionally-guaranteed independence of the Office of the Ombudsman will be imperiled by any investigation, much more a partisan inquiry, exerting interference and pressure on the Ombudsman," said Lagman in a statement.
"The purported investigation of the Ombudsman is perceived as vindictiveness and reprisal against the Ombudsman for authorizing an inquiry into the supposed unexplained wealth of the President and his family. However, the formation of a commission to investigate the summary killings of drug suspects is in order to secure justice for the victims of human rights violations," added Lagman, a human rights lawyer. – Rappler.com