Bingbong Crisologo, who belongs to PDP-LABAN, uses the same Caloocan-based NGO that caused the indictments of former Caloocan representatives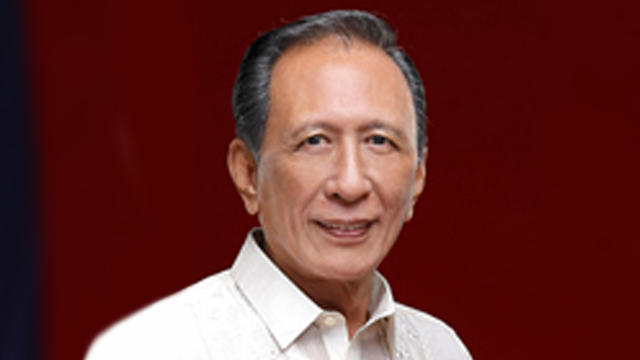 MANILA, Philippines – Deputy majority leader and Quezon City First District Representative Vincent "Bingbong" Crisologo was indicted for graft and malversation cases over an P8-million pork barrel scam case, the Office of the Ombudsman said on Thursday, October 5.
"Ombudsman Conchita Carpio Morales has found probable cause to file graft and malversation charges against former representative Vincent Crisologo of the 1st district of Quezon City for his involvement in the Priority Development Assistance Fund (PDAF) scam," the office said in a statement.
Crisologo faces two counts of graft, two counts of malversation, and two counts of malversation thru falsification of public documents for anomalous pork barrel projects in 2009.
Crisologo is part of the PDP-Laban coalition at the House of Representatives; he was among the House members who shifted to the coalition when President Rodrigo Duterte was elected.
Crisologo funnelled his pork barrel through the same Caloocan-based non-governmental organization (NGO) which also caused the earlier indictments of former Caloocan representatives Luis "Baby" Asistio and Mitzi Cajayon–Uy.
Same with Asistio and Uy, Crisologo also used as implementing agency the Department of Social Welfare and Development (DSWD). Former social welfare officials, including former secretary Esperanza Cabral, were also indicted – their 3rd set of cases after Asistio and Uy.
Ghost projects
In 2009, Ombudsman investigators said Crisologo requested the release of P8-million worth of his pork barrel to fund his projects through the DSWD's Comprehensive Integrated Delivery of Social Services (CIDSS) program.
Crisologo specifically requested as NGO-parther the Kaloocan Assistance Council, Inc or KACI. In Asistio's case, Ombudsman investigators said KACI was directly linked to Asistio with incorporators being the former congressman's political coordinators, volunteers, and supporters.
KACI, through DSWD, was supposed to implement projects such as medical/hospitalization assistance, transportation, calamity, death, burial, educational expenses, small-scale livelihood, socio-cultural expenses, small-scale infrastructure assistance and values training.   
"Upon checking the documents of the project, investigators found that KACI submitted falsified receipts and that the beneficiaries of the financial assistance included coordinators and political supporters of Crisologo," the Office of the Ombudsman said.
Proof that they were ghost projects are affidavits of supposed beneficiaries who denied ever getting any burial or financial assistance, despite their signatures appearing on vouchers.
"Representatives from the National Children's Hospital also attested that no free medical or dental mission was conducted in October 2009, contrary to claims of the respondents," the Office of the Ombudsman said.
KACI's supplier Silver A was also found to be a bogus business entity as it is not registered with the Department of Trade and Industry (DTI) and the Quezon City Business Permit and Licensing Office. 
Same scheme
All of the findings in Crisologo's case – ghost projects and Silver A's non-existence in records – are the same as with the cases of Asistio and Uy. Asistio's projects were from 2006-2007 while Uy and Crisologo's projects were in 2009.
"Crisologo treated his PDAF as if it were his own funds, dictating how it should be utilized and released. He not only identified the project, implementing agency and NGO, but also determined how much of his PDAF should go to the projects, or in this case, KACI," Ombudsman Conchita Carpio Morales said in her resolution.
Again, Morales scored Cabral and her subordinates in the DSWD for not exerting efforts to "conduct a due diligence audit on KACI and its suppliers."
Indicted along with Crisologo and Cabral were former DSWD undersecretaries Mateo Montaño, Lualhati Pablo, Leonila Hayahay, Vilma Cabrera, Pacita Sarino; and KACI president Cenon Mayor. – Rappler.com