How can the Philippine government implement a universal social pension?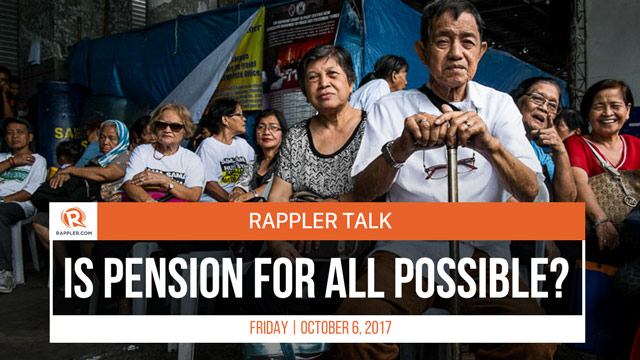 Bookmark to watch live on Rappler at 10 am on Friday, October 6
MANILA, Philippines – As the Department of Social Welfare and Development (DSWD) wraps up the celebration of Elderly Filipino Week, Rappler's Patty Pasion speaks with the Coalition of Services of the Elderly (COSE) to discuss the proposal for a universal social pension.
The P500 pension the DSWD gives to indigent senior citizens only covers 35% of the elderly population, while only a million Filipinos are currently receiving retirement benefits from the Social Security System (SSS).
House Bill 5638, which will amend the Expanded Senior Citizens Act, seeks to cover the elderly left behind by the DSWD's social pension program.
How will the government be able to finance this? COSE presents its study and other schemes lawmakers from the Senate and the House of Representatives have proposed. – Rappler.com