Police say Eduardo Serino Sr banged his head against the wall of the Zamboanga City police station, and sustained 'fatal injuries' when an iron flower vase he supposedly pushed towards cops fell on him instead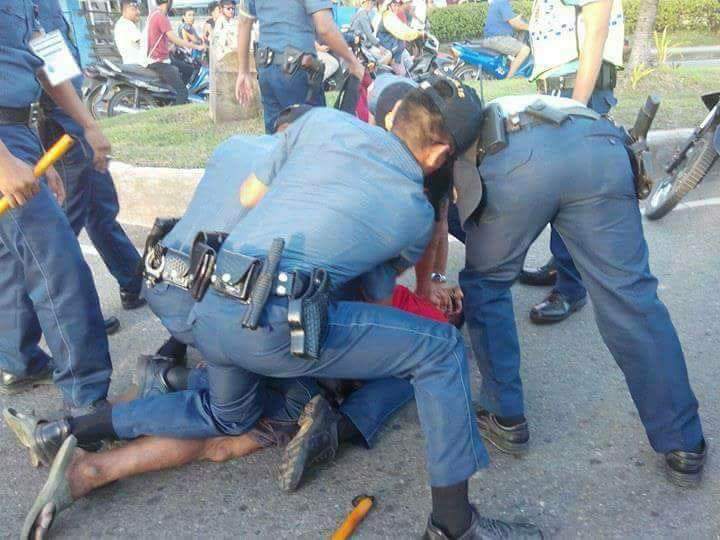 ZAMBOANGA CITY, Philippines – The chief of Police Regional Office 9 has announced the creation of a fact-finding team to investigate the death of a man who supposedly harmed himself while in police custody in Zamboanga City on September 30.
"The Police Regional Office 9 assures the public of the impartiality of investigation and justice will be served," said PR0-9 Director Chief Superintendent Billy Beltran in an interview on Friday, October 6.
Beltran said the fact-finding team will be led by lawyer Russel Ebillo, the acting regional director of the Police Regional Internal Affairs Service 9 (IAS-9). Beltran urged the IAS 9 to conduct a speedy investigation.
Eduardo Serino Sr, a resident of Barangay Lintangan in Sibuco, Zamboanga del Norte, was declared dead in a local hospital after his arrest. He sustained contusions and hematomas on different parts of his body. 
According to the official statement of the Zamboanga police, Serino refused to turn over his backpack to policemen manning RT Boulevard Cawa Cawa during the Hermosa Festival celebration. He ran for the exit, "motioned to stab" a policewoman with a barbecue stick, prompting more policemen to restrain him.
The arrest required 5 to 8 personnel "due to his strength and wild reaction," the police said.   
Serino was brought to Police Station 11 for investigation. According to police, Serino broke free from his handcuffs thrice, and attempted to grab electric wires, service firearms, and an M4 rifle.
The police also said Serino was seen "slapping his face, hitting his chest and bang[ing] his head on the cemented wall," before trying to escape by jumping over a fence.
Police said Serino pushed an iron flower "vase" towards the policemen, "however said vase instead collapsed towards him causing fatal injuries." 
'Self-inflicted injuries' 
In a press conference, Zamboanga City Police Office (ZCPO) officer-in-charge Senior Superintendent Neri Vincent Ignacio said Serino died of  "self-inflicted injuries," and not in the hands of his policemen.
Photos taken by Rosherl Taburnal Lumpapac documented the moment Serino was taken into custody by uniformed policemen.
The man described as Serino was dressed in a pair of shorts and a red shirt, a backpack nearby. More photos showed Serino stretched out on his stomach, held down by at least 3 policemen while surrounded by 4 others. Other photos showed Serino being led away from the scene with his wrists cuffed behind his back. 
Lumpapac said she knew Serino herself, as his wife was a former household employee. Her post described him as a shy man, "a good person" who was a responsible father. She wrote that he was on his way home to rest after watching over his child in the hospital, and got lost because he was unfamiliar with the city.
"Sinita ng mga pulis at tinanong kung ano ang laman ng bag," Lumpapac wrote. "Hindi niya binigay ang bag dhil sa takot na malagyan daw ng kung ano2 gaya ng nkikita sa t.v..kaya nagkagulo na at marami ng mga pulis ang dumating at ito ang mga larawang nakuha nmin kung paano siya inimbistigahan sa daan." 
(He was stopped by the police and asked what was inside the bag. He didn't surrender the bag because he was afraid the police would plant evidence like he had seen on TV. That's when the scuffle began, and many policemen arrived, and these are the pictures we took of how he was investigated on the street). 
The post, which has since gone viral, has been met with expressions of disgust from netizens demanding justice from the Zamboanga police. – Rappler.com