The PNP's definition is based on Administrative Order 35, but the CHR says this limiting definition would discount killings perpetrated by state agents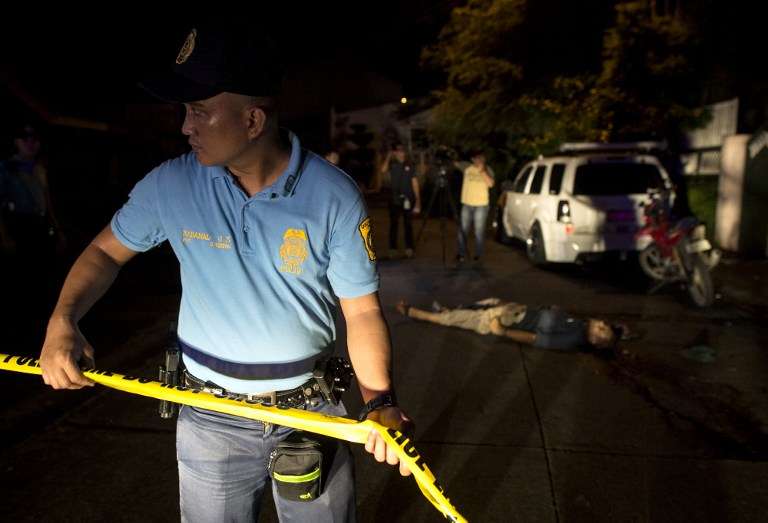 MANILA, Philippines – The Commission on Human Rights (CHR) on Sunday, October 8, hit the Philippine National Police (PNP)'s limited definition of extrajudicial killings, saying it excludes killings perpetrated by both state agents and vigilantes.
This comes after the PNP claimed that there were no cases of extrajudicial killings (EJKs) under the Duterte administration, based on the definition of extrajudicial killings under Administrative Order 35 issued by the Aquino administration. 
Under the order, extrajudicial killings are defined as committed by "state and non-state forces" to silence, "through violence and intimidation, legitimate dissent and opposition raised by members of the civil society, cause-oriented groups, political movements, peoples and non-governmental organizations, and by ordinary citizens." 
But in a statement, the CHR insisted on the definition of EJKs from former United Nations Special Rapporteur Philip Alston: that it "encompasses any killing by government forces as well as killings by any other groups or individuals which the government fails to investigate, prosecute, and punish when it is in a position to do so." 
"Limiting the definition of EJK based only on a focused operational definition provided in the Administrative Order 35 would discount killings that are also perpetrated by state agents and non-state actors that remain uninvestigated," the CHR said.
"Thousands of deaths have been reported to be committed by both vigilante and police personnel during the ongoing anti-illegal drug operations. The Commission maintains that killing must never be an option to solve the drug problem in the country," it added. 
More than 14,000 people have died in both police operations and vigilante-style killings since President Rodrigo Duterte began his war on drugs in July 2016.
In its statement, the CHR also urged the government to investigate alleged human rights violations in the cases of deaths under police operations. (READ: The Impunity Series)
"The usual reason of 'nanlaban' (fighting back) does not justify the killings. Denying these allegations without observing due process of law would not yield substantial solution to the issue, but would just cultivate a culture of impunity within the ranks," it said.
The CHR also said it echoed the sentiments of majority of Filipinos worried about becoming victims of EJKs, as seen in a recently released Social Weather Stations (SWS) survey.
Previous SWS surveys also found that half of Filipinos don't believe that the killed suspects fought back against police, and that 6 in 10 Filipinos believe drug suspects were killed despite already surrendering. – Rappler.com