Department Order 178 stops companies from requiring their employees to wear high heels at work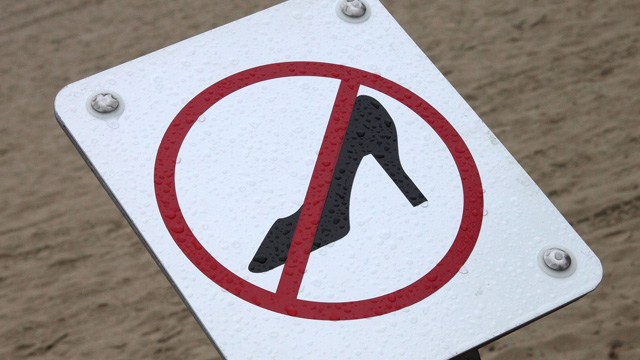 MANILA, Philippines – Department of Labor and Employment (DOLE) Secretary Silvestre Bello III ordered a nationwide inspection of business establishments to check if they are complying with a new directive which banned the mandatory wearing of high heels in the workplace.
Labor law compliance officers (LLCOs) were told to conduct unannounced visits to malls, supermarkets, restaurants, fast food chains, and other establishments to monitor their compliance with Department Order 178 (DO 178).  
DO 178 took effect on September 24 after the order's publication in the major daily Philippine Star. The order prescribes the appropriate footwear and rest period for workers who are exposed to long hours of standing. 
In their initial inspection, some LLCOs found that a mall in Manila was not compliant with the order. Authorities did not specify the name of the mall.
The mall's management argued that their staff still cannot find the appropriate shoes specified by DOLE. Salesladies were also having financial constraints with purchasing new shoes.
DO 178 specifies that workers should not be forced to wear shoes with a height beyond one inch.  
DOLE said that despite the mall's failure to comply with the recommended footwear, it provides an hour-long lunch break for its workers, a 30-minute coffee break, and rest breaks for when they feel pain due to long hours of standing.
The management, however, has yet to provide readily accessible seats for its employees as stated in the DO. 
DOLE issued the order after the Associated Labor Union (ALU) asked the government to stop employers from requiring their female workers to wear high heels at work.
ALU cited a study conducted by the University of Aberdeen, which linked the frequent use of high-heeled shoes to risks of injury, postural problems, and bunion formation.
DOLE's Bureau of Working Conditions said prolonged standing causes pain and fatigue among workers. The workers can also experience numbness and bloating in their legs.
The department is also studying the possibility of requiring employers to give breaks to workers who spend most of their time sitting. These will include office workers, especially call center agents. – Rappler.com