Under the proposed measure against contractualization, employers who violate the rules on labor-only contracting are only required to regularize their workers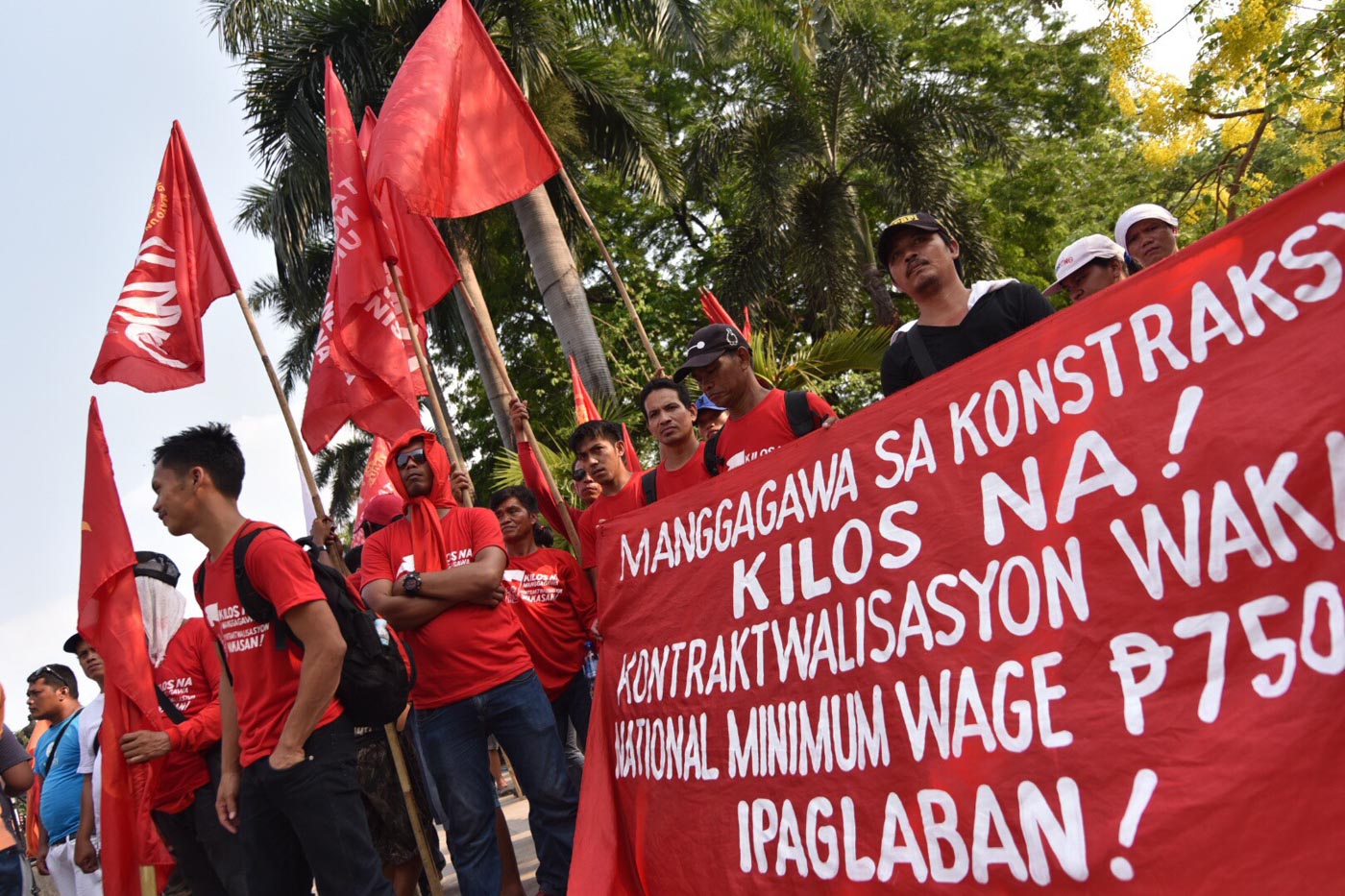 MANILA, Philippines – The Department of Labor and Employment (DOLE) has asked the Senate to include fines for erring employers in its proposed measure against contractualization. 
DOLE officials manifested this through their sponsor, Senator Juan Edgardo Angara, during the agency's budget hearing in the Senate on Tuesday, October 10. 
"The department has said [that] at present, the law only provides sanctions for those who violate the ban against labor-only contracting. The sanction is [only through] absorption of employees. They would like to see stiffer [penalties]," Angara said. 
The statement was made after Senate Minority Leader Franklin Drilon, a former labor secretary, asked for DOLE's policy recommendations on Senate Bill Number 1116 authored by Senator Joel Villanueva, chair of the Senate committee on labor and employment. 
SB 1116 or the End Contractualization Act aims to limit the illegal labor practice by removing unclear provisions in the Labor Code.
Contractualization happens when an employer refuses to regularize employees, even after the latter has rendered 6 months of service. Companies, usually wanting to spare themselves from paying workers' benefits, hire employees through a fixed-term contract that is recurringly renewed. 
Ending contractualization, a labor issue since the Marcos regime, is one of the campaign promises of President Rodrigo Duterte. (READ: Ending contractualization needs 2 urgent actions from Duterte) 
Angara said DOLE has regularized 72,642 workers as of October 6. 
In March, DOLE issued Department Order 174 to fulfill the President's directive by imposing stricter guidelines on farming out labor. Labor unions have criticized the order and demanded a permanent solution through legislation.  
There are 7 related bills filed in the Senate and 24 more in the House of Representatives – all pending at the committee level.
Additional inspectors 
Apart from issuing penalties, DOLE also manifested its request for additional labor law compliance officers (LLCOs). There are only 574 LLCOs overseeing 936,554 business establishments across the country. (READ: No 'endo' in 2017? Challenge of ending labor contractualization) 
The Department of Budget and Management earlier approved the hiring of additional 36 labor inspectors with a budget of P15 million. But DOLE said they could use 200 more officers in their anti-contractualization drive. 
Drilon rejected this argument, stressing it would only make room for corruption. 
"Enlarging the bureaucracy in order to police the clientele regulation is also a rich source of corruption," said the senator. 
"The better policy [is] to make inspection unnecessary because employers voluntarily comply because they can comply," he also said. 
One proposal, according to Villanueva, is to give incentives to companies complying with the reforms the government introduced. – Rappler.com