This is AI generated summarization, which may have errors. For context, always refer to the full article.
Ex-Senator Ferdinand Marcos Jr is asking the Presidential Electoral Tribunal to allow the technical examination of ballots in 3 ARMM provinces when the PET already decided on Camarines Sur, Iloilo, and Negros Oriental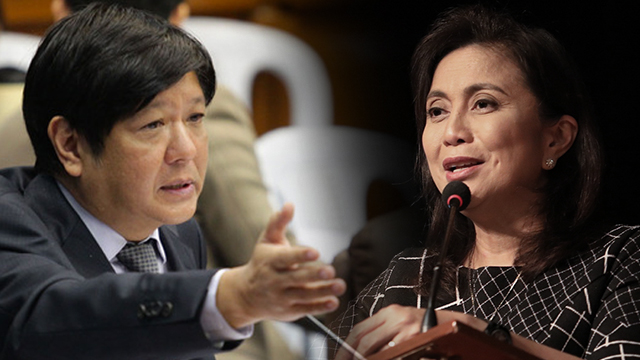 MANILA, Philippines – The camp of Vice President Leni Robredo said ex-Senator Ferdinand Marcos Jr violated the rules of the Supreme Court, which serves as the Presidential Electoral Tribunal (PET), when he sought the technical examination of ballots in Basilan, Lanao del Sur, and Maguindanao. 
This was the argument of Robredo's lawyers Romulo Macalintal and Bernadette Sardillo in a pleading filed with the PET on Thursday, October 12. A copy of the document was sent to reporters on Friday, October 13. 
The PET already ruled that initial recounting of ballots will be conducted in the pilot provinces of Camarines Sur, Iloilo, and Negros Oriental to determine the merit of Marcos' electoral protest against the Vice President. 
This is part of Marcos' second cause of action, where he is asking the PET to allow the ballot recount in 36,465 clustered precincts. (READ: Marcos drops witnesses for poll fraud claims in 36,465 clustered precincts) 
Marcos is also seeking to have the votes nullified in 3 provinces in the Autonomous Region in Muslim Mindanao (ARMM), his 3rd cause of action. (READ: 2016 Bongbong vs Leni poll protest: What ARMM 'election fingerprints' say) 
He wants the PET to conduct a technical and forensic examination of all ballots in these 3 provinces. The PET has deferred action on this matter.
According to Macalintal, this only shows Marcos is "not coming to court with clean hands" and is trying to circumvent the 3-pilot-provinces rule of the PET.
"Such a ploy is a clear circumvention of the rule in that, if Marcos is allowed to conduct said technical examination from these 3 ARMM provinces, he would in effect be actually having 6 pilot provinces," said Macalintal.
"Circumvention of the law is never countenanced as it is a clear sign of bad faith," he said. "And courts should not assist someone like Marcos in achieving an improper purpose."
Marcos' lawyer George Garcia refused to comment on the Robredo camp's allegation.
"No comment. They are entitled to their own opinion," Garcia told Rappler in a text message. 
The PET has issued guidelines and formed teams for the revision of ballots in the electoral protest.  
In a recent press conference, Marcos said he was only two months away from holding the highest post in the land. Robredo tagged this as "fake news." 
Read a copy of the Robredo camp's pleading here:
– Rappler.com