Malacañang says they will pursue investigations on all drug-related deaths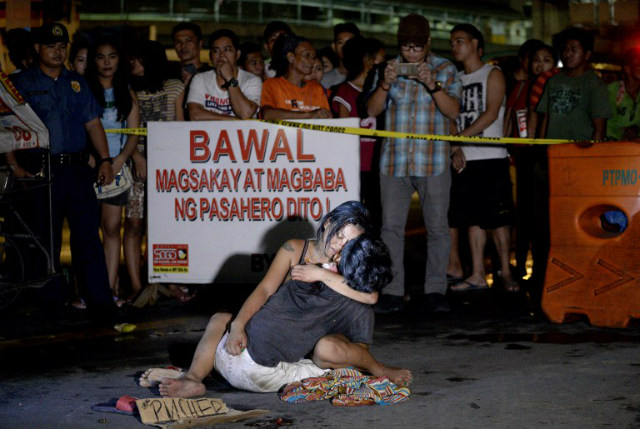 MANILA, Philippines – Malacañang said on Saturday, October 21, that the drug suspect in the viral 'Pieta' image that came to be used to criticize President Rodrigo Duterte's war on drugs was not killed by the police, but by drug syndicates.
"Authorities have put closure on the death of Michael Siaron, whose photo was compared to the Pieta image, after ballistics examination from a recovered firearm revealed that he was killed by a member of a syndicate also involved in the illegal drug trade," Presidential Spokesperson Ernesto Abella said in a statement on Saturday.
Michael Siaron was shot dead in the EDSA-Taft area on July 23, 2016, around two months after Duterte took office as President. Siaron was photographed being cradled by partner Jennilyn Olayres, like Mary cradling the dead body of Jesus in the Michelangelo masterpiece Pieta.
(READ: Was the PNP's war on drugs illegal? Here's why lawyers think so) 
It was prominently featured by Philippine news outlets and was carried by international news outfits including The New York Times, earning the ire of Duterte when he delivered his first State of the Nation Address (SONA) on July 25, 2016. 
"The Siaron case verifies what government has said from the start of the campaign against illegal drugs: Many of these killings were perpetrated by those involved in drug operations as well; drug traffickers and pushers eliminating each other," Abella said.
In the 14 months (it was suspended for a month from January 30 to February 27, 2017) that the Philippine National Police (PNP) conducted the war on drugs, they reported to killing 3,906 drug suspects in their operations.
Another 2,290 deaths were recorded with motives to be drugs, killed by vigilantes. 
Duterte has suspended the police's Oplan Double Barrel twice in 2017 and has now appointed Philippine Drug Enforcement Agency (PDEA) as the 'sole agency' to carry out the campaign. 

"The relentless attribution of such killings to police operations was both premature and unfair to law abiding enforcement officers who risk life and limb to stop the proliferation of illegal drugs in our society," Abella said.

Abella added: "Government assures the public and the families of victims of deaths under investigation that authorities will pursue cases until the truly guilty are brought before the bar of justice."
In an interview with Al Jazeera on October 7, Foreign Secretary Alan Peter Cayetano claimed that "every single one" of the deaths are being investigated.
But as of September 27, the PNP has only managed to submit 10 inquest reports out of the 3,800 deaths at the time.
The Department of Justice (DOJ) has prosecuted only 71 drug-related deaths, and of those, only 19 has reached the courts, as per DOJ's own data as of August 22. – Rappler.com