City officials want a boom crane being used in the construction of what will become Mindanao's tallest building to be taken down, after reports of it obstructing aircraft traffic in and out of Davao airport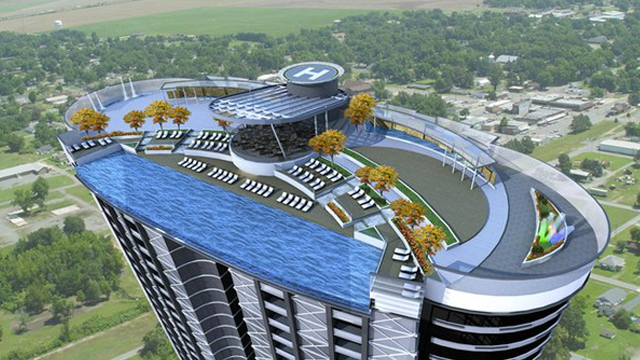 DAVAO CITY, Philippines – The developer behind Mindanao's tallest skyscraper project is threatened of a denial of their right to operate in the city if they fail to follow the local government's order to hoist down a crane that is said to have obstructed air traffic here.
Davao City Mayor Sara Duterte-Carpio issued a 5-day ultimatum to Aeon Towers developer FTC Group of Companies on Tuesday, October 24, to lower down a crane mounted on top of their 33-storey project or else the city will carry out the dismantling at the expense of the firm.
"If they won't lower the crane, I will never allow to open their building. They will never be allowed to do business in Davao City," Duterte-Carpio said on Tuesday, October 24.
The boom crane is being used by the developer to complete construction works of Aeon Towers, a P3.1-billion condominium project estimated to be be finished by the end of this year. It is expected to become Mindanao's tallest skyscraper.
However, since Feburary this year, the Civil Aviation Authority of the Philippines (CAAP) has sent notices to the developer to have their cranes lowered, if not removed, as pilots of commercial airlines point out it is obstructing air traffic. The project sits some 7 kilometers away from Francisco Bangoy International Airport, also known as the Davao International Airport.
Franklin Anota Sr., air traffic section chief of CAAP in Davao City, said a "misapproach" issue has been recorded in January, causing delays in some of the flights.
This was confirmed to Rappler by Cebu Pacific Air's spokesperson, Charo Lagamon.
"For Cebu Pacific, the flights were not diverted, but (we) just changed the approach that increased risks (in flying)," she said.
According to CAAP Davao, aircraft coming outside Davao land at the airport's Runway 05, and take off on Runway 33. But with the presence of the said crane, aircrafts landings have been transferred to Runway 23 to avoid the risks of hitting the said equipment.
This issue was tackled Tuesday at the City Council where officials grilled Aeon Tower's project manager Engineer Buboy Espinosa.
During the session, it was learned that FTC did not take immediate actions despite's CAAP's previous notices earlier this year, earning the ire of Davao City Vice Mayor Paolo Duterte.
"We can instruct the City Engineers (Office) and ask the help of the DPWH to demolish your crane. Now which is cheaper, you remove your crane or let DPWH remove your crane and you'll pay for the expenses?," said Duterte.
To the company's defense, Espinosa clarified that the developer is willing to dismantle the cranes but is asking "consideration" as the cranes weigh 1-2 tons.
"What we are asking to the LGU is to give us little time because dismantling of the tower crane is not easy since its parts are heavy and can't be lifted by ordinary equipment," he said.
But Duterte-Carpio did not mince words Tuesday, and said that if the developer fails to meet the city's 5-day deadline, they would proceed with demolishing the crane. – Rappler.com