(UPDATED) The congressman will formally assume spokesman duties after President Duterte's Japan trip at the end of October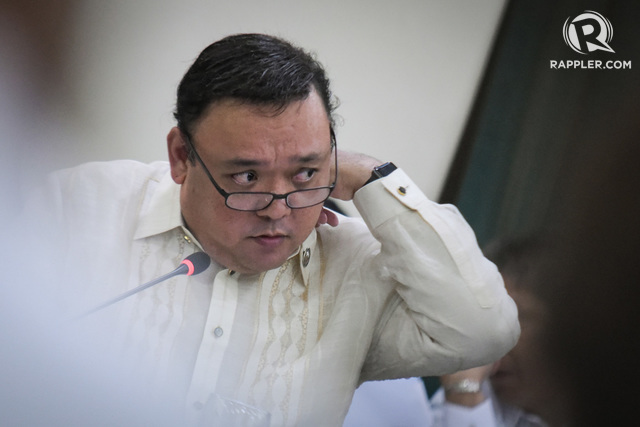 MANILA, Philippines (2nd UPDATE) – Soon, a new face and voice will represent President Rodrigo Duterte to media.
Duterte himself announced that Kabayan Partylist Representative Harry Roque will be appointed presidential spokesman.
He said this during Roque's birthday celebration in Davao City on Friday night, October 27.
Saying Roque will soon be "Secretary," Duterte said at the party, "To get the message clear, sabi ko (I said), Harry will fit the – kasi medyo malikot ang bunganga namin (because we speak in playful language)."
Roque clarified to media that he will take his oath on November 6, when a Cabinet meeting is expected to take place.
He is expected to formally take over the tasks of spokesman after Duterte's trip to Japan from October 29 to 31.
It's not yet clear if he will be replacing Presidential Spokesman Ernesto Abella.
Supposedly, Roque was initially hesitant to accept the position of spokesman.
Duterte's decision comes after his alleged dissatisfaction with how Abella handled several issues facing his administration with the media.
Abella gave an unflattering depiction of his administration when he said in an October 13 Malacañang press briefing that Duterte may have been "fed the wrong information."
The spokesman said the President was only reacting to wrong news reports that supposedly made it appear that the European Union called for the Philippines' removal from the United Nations.
It turns out, it was a Human Rights Watch Geneva official who said the Philippines, due to its worsening human rights record, could be in violation of the UN Human Rights Council membership obligations and could thus be removed from the council.
Lawyer-turned-politician
Roque, meanwhile, made his mark as a human rights lawyer who had taken part in many high-profile cases with the Center for International Law (CenterLaw).
For instance, he was the legal counsel of the family of slain transgender woman Jennifer Laude in the case against United States marine Joseph Scott Pemberton.
He had also lawyered pro-bono for families of some of the victims of the Ampatuan Massacre, as well as for the family of slain journalist and environmental activist Gerry Ortega.
A group of legal and human rights organizations strongly urged Roque to reconsider Duterte's offer to be his spokesman, asking him to "stand on the right side of the struggle for human rights and justice in the Philippines."
The organization Roque had worked with, CenterLaw, is one of the law groups actively filing cases on behalf of victims of extrajudicial killings under Duterte's war on drugs.
Roque decided to run for congressman under the Kabayan Partylist in the 2016 elections. Initially, he had plans of running for senator under the slate of former Vice President Jejomar Binay.
Now facing the formidable task of speaking for Duterte, it must be noted that Roque's own words have also gotten him into trouble.
His line of questioning in the November 24 House hearing on the New Bilibid drug trade convinced some of his fellow members in the Kabayan Partylist that he should be removed as a member for inappropriate behavior. (READ: Lawmakers feast on De Lima-Dayan love affair)
One of the questions he had asked Senator Leila de Lima's driver and supposed lover Ronnie Dayan was, "Sa tingin mo ba pinagsamantalahan mo ang kahinaan ni Leila de Lima bilang isang babae noong kayo ay nagkaroon ng relasyon? Nung sinabi mong hindi mo pinagsamantalahan ang kanyang kahinaan bilang babae, ano ang ibig mong sabihin?"
(Did you take advantage of Leila de Lima during your relationship? Did she seem fragile to you when you started your relationship? Do you think that you took advantage of Leila de Lima's weakness as a woman during your relationship? When you said that you did not take advantage of her weakness as a woman, what did you mean?) 
It remains to be seen how Roque will handle his words in his new role in government. – Rappler.com