Arvin Balag invokes the provisions of the law in light of a sensational testimony that names him as being the one who delivered the fatal paddle hit on Horacio Castillo III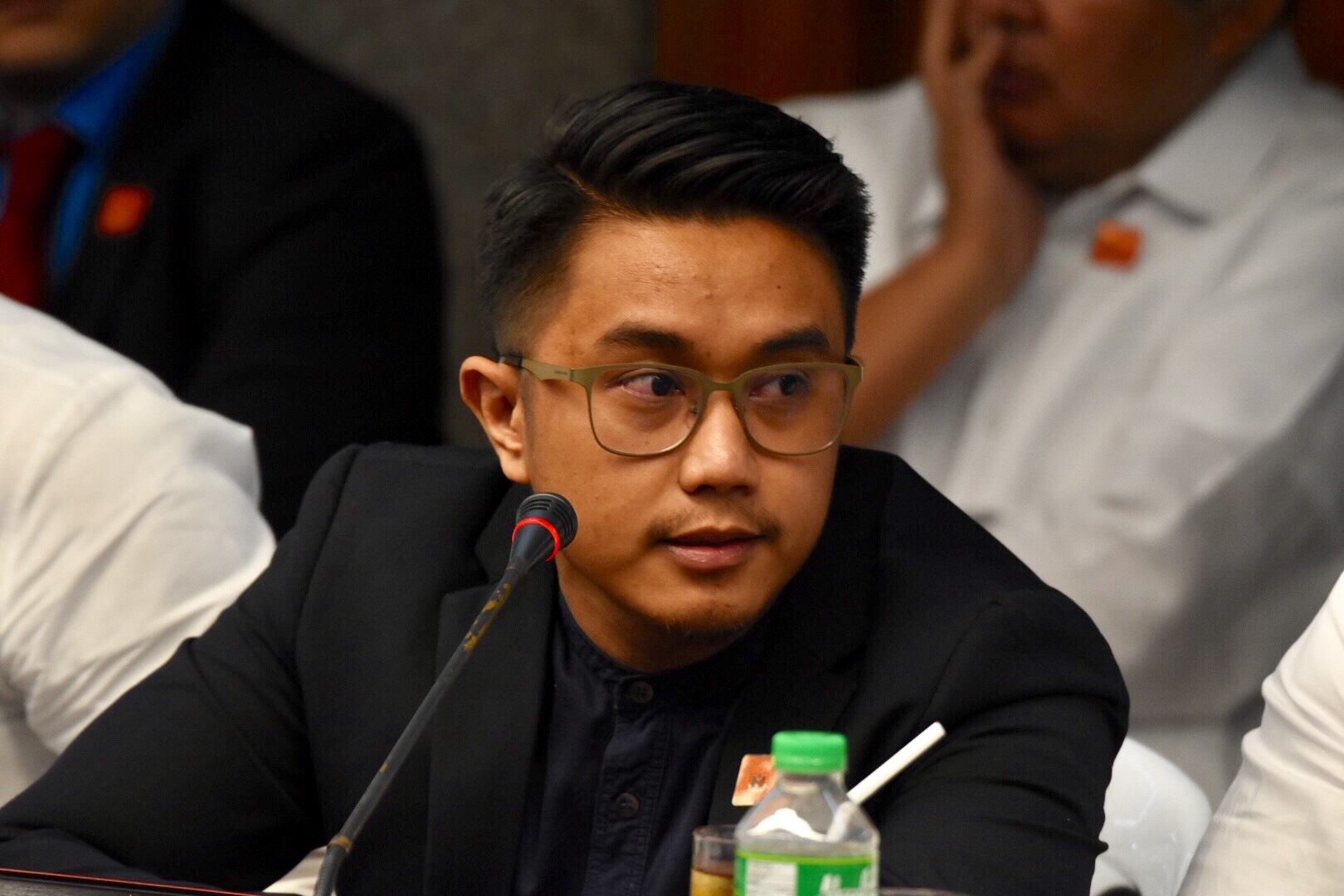 MANILA, Philippines – Arvin Balag, the Grand Praefectus of Aegis Juris fraternity, is exhausting the definitions of the law to try and get himself out of murder charges for the death caused by hazing of freshman law student Horacio Castillo III.
In his counter-affidavit submitted to the Department of Justice (DOJ) on Monday, October 30, Balag said there is no witness to show abuse of superior strength. 
To charge someone with murder, an accuser must prove there was "treachery, taking advantage of superior strength" and other qualifications, in the death.
Balag is still detained inside the Senate after he was held in contempt for not answering questions in a committee investigation. He was allowed to submit his counter-affidavit with only his lawyer present in the DOJ, because a prosecutor was present at the time he subscribed to the affidavit inside the Senate.
"As stated above, abuse of superior strength cannot be appreciated in the instant case since no witness saw how the alleged killing was perpetrated," Balag said in his affidavit.
"There was also no proof that the death of Atio was attended by a relative disparity in physical characteristics, usually translating into the age, gender, the physical size and the strength of the aggressor and the victim," Balag said.
Balag's affidavit was filed in light of a sensational testimony by his fraternity brother Mark Anthony Ventura, who identified him as being the one who delivered the fatal paddle hit that left Castillo unconscious.
On Monday, the DOJ panel said it has not received Ventura's affidavit yet and that his right to submit the same has already been waived due to a lapsed deadline. Ventura submitted his affidavit to the Witness Protection Program (WPP).
The DOJ panel clarified that Ventura can eventually still be a witness. (READ: How Aegis Juris fratmen are defending themselves in Atio Castillo slay case)
Elements of murder
Balag also said: "The qualifying circumstances of employing means to weaken the defense, means or persons to insure or afford impunity cannot also be appreciated because of the fact that no proof of evidence was presented by the complainants that the same exist in the instant case."
Take that assertion against Ventura's statement that Castillo was subjected to almost 4 hours of hazing. Ventura said more than 10 men punched Castillo until he was black and blue, after which they hit him with a spatula-like object.
Ventura also said Castillo was supposed to receive 11 paddles, but he collapsed on the 4th. After seeing him move, however, Ventura said Balag hit him a 5th time and that's when Castillo became unconscious.
But Balag countered: "Superiority in number does not necessarily amount to the qualifying circumstance of taking advantage of superior strength."
On Monday, one of the fraternity men named by Ventura as being present during the September 17 hazing rites blocked his testimony. Alex Bose's lawyer said that Ventura's admission of his participation in the rites makes him the most guilty, and therefore not qualified to be state witness.
It is the court that has the final say on whether or not someone is going to be discharged as state witness. At this point, Ventura is still a respondent although he enjoys WPP benefits.
Ventura is the only one so far to admit to the hazing. He is identified as the Secretary of Aegis Juris fraternity.
Other arguments 
Balag also used the pre-existing heart condition defense, which was first introduced by the camp of John Paul Solano, citing the medico legal report and death certificate that says Castillo had Hypertrophic Cardiomyopathy or HCM.
Balag also "categorically and specifically denied" knowledge or participation in the Facebook group chat, even though someone named "Arvin" was shown in those chats planning the initiation rites.
He was also again mentioned in another group chat post-death of Castillo, where alumni of the fraternity spoke of actions to protect their brothers. In that group chat, an alumnus said it was Balag's driver and Solano who took Castillo to the hospital.
Balag also said the screenshots of both group chats, even if true, are violations of his right to privacy of communication, and are therefore inadmissible evidence.
Solano has also named Balag as one of those he saw morning of September 17, when he was called to the fraternity library to help Castillo. Solano said that the convoy that took Castillo to the hospital was him on his motorcycle, Balag and Axel Hipe in Balag's black Fortuner, and Castillo in Ralph Trangia's red pickup.
"However, my alleged ownership of a vehicle found within or near the alleged scene of the incident, even if true, does not equate to the commission of hazing or murder without any supporting proof of evidence," Balag said.
Aside from murder and violation of the anti-hazing law, Balag is facing charges of perjury and obstruction of justice. – Rappler.com