This is AI generated summarization, which may have errors. For context, always refer to the full article.
Vice President Leni Robredo's legal team claims the list of proposed witnesses includes unregistered voters, but the lawyer of ex-senator Bongbong Marcos denies this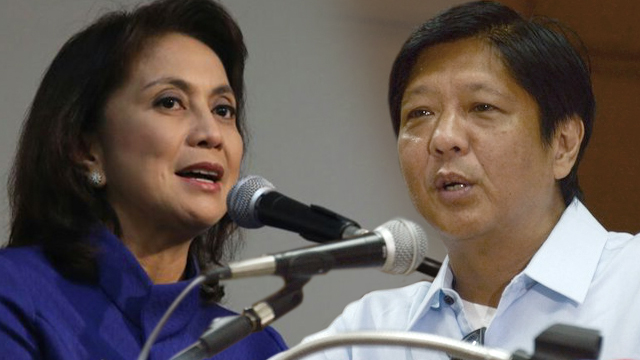 MANILA, Philippines – The camp of Vice President Leni Robredo accused former senator Ferdinand "Bongbong" Marcos Jr of "misleading" the Supreme Court (SC), sitting as the Presidential Electoral Tribunal (PET), by including unregistered voters in his list of proposed witnesses for the electoral protest. 
Robredo's lawyers Romulo Macalintal and Bernadette Sardillo told the PET in their latest manifestation that some of Marcos' proposed witnesses to alleged electoral fraud in Lanao del Sur, Maguindanao, and Basilan were not registered in the precincts specified in his list.
"In his vain attempt to convince the Honorable Tribunal to conduct a technical examination of election documents in the provinces of Lanao del Sur, Maguindanao, and Basilan, Marcos has practically resorted to misleading if not totally deceptive representation," said Macalintal on Tuesday, November 21. 
Marcos filed an electoral protest against Robredo, whom he accused of cheating in the 2016 polls. 
He wants the PET to allow a ballot recount in 36,465 clustered precincts, his 2nd cause of action. He is also seeking to have the votes nullified in 3 provinces in the Autonomous Region in Muslim Mindanao (ARMM), his 3rd cause of action. 
The PET then instructed Marcos to submit his list of proposed witnesses. He previously waived presenting witnesses for his 2nd cause of action, arguing a ballot recount would best prove there was electoral fraud in the 36,465 clustered precincts.
As for the 3 ARMM provinces, Marcos gave the PET 8,000 names of proposed witnesses in October.
But the Robredo camp discovered several of these names were not registered during the 2016 polls upon checking the certified list of registered voters of the Commission on Elections (Comelec).
To prove their point, the Vice President's lawyers included their findings in Basilan in pages 5 to 65 of their manifestation:
Macalintal said Marcos must be reminded the PET is a "court of law which deals with facts supported by evidence."
"The plain truth is, the election protest filed by protestant Marcos is not supported by his own supposed evidence," Macalintal said.
Marcos' lawyer George Garcia, however, stood by his client's list.
He said their proposed witnesses are members of the Board of Election Inspectors (BEIs), or the teachers who helped operate the vote-counting machines and assisted voters on election day last year.
"So since they are members of the BEI, then they are registered voters. The Comelec will not appoint them if they are not," Garcia told Rappler in a text message.
"We have no participation whatsoever in choosing them. They were appointed even before the election," he added. – Rappler.com