Presidential Spokesman Harry Roque says the worst that can happen to those vaccinated with Dengvaxia with no prior dengue infection is fever and bruising, if they contract dengue at all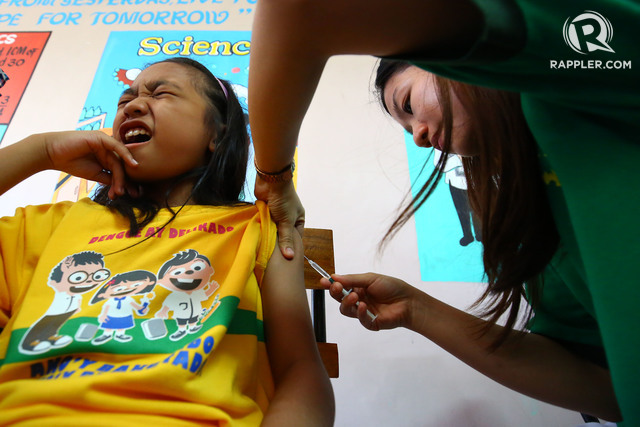 MANILA, Philippines – Presidential Spokesman Harry Roque sought to downplay the public's fears about the Dengvaxia vaccine which experts say could put at risk to dengue those who have not been infected before.
"The good news is people should not panic about the dengue vaccine. There is no danger with the dengue vaccine," said Roque on Monday, December 4 during a Malacañang briefing.
A Department of Health official, Assistant Secretary Lyndon Lee Suy, was invited to clarify to reporters certain aspects of the controversial vaccine.
Roque gave assurances that, based on the DOH, the vaccine is "very effective" in protecting persons from another dengue attack if the person contracted dengue in the past.
Repeating DOH figures, he said this pertains to 9 out of 10 Filipinos.
The only bad news, he said, is that for the one person out of 10 who has not had dengue, they may contract dengue "after 3 years," even after a Dengvaxia shot.
Roque also sought to clarify that the public should not lose too much sleep about the "severe" tag vaccination company Sanofi Pasteur used to describe the dengue that patients may contract after the vaccine, if they never had dengue before.
The symptoms of the "severe disease" being referred to, said Roque, is "two days of fever and hemophilia."
"So in ordinary language, the worst that can happen based on the Sanofi studies is those who have not had dengue – only one in 10 – may get dengue which in our classification is just mild because they will only get fever and bruising," he said.
"Severe," in this case, he said, does not refer to the type of dengue that is deadly.
"Hindi po yung 'severe' na nakakamatay (Not the 'severe' that is deadly)," said Roque.
Lee Suy confirmed what Roque had said, adding that Sanofi's definition for "severe" "is totally different with the severe classification that is being used currently together with WHO (World Health Organization)."
The WHO defines "severe dengue" as "a potentially deadly complication due to plasma leaking, fluid accumulation, respiratory distress, severe bleeding, or organ impairment."
Symptoms include "severe abdominal pain, persistent vomiting, rapid breathing, bleeding gums, fatigue, restlessness and blood in vomit," according to WHO.
Roque and Lee Suy said this was not what Sanofi Pasteur was referring to when it said those who received the shot and had no prior infection of dengue would be at risk of getting a "serious" disease.
Lee Suy also said there is no certainty that the 10% of Filipinos who had never experienced dengue before will get severe dengue after taking the Dengvaxia shot.
"In the 10%, they are saying they are 'at risk.' We're talking about 'at risk,' meaning it's not automatic that just because you get vaccinated and you are part of the one out of 10, you will already get dengue severa," said Lee Suy.
The DOH has suspended its dengue immunization program, following Sanofi's advisory.
The department, which purchased P3.5 billion worth of the vials in early 2016, said more than 700,000 Filipino youth have been given the vaccine under the government's mass immunization program. It said 70,000 of them are at risk of more severe types of dengue in about two years after getting the vaccine.
Justice Secretary Vitaliano Aguirre II said he has ordered the National Bureau of Investigation to probe Sanofi. Lawmakers are also set to investigate the DOH's purchase of the vaccine.
Meanwhile, the FDA has stopped the sale of Dengvaxia in the Philippine market until packaging labels are replaced to reflect new warnings based on Sanofi's findings. – Rappler.com