(UPDATED) Emily Padilla joins her former colleague at the Department of the Interior and Local Government, John Castriciones, at the Department of Agrarian Reform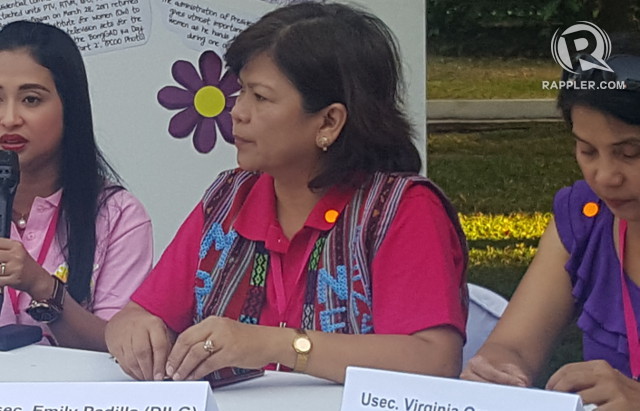 MANILA, Philippines (UPDATED) – President Rodrigo Duterte has transferred Interior Undersecretary Emily Padilla to the Department of Agrarian Reform (DAR).
The President signed her appointment papers were signed on Thursday, December 7, based on documents released to the media on Friday, December 8.
Padilla joins a former colleague, former interior undersecretary John Castriciones in DAR. Castriciones was recently appointed its acting secretary.
With her new appointment, all 3 interior undersecretaries who had written to Duterte about alleged irregularities under Sueno had been taken out of the Department of the Interior and Local Government. The other one Jesus Hinlo, who was appointed member of the board of directors of the Land Bank of the Philippines (Landbank) in October.
Sueno had categorcially denied the corruption allegations and said the President had been misinformed about his case.
The 3 were the subject of an anonymous complaint addressed to Duterte, supposedly written by DILG employees.
Dutertehad repeatedly said he would fire government officials even over just "a whiff" of corruption.
While in the DILG, the 3 were stripped of their responsibilites by Sueno who suspected their moves to oust him.
Even after Sueno was fired and DILG undersecretary Catalino Cuy made officer-in-charge, the 3 could still not get back their powers as only an interior secretary or acting interior secretary can do this.
Castriciones, Hinlo, and Padilla were members of the Mayor Rodrigo Roa Duterte National Executive Coordinating Committee (MRRD-NECC), a group that had heavily campaigned for Duterte in 2016.
It may also be recalled that Padilla was the official who, during a pro-women event in Malacañang, said Duterte can make light of extramarital affairs of government officials because he was no longer a married man.
More appointments
The appointment papers of other new officials were released to media on Friday.
Another Duterte joins the administration with the appointment of Maria Fema Duterte as member of the board of trustees of the Nayong Pilipino Foundation.
Duterte is supposedly a distant relative of the President whose father's clan hails from Cebu. Maria Fema Duterte ran for board member of the 7th district of Cebu in the 2016 elections but lost, coming in 3rd place with a little over 30,000 votes.
Duterte has appointed retired police general Nelson Estares as an undersecretary under the Office of the President. Estares had served as PNP director of the Davao Metropolitan District Command.
Ariel Nepomuceno, who is in Senator Panfilo Lacson's list of alleged corrupt oficials in the Bureau of Customs, was appointed assistant commissioner of the bureau.
Duterte had earliaer reappointed Nepomuceno as customs deputy commissioner after he quit a similar post  in August, after the congressional hearings on the P6.4-billion worth of shabu smuggled into the country.
Reacting to Nepomuceno's reappointment amid Lacson's allegations, Presidential Spokesperson Harry Roque said Duterte might have brought him back to the BOC as he was "found not to be in any way involved in the P6.4-billion [drug smuggling] scandal."
Here are all appointment papers released on December 8:
– Rappler.com