'We talked about the profile of safety and efficacy of the product after 20 years of [research and development],' says Sanofi Pasteur Asia-Pacific head Thomas Triomphe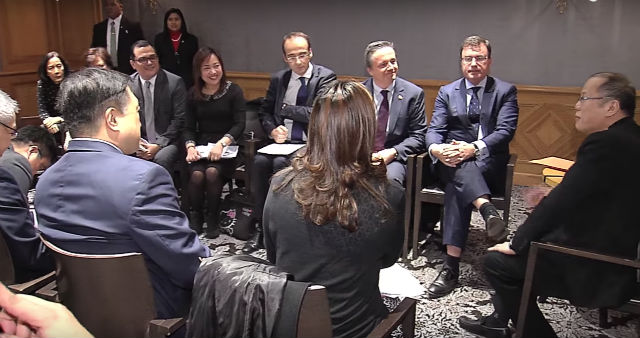 MANILA, Philippines – Sanofi Pasteur Asia-Pacific head Thomas Triomphe denied that the courtesy call of his company's executives on former president Benigno Aquino III was a "sales pitch."
"We talked about the Dengvaxia vaccine… We talked about the profile of safety and efficacy of the product after 20 years of [research and development]," Triomphe said during a hearing at the House of Representatives on Wednesday, December 13.
Triomphe told lawmakers from the committee on good government and public accountability as well as committee on health that he was present during the courtesy call on December 1, 2015.
According to him, the meeting lasted 20 minutes and no formal documents were presented to Aquino. (READ: Aquino should explain why he approved dengue vaccine – Duque)
Triomphe's remarks were in response to Muntinlupa Representative Ruffy Biazon, who asked whether or not Sanofi executives met with Aquino to sell Dengvaxia, the world's first dengue vaccine.
Biazon, obviously irked, told Triomphe to answer his questions directly.
But the company executive stressed: "We were painting the scientific picture of the data… We don't sell in courtesy meetings."

The lawmaker then asked: "Would you be using the same script you [had with] the President if you know the information you now have?"
Triomphe replied: "We always present the latest scientific info. If we had known this info, we [would] have communicated this info."
This further drew the ire of Biazon who almost moved to cite Triomphe in contempt for supposedly not answering the questions "properly."
Sanofi Pasteur came under fire after issuing an advisory saying that its dengue vaccine poses more risks for people who have not been infected by the virus before immunization. (READ: Sanofi can't trace individuals at risk, but continues to monitor Dengvaxia recipients)
The Philippine government purchased P3.5 billion worth of Dengvaxia doses from Sanofi just 4 months after its top officials met with Aquino. Aquino's health secretary Janette Garin also met with Sanofi's senior director for vaccination policy and advocacy Jean-Antoine Zinsou as well as Philippine country manager Ching Santos. (READ: Sanofi insists 'no reason for public scare' after dengue vaccine advisory)
Around 837,556 public school students received Dengvaxia as part of the government's immunization program. The Department of Education has ordered the monitoring of these students. (READ: [EDITORIAL] #AnimatED: Somebody has to answer for the dengue vaccine disaster) – Rappler.com