President Rodrigo Duterte also tells the military that, through the 2018 national budget, he has fulfilled his promise to double their salaries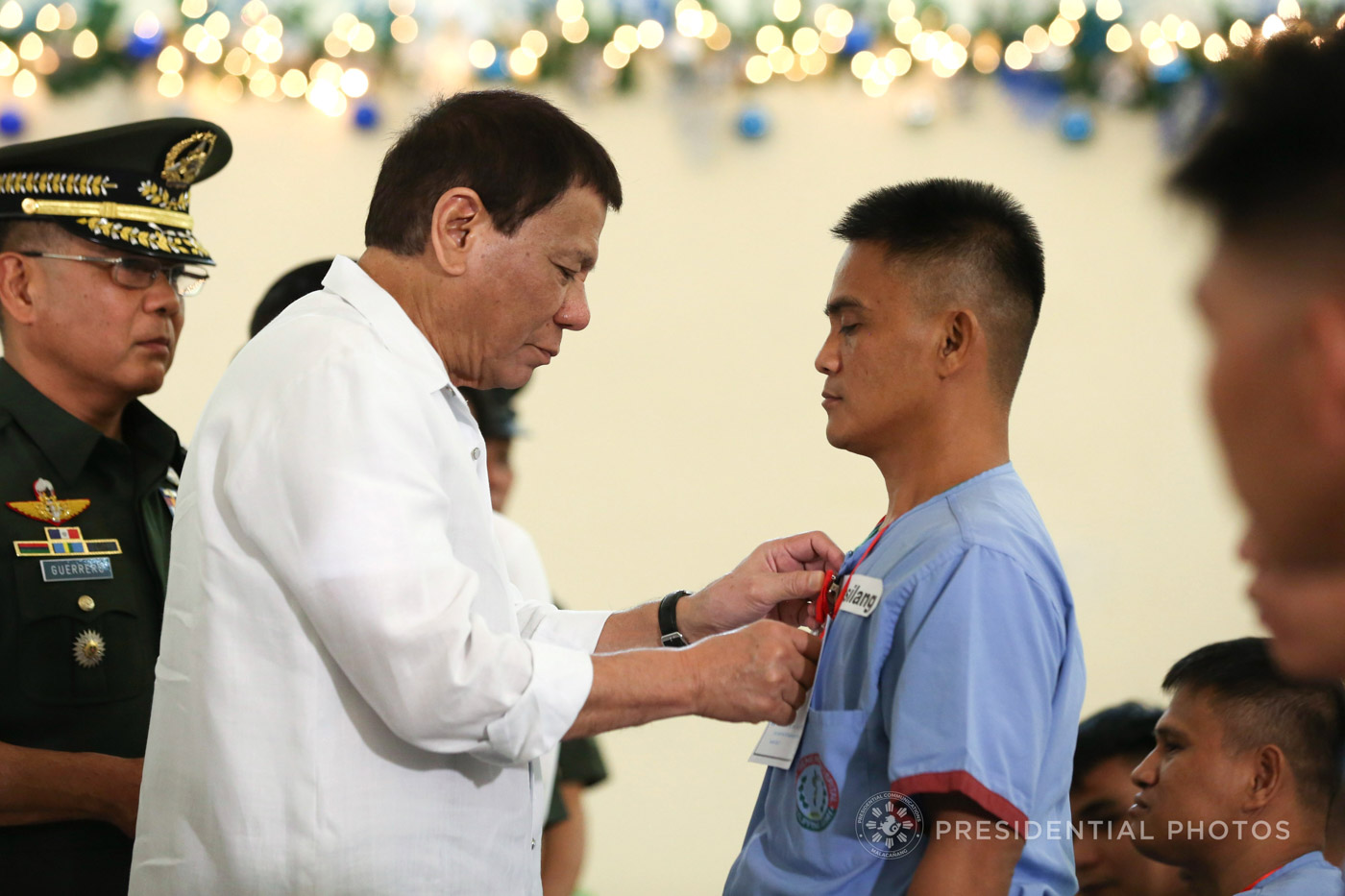 MANILA, Philippines – President Rodrigo Duterte is allocating P100 million every month for medicines for retired soldiers, he announced on Wednesday, December 20.
In a speech at the 82nd anniversary of the Philippine military, Duterte said he was giving P50 million a month to two military hospitals as medicine subsidy for both active duty and retired soldiers.
"I will subsidize the medicines, especially for those who need it. It's P50 million for the AFP (Armed Forces of the Philippines), monthly, and P50 million for the V Luna [General Hospital]," he said during the 82nd anniversary of the Philippine military at Camp Aguinaldo.
Duterte was referring to the AFP Medical Center, also known as the V Luna General Hospital, and the Veterans Memorial Medical Center.
The 72-year-old President, himself suffering from several health conditions, commiserated with retired soldiers who must live with all kinds of maladies.
"For those who are retired, I know you have medicines to take, management for all the kinds of ailments a soldier suffers when he retires. There's always the ready money," said Duterte.
He was scheduled to turn over a portion of the subsidy after his speech. 
Fulfilled campaign promise
The President was also glad to report to the soldiers that he has fulfilled his campaign promise of doubling their salaries.
"This fulfills my campaign promise of doubling the basic pay because your increases for next year are already in the GAA (General Appropriations Act). Take a look at your paycheck in January," he said, to applause.

P62 billion for the "proposed increase in the base pay of military and uniformed personnel" was among the highlighted features of the 2018 national budget which Duterte signed into law on Tuesday, December 19.
Duterte said Senator Richard Gordon had wanted to devote the funds to infrastructure but the President had instructed his aide Secretary Bong Go to relay his wish that his promises to the soldiers and police be prioritized.
The President even said he told lawmakers he would resign if the 2018 budget did not include increased pay for the AFP and the Philippine National Police.
"Kasi sabi ko, "Pag hindi 'nyo inilusot 'yan, I will resign as a matter of principle.' Sinabi ko talaga sa kanya," said Duterte.
(So I said, "If you don't insert that, I will resign as a matter of principle." I really told him that.)
The President also proposed that the military set up a "mini-GSIS" (Government Service Insurance System) that would manage a fund that would eventually provide all kinds of insurance benefits to soldiers. – Rappler.com