Negros Oriental Vice Governor Edward Mark Macias assumes the gubernatorial post following a dismissal order from the Ombudsman against Governor Roel Degamo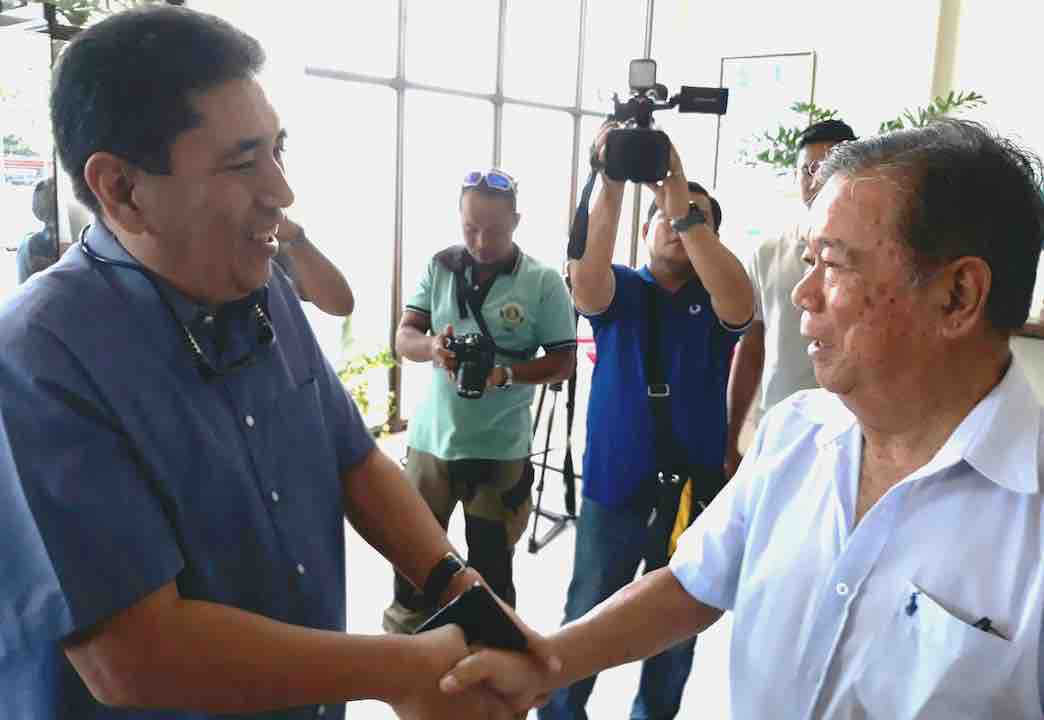 SAGAY CITY, Philippines – Negros Oriental Vice Governor Edward Mark Macias formally assumed the gubernatorial post following the Ombudsman's dismissal order against Governor Roel Degamo over alleged misuse of the province's 2013 budget.
The Office of the Ombudsman served the order on December 7. Macias took his oath on Tuesday, December 19, with top board member Mariant Escaño-Villegas assuming the vice gubernatorial post.
Prior to this, Macias had been the acting governor of the province since October 18 after the Ombudsman ordered a 90-day preventive suspension against Degamo over alleged misuse of P460 million in calamity funds.
In June 2016, Macias also took over for 10 days after the Ombudsman dismissed Degamo for supposedly misusing calamity funds for Tropical Storm Sendong (Washi) in 2011 and the magnitude 6.9 earthquake in 2012. Degamo, at the time, was able to secure a temporary restraining order.
"I stepped in as governor last year, but that [was] only for 10 days. I don't know if he can come back. I can always go back to being a vice governor – it's not a problem," Macias told reporters during the birthday celebration of Negros Occidental Governor Alfredo Marañon Jr.
Macias said he would rather wait and see if Degamo could secure legal relief before fully operationalizing his plans for Negros Oriental.
"We already started to institutionalize some things, but I think it's prudent to wait for [a] few weeks, one or two weeks, to find out whether Governor Degamo can come back. Otherwise, by January, we will have to go full steam ahead already," Macias said.
With him at the helm, Macias said the relationship between Negros Oriental and Negros Occidental would "never change."
"We have found each other. We're twins separated at birth. I don't think we will ever change, we are one already… with or without Negros Island Region, we are together," he said.
The dismissal order against Degamo also means he is prohibited from ever holding public office again and his retirement benefits are forfeited.
The Ombudsman also ordered the filing of charges against the former governor for violating the Anti-Graft and Corrupt Practices Act.
The Ombudsman said Degamo submitted to the Provincial Board the proposed 2013 budget, including the P10-million intelligence fund, but the Board rejected it on January 15, 2013.
Degamo, however, vetoed the decision and authorized the release of the intelligence funds on April 15, 2013. A cash advance was then released the next day.
The Commission on Audit (COA) regional office said the cash advance "was made in the absence of an approved appropriation ordinance," in violation of the Local Government Code. – Rappler.com