Reverend Father Police Senior Superintendent Jason Ortizo shares the highs and lows of being a cop-priest for the Philippine National Police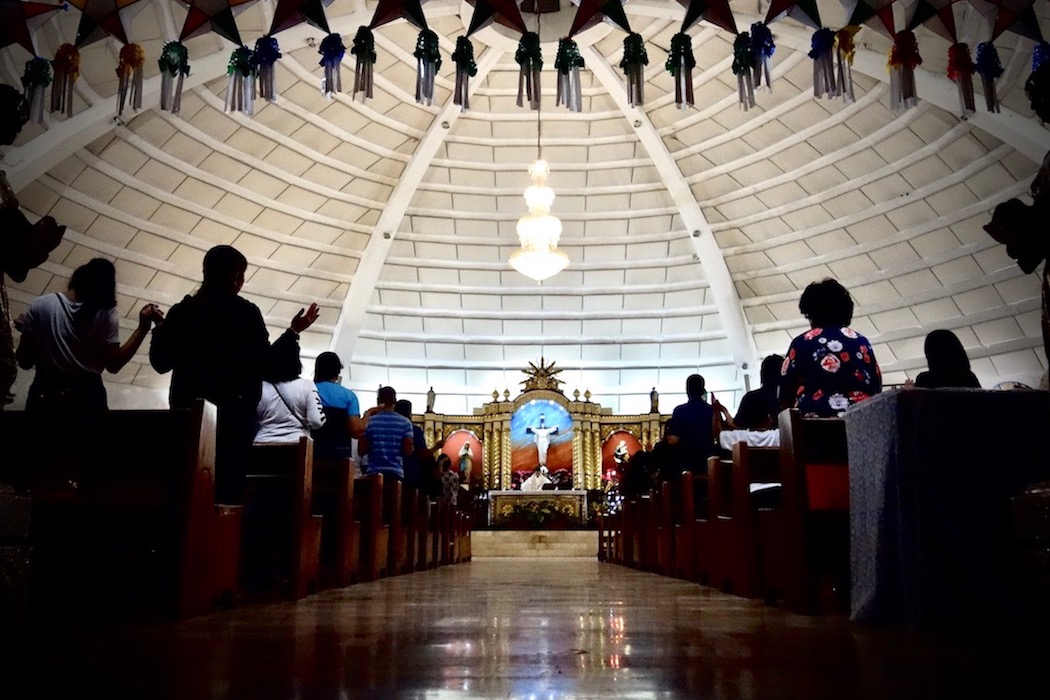 MANILA, Philippines – Call time was earlier than usual in Camp Crame.
At 4:30 am, its towering, bleached gates were already giving way to cars that flooded its wide roads in yellow. Strings of light hung over the decades-old trees, mimicking a thousand shooting stars.
The air was chilly, cold enough that the cops walking along the camp's sidewalks wore an extra layer of clothing above their uniform.
Their destination was the Saint Joseph Chapel, or simply the "Crame chapel" — the only building with its lights turned on inside so early in the morning, and the only circular structure in the grid-planned base. 
It was the only place where rows of police generals, with the units they lead, bowed at the command of a colonel: "Let us pray."
Reverend Father Police Senior Superintendent Jason Ortizo led the first Simbang Gabi of the Philippine National Police (PNP) on December 16, 2017.
The PNP's priests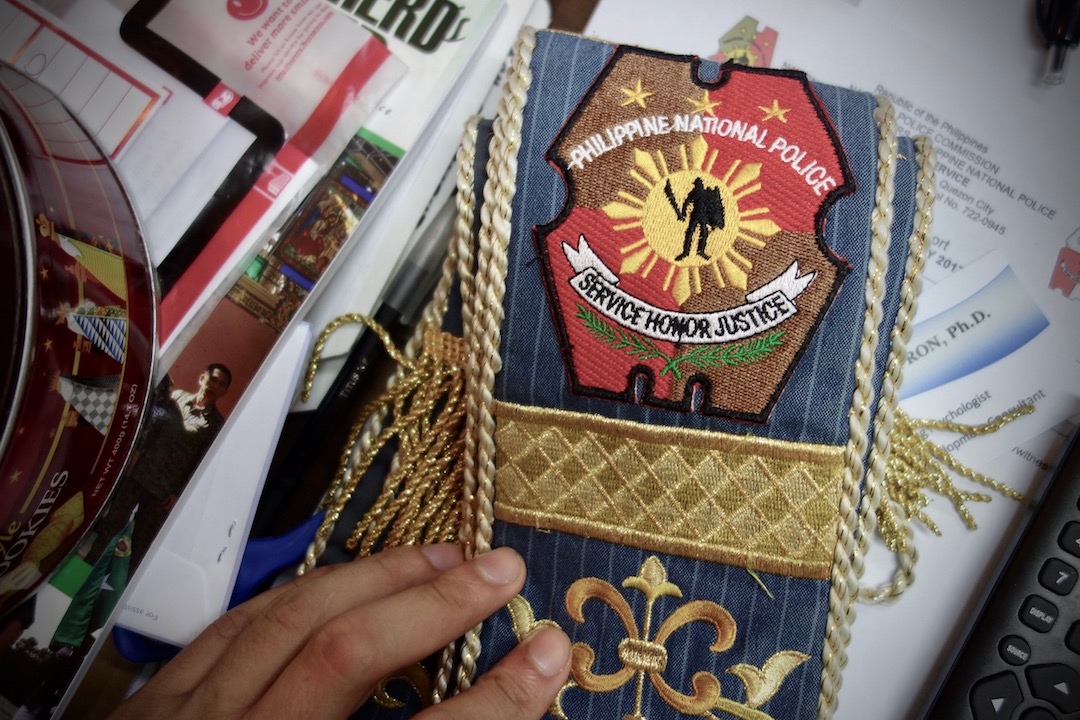 Ortizo is the head of the PNP Chaplain Service (CHS), a group of 21 cop-priests nationwide who consider themselves as "shepherds" of the 190,000-strong police force.
Their mission: "moral and spiritual transformation" of all cops and their families.
Founded in 1992, their office administers all the sacraments, from the baptism of cops' children to the final blessing of dying policemen. They also have an imam and evangelical priests to cater to cops who subscribe to Islam or Evangelicalism.
The cop-priests of the CHS double as counselors to cops, hearing out problems that range from family feuds to bankruptcy to the restlessness that stems from killing a suspect in an operation.
Most cops they talk to seek prayers for police operations and programs.
When there's a major police operation, say a big-time mission that leads to 32 deaths, they pray for the cops beforehand.
When the PNP receives generous donations, they devote these to God in prayer. When an office gets disbanded due to controversy, they offer Mass for consolation.
When retiring generals leave, they read a prayer of farewell. When tragedy strikes the PNP, such as a botched operation that leaves 44 elite cops dead, they bless the bodies.
Cops ask for prayers all the time, Ortizo said, because they constantly live with both pain and uncertainty.
"Ang mga kalaban natin hindi kilala eh at hindi natin alam kung kailan ang krimen mangyayari, hindi natin alam kung merong masamang mangyayari (We do not know our enemies, we do not know when crime will strike, we do not know when something bad will happen)," he said.
"So we are always on the watch, and of course we can do that best by asking the divine guidance of our Heavenly Father."
Where loyalty lies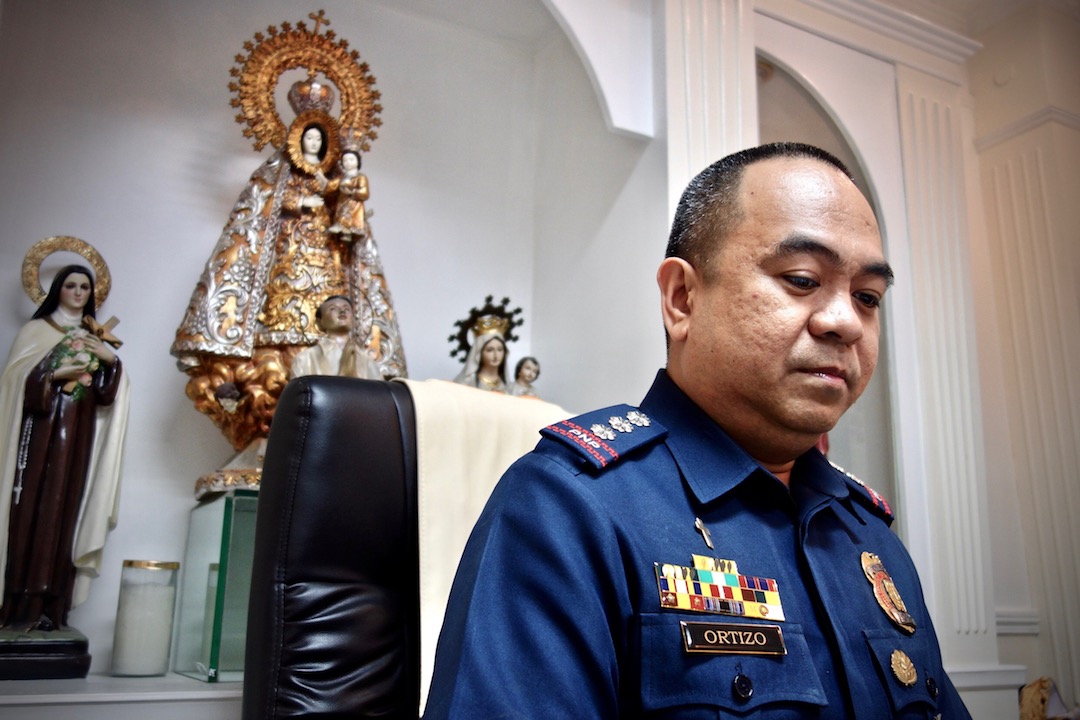 Ortizo's office smells of incense, appearing more like a sacristy than a PNP official's base. 
Instead of putting portraits of presidentially-mandated Filipino heroes on the wall behind his desk, he installed statues of saints and 3 images of the Virgin Mary behind him.
A caricature figure of PNP chief Ronald dela Rosa provides a break in the backdrop, standing only up to the saints' toes, smiling with his right fist pressed onto his chest. Pope Francis' portrait hangs on the left wall.
Choosing to become both a cop and a priest means fulfilling two promises: an oath to serve the Filipino people, and a covenant with God.
Fulfilling both promises has not been a problem for Ortizo. He's torn, however, since the Catholic Church and the PNP have not exactly been chummy, especially since the drug war erupted.
He said he understands the criticism of his brothers from the Church, but he still sides with his comrades in the police force.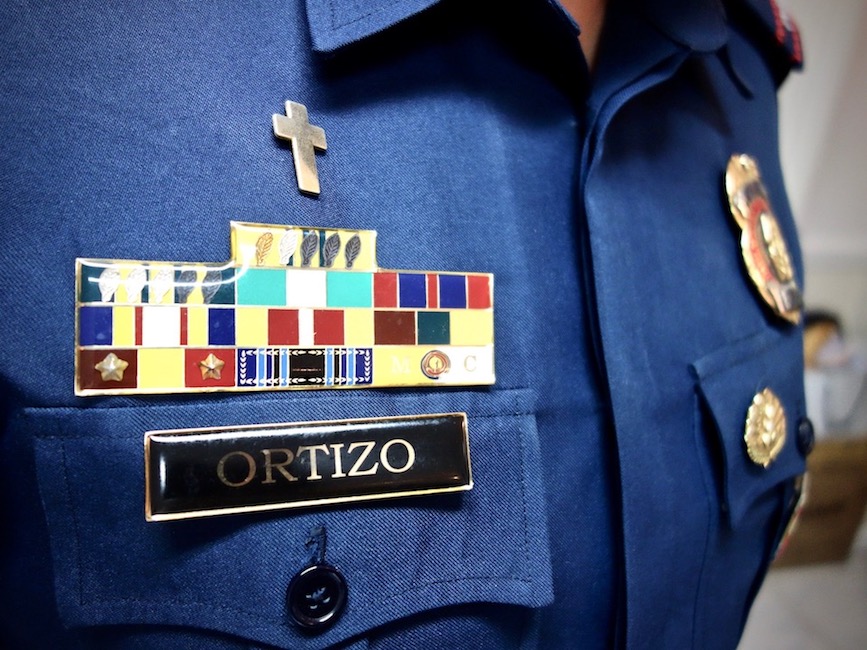 His non-PNP Church colleagues, he said, simply don't understand the dangers of patrolling out in the field, shooting it out with suspected criminals, and fearing for your life. Ortizo and his men have never been operatives, but cops who conduct operations tell them how it's like.
"'Yung masakit doon 'yung ina-allege na PNP ang gumawa ng extrajudicial killings, parang merong patayan, kapag may patayan, ang pulis talaga ang sinususpetsahan," Ortizo added.
(It hurts that they allege that the PNP is behind the extrajudicial killings, like when there are killings, police are made suspects.)
He reconciled the 5th commandment, "Thou shall not kill," with killings in operations. The killings by police, said Ortizo, should be understood in the context of their duty to ensure public safety and fight criminality.
"Sana talaga wala nang patayan. 'Yan naman ang gusto natin kasi for either side, police or criminal  (We really want that there would be no killings. We want that for either side, police or criminal)," he added.
But with streets still filled with drug suspects who supposedly fight back, "merong mga situations talaga na mangyayari na hindi natin mapigilan (there are really situations that we cannot prevent)," he said.
To bridge the gap between the two institutions, he said the CHS is brokering a dialogue between top leaders of the Church and the PNP.
He does not completely reject the criticism of non-police priests, however, admitting that cops do make fatal mistakes, and scalawag cops still abound in the uniformed service.
'Kulang pa sa dasal'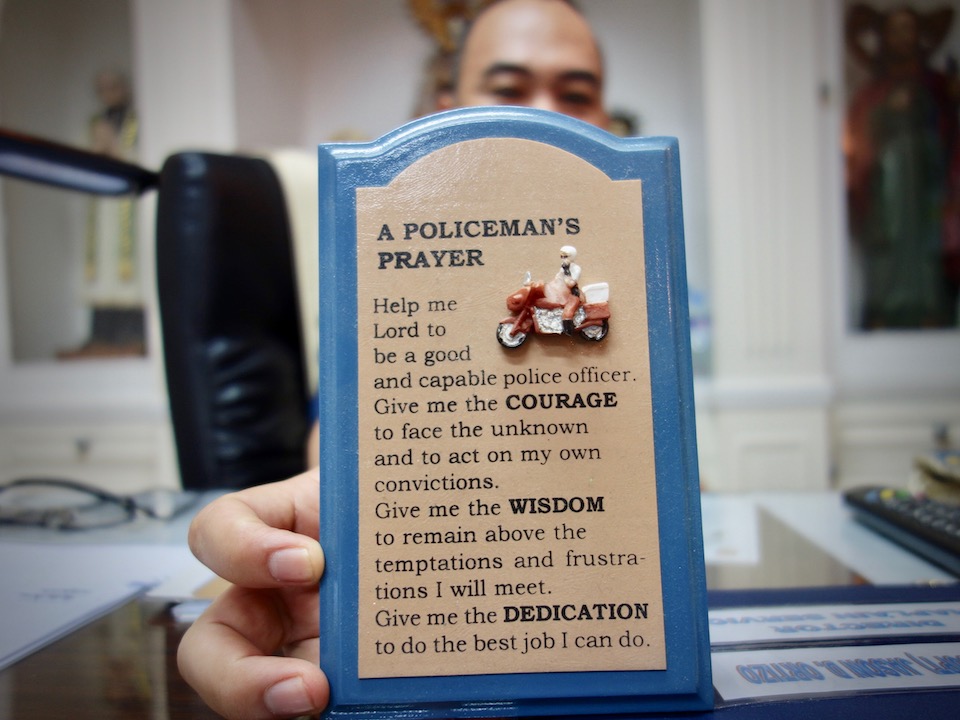 2017, as Ortizo has come to know, has been a year packed with trouble for the PNP.
In January, it was revealed that South Korean businessman Jee Ick Joo had been murdered right inside Camp Crame in late 2016. The killing led to the suspension of the PNP's campaign against illegal drugs, which eventually resumed.
Come May, homegrown terrorists ignited war in Marawi City, a bloody battle fought and later won by soldiers and police. While the war raged on, teen killings at the hands of Caloocan City cops sparked national outrage in August. By September, all the city's cops had been sacked from their posts.
Despite criticism from human rights watchdogs here and abroad, deaths continued in the police's war on drugs throughout the year.
With every controversy, the CHS stormed the heavens with prayers, but problems kept coming.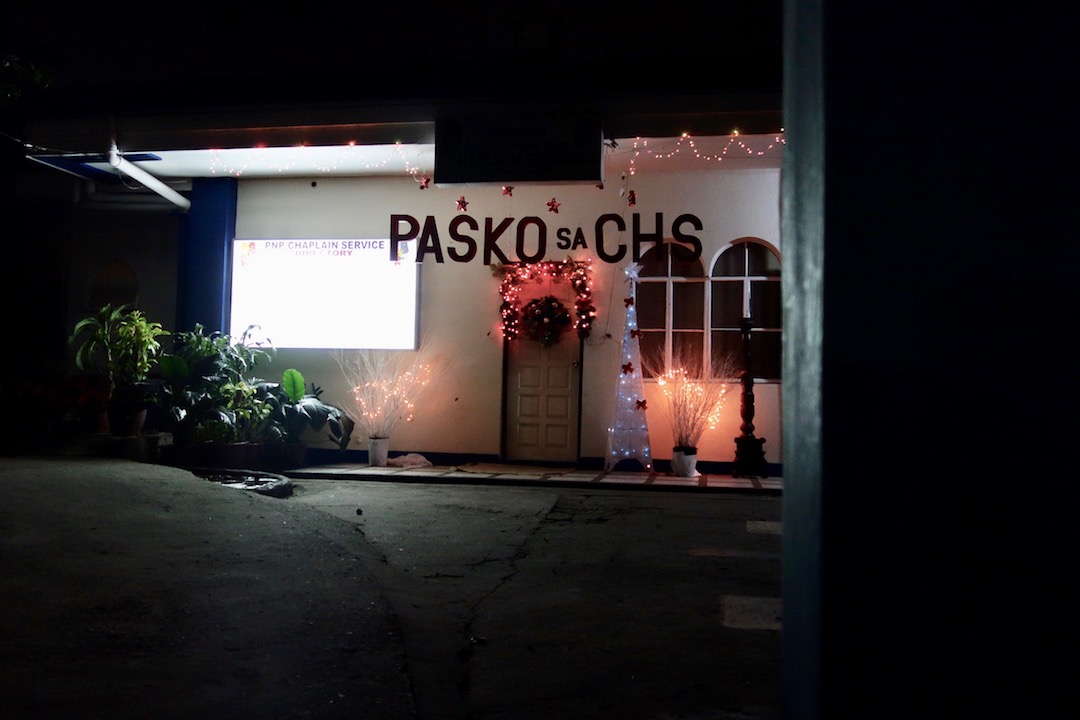 For Ortizo and the reverend cops of the CHS, the failures and misfortunes of their comrades seem to mean they must pray harder.
"Somehow kung may failure ay parang sabihin namin kulang ata 'yung dasal natin, kasi hindi effective. Marami pa sa ating mga pulis ang nagkakamali," Ortizo said.
(Somehow when there's failure, we say that perhaps we lacked in prayers because they weren't effective. Many in the police force still commit mistakes.)
Asked whether their vocation and faith are ever tested while working for the PNP, Ortizo replied: "This is part of being a missionary. The more you will pray for these people, the more challenges in this kind of organization, the more that you are inspired to pray for them."
Facing pews of policemen and bathed in light from a yellow chandelier, Ortizo spoke of sacrifice in his homily for Simbang Gabi.
He quizzed the audience about what genuine sacrifice means, then answered his own question.
"Just like Mary and Joseph [before the] first Christmas, it was a Christmas filled with sacrifices. So ano ang sacrifice na para ibigay natin? (So what is sacrifice for us?) [According to] Mother Teresa, 'Give until it hurts.' Do not ask what [you] can receive. Think [about] what you can give," Ortizo said. – Rappler.com