'I wish to assure my prayers for the population of Mindanao in the Philippines,' Pope Francis says on Christmas Eve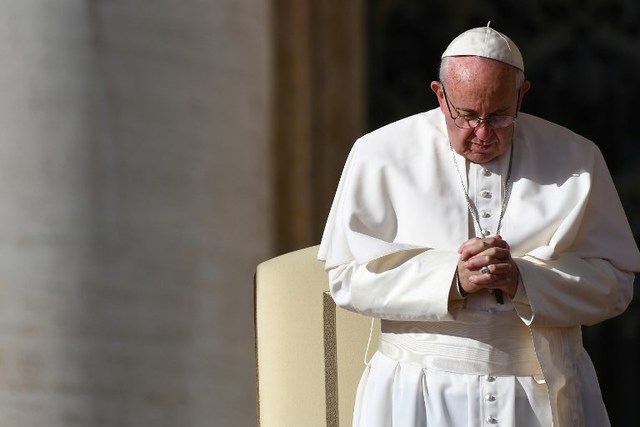 MANILA, Philippines – Pope Francis assured his prayers for victims of Typhoon Vinta (Tembin) in the Philippines as thousands of Filipinos observe Christmas Eve on Sunday, December 24, while reeling from a deadly storm.
"I wish to assure my prayers for the population of Mindanao in the Philippines, which has been struck by a storm that has caused numerous victims and much destruction," Francis said in his remarks after his weekly Angelus prayer on Sunday.
"May the merciful Lord receive the souls of the dead and comfort those who are suffering from this disaster," the Pope added.
Vinta killed at least 200 people and forced 70,000 others out of their homes, in a predominantly Christian country where Christmas is a major holiday bringing families together. 
One of the places hit hardest was the mountain village of Dalama, which was virtually wiped off the map as rampaging floodwaters carried away 103 houses. 
Vinta struck less than a week after Tropical Storm Urduja (Kai-Tak) left scores dead and more than 20 missing in the central Philippines, straining the disaster-prone nation's already stretched resources.
The deadliest typhoon to hit the country is still Yolanda (Haiyan), which killed thousands and destroyed entire towns in heavily populated areas of the central Philippines in November 2013. 
When the Pope visited the Philippines in January 2015, he also consoled victims of Yolanda, telling them, "I am here to be with you. A little bit late, I have to say, but I'm here." – with reports from Agence France-Presse / Rappler.com
If you want to help those affected by Vinta or if you have reports about their humanitarian needs like temporary shelter, relief goods, water, and hygiene kits, post them on the Agos map, text to 2929 (Smart and Sun), or tag MovePH on Twitter or Facebook. You may also link up with other organizations that called for donations.