Phelim Kine, Human Rights Watch deputy director for Asia, says this move is a weaponization of state regulatory processes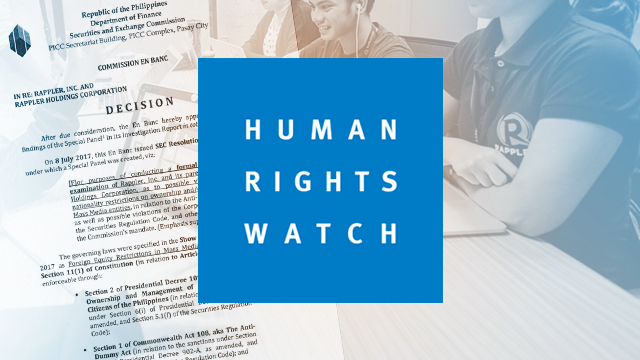 MANILA, Philippines – Human Rights Watch (HRW) called the Securities and Exchange Commission's (SEC) move to revoke the registration of news organization Rappler as a "profoundly disturbing development" against press freedom in the Philippines.  
In an interview with Rappler on Monday, January 15, Phelim Kine, HRW deputy director for Asia, said that the move is "nothing less than a politicized attack" that made use of state regulatory processes.
"What we're looking at here is nothing less than a politicized attack on a critical media voice in the Philippines using the pretext of alleged foreign ownership," he said. "To a certain extent, this is a weaponization of state regulatory processes to undermine and to stifle media freedom. 
In a decision, the SEC said Rappler violated constitutional restrictions on ownership and control of mass media entities because of funds coming from Omidyar Network, a fund created by eBay founder and entrepreneur Pierre Omidyar. (READ Rappler's statement: Stand with Rappler, defend press freedom)
A PDR is a financial instrument that does not give the owner voting rights in the board or a say in the management or day-to-day operations of the company. Several large Philippine companies, including media companies, have PDRs.
The SEC investigation was ordered by the Office of the Solicitor General, which wrote the agency on December 14, 2016, to investigate Rappler over its PDRs.
Duterte and his allies have consistently threatened media in the country. This recent move against Rappler can be seen as an extension of these threats, according to Kine, adding that "attacks on the press and freedom is usually the tactics of authoritarian and dictatorial government."
Kine also warned against a chilling effect in other media outlets when it comes to covering controversial issues under the Duterte administration – particularly the bloody war on drugs.
"This could have profoundly negative impact in terms of stifling media freedom and encouraging self-censorship amongst media outlets that will be fearful of reaping the wrath of the Duterte government," he explained. 
The public and other media outlets should continue working together to help counter further threats against press freedom in the Philippines.
"People should be outspoken about this and second, we need solidarity among media outlets to make clear that they are shoulder to shoulder with Rappler in terms of facing down this government threat that could possibly turn out the lights and shut Rappler in the worse case scenario," Kine said. – Rappler.com