UNA Secretary General Toby Tiangco says the party is concerned that the issue came after UNA leaders, among them Senate President Enrile, expressed their full support for Cebu Governor Gwen Garcia, another UNA leader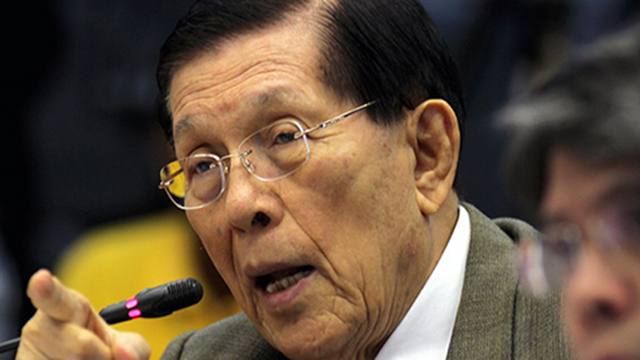 MANILA, Philippines – It's the political season once again. And political exchanges, squabbling, and accusations are as commonplace as gifts on Christmas Day.
On Saturday, the United Nationalist Alliance (UNA) said that like the suspension of Gwen Garcia as Cebu governor, the eruption of the "cash gifts" controversy involving Senate President Juan Ponce Enrile may be part of moves by the administration to consolidate power in the upcoming elections.  
UNA defended Enrile, who is facing criticisms for his distribution of "cash gifts" worth P1.6 million to 18 senators. Enrile is a member of the UNA Executive Committee. 
UNA Secretary General Toby Tiangco said the allegations were "baseless and can be safely dismissed as pure political grandstanding," considering that  Commission on Audit chair Grace Pulido Tan has admitted herself that the distribution of additional funds was legal. 
In a statement Thursday, January 10, Tan said that the General Appropriations Act 2012 or the budget law authorizes  the Senate President and the House Speaker "to augment any item in the general appropriations law for their respective offices from any savings in other items of their respective appropriations."
Provocative
Tiangco said there are "certain parties" who will use the issue to spark a leadership change in the Senate and warned this move will
 be "ill-advised and politically provocative."
"It will be seen by the people as another attempt to consolidate political power in preparation for the 2013 and 2016 elections, even at the expense of the Senate's independence," Tiangco said in a statement. 
There have been persistent rumors of an alleged plot to oust Enrile as Senate President, which the Liberal Party has denied.
In a Philippine Daily Inquirer article, an unnamed senator said the distribution of P1.6 million in checks — which excludes 4 senators, who are either Enrile's critics or members of the Senate minority — could be interpreted as a bribe to prevent Enrile's ouster. The additional funds were supposed to be "additional MOOE" or maintenance and other operating expenses for the senators. Excluded were senators Miriam Defensor Santiago, Alan Peter Cayetano, Pia Cayetano and Antonio Trillanes IV.
UNA expressed concerns that the "apparent attempt to malign the character" of Enrile came after the senator, along with fellow UNA bigwigs Vice President Jejomar Binay and former president Joseph Estrada, visited Garcia, who remains holed up in the Cebu capitol in protest of her suspension. 
"We hope that this is not part of a sinister smear campaign against UNA leaders for standing up against political harassment, the abuse of power, and disregard for the rule of law and due process," Tiangco said. – Rappler.com