Duterte will come to Santa Ana town for the wrecking of the cars on Wednesday, March 14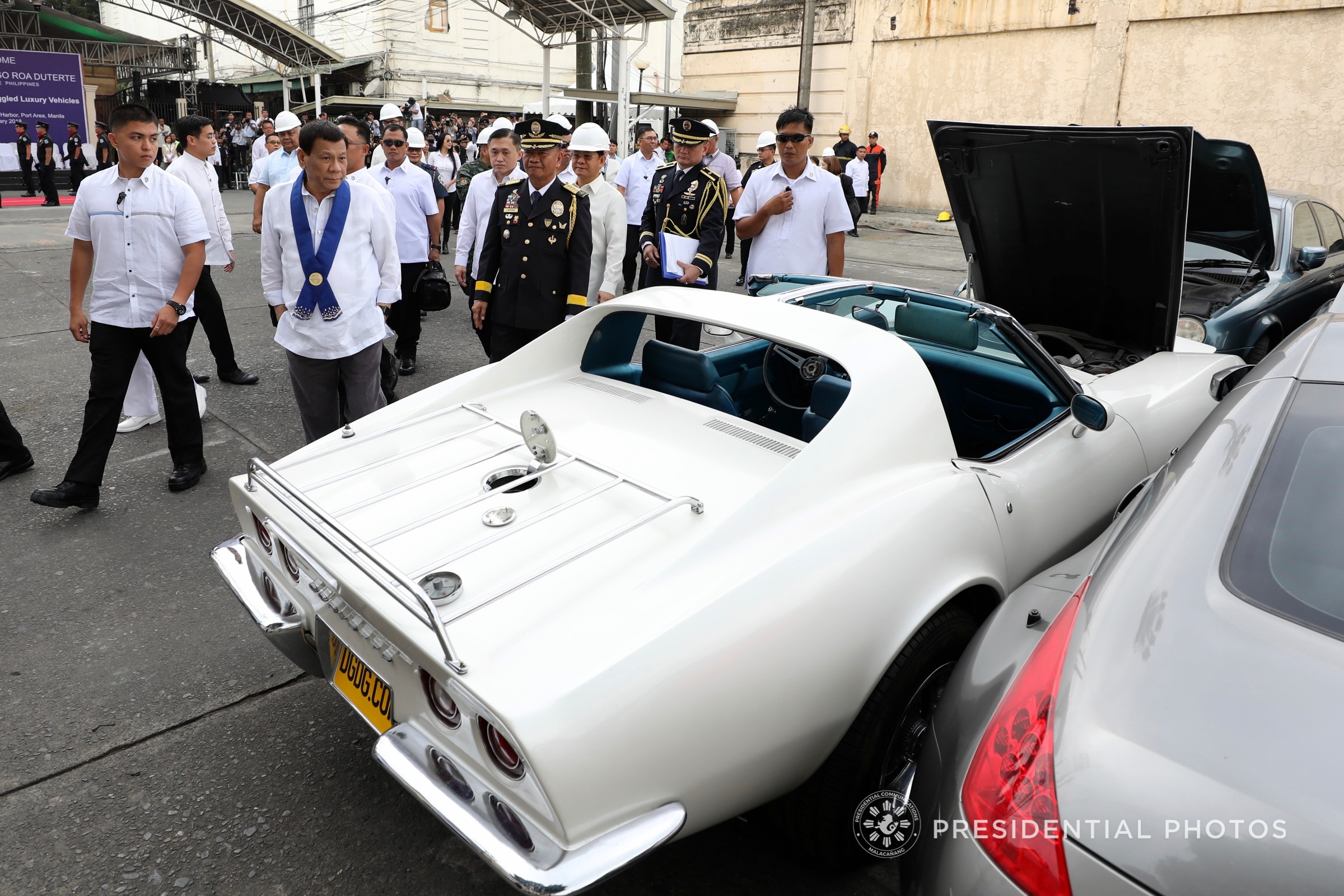 CAGAYAN, Philippines – President Rodrigo Duterte will fly to Cagayan province next week to personally watch the wrecking of illegally imported luxury cars at the freeport.
In an interview on Friday, March 9, lawyer Raul Lambino, Cagayan Economic Zone Authority (CEZA) administrator and CEO, confirmed Duterte will come to Santa Ana town on Wednesday, March 14.
"Yes, [he will come]. We are closely coordinating for this," Lambino told Rappler.
Duterte earlier said he will buy a new bulldozer for the wrecking of imported cars in CEZA freeport.
"Dito sa CEZA puro bago. 'Yung hinahanap ninyong Aston Martin, nandiyan 'yan. Next week puntahan ko 'yan," Duterte said during his 145th anniversary celebration of Tarlac on Wednesday, March 7.
(It's all new here in CEZA. You're looking for Aston Martin, it's there. I will go there next week.)
"Magbili rin ako ng bagong bulldozer dito. Sagasaan ko lahat 'yan. Wala nang import-import," he added.
(I will buy a new bulldozer and destroy all of them. No more imports.)
Lambino said a total of 14 luxury cars imported by First Cagayan will be wrecked during the visit of the President.
For these cars, Lambino said First Cagayan did not contest when CEZA issued orders to seize and condemn the luxury vehicles. "When we issued order to seize this vehicles, they have not contested our order. They practically abandoned it already. So our decision of condemnation has become final and executory," Lambino said.
Delayed wrecking of 800 cars
Lambino also revealed they could not yet destroy more than 800 cars as its importers, Fenix Philippines, appealed to CEZA's board.
"We have already made our decision to seize and condemn these vehicles, but they appealed decision to the CEZA board, pursuant to our guidelines, so they are being represented by PECABAR Law Firm," he said.
The partners of PECABAR Law Firm, according to their official website, are former Senate President Juan Ponce Enrile, and other top lawyers Jesus M. Manalastas, Eleazar B. Reyes, and Joseph B. Sagandoy.
Fenix contested that the import was valid because these were covered by import permits issued by the previous administration of CEZA.
Lambino said they will give due process to Fenix's position as they are set to discuss the latter's appeal in their board meeting on March 16.
He, however, stressed that the government's position was to wreck these imported cars since they entered the country as illegal items.
"Our position was very clear that this importation was illegal because it is in violation of the government's policy, to protect our car manufacturing interests in the country," Lambino said.
"And there was an executive order to this effect issued by then President Gloria Macapagal Arroyo prohibiting the importation of secondhand vehicles in the country," he added. – Rappler.com