Aguirre often taps the NBI – an agency attached to the DOJ – to conduct comprehensive case buildups in many high-profile cases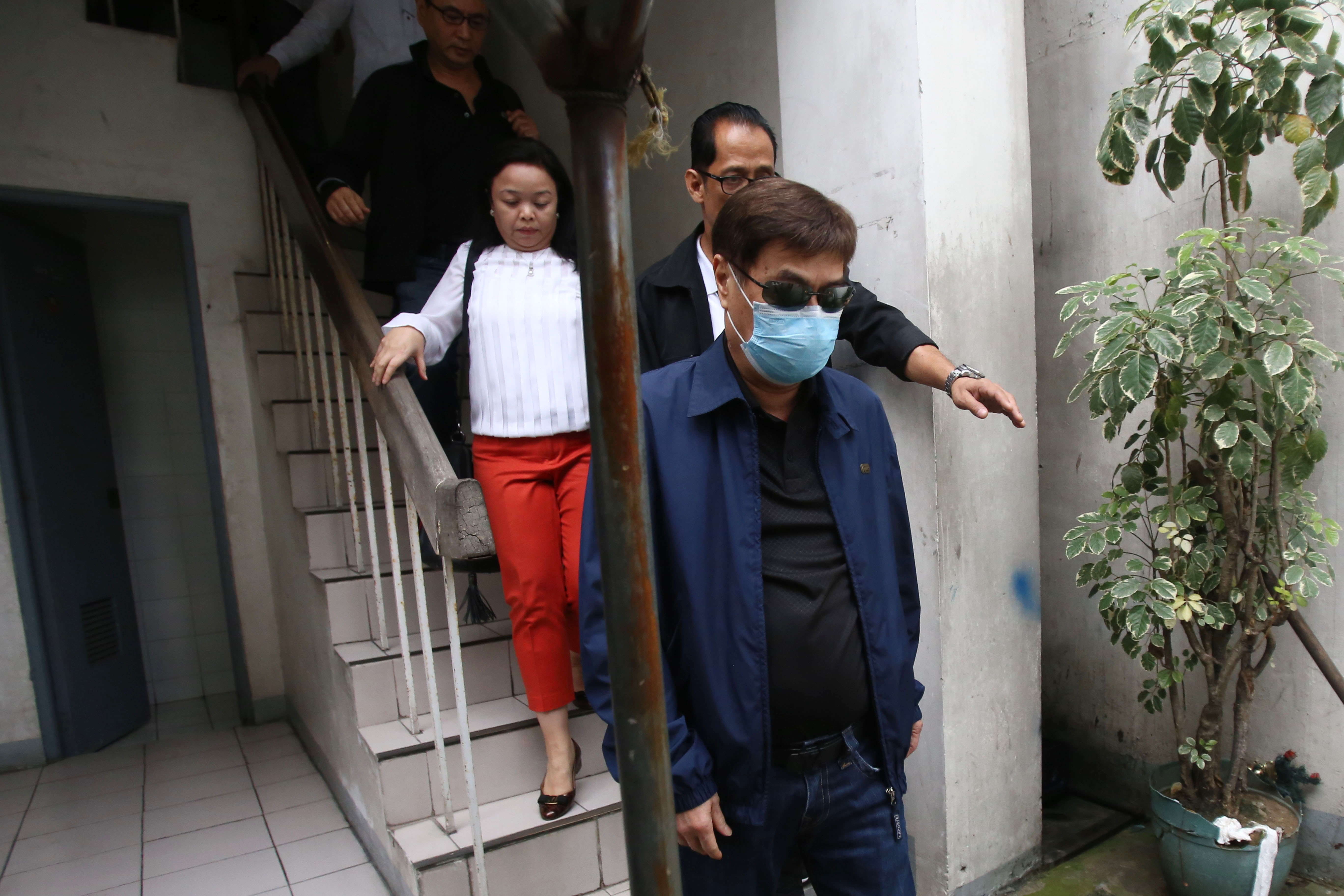 MANILA, Philippines – On July 15, 2016, President Rodrigo Duterte met with Cebu-based businessman Peter Lim whom he had publicly accused as a drug lord. Lim denied the allegations, but Duterte told him one thing: Go to the NBI [National Bureau of Investigation] and prove it.
Police Criminal Investigation and Detection Group (CIDG) Director Roel Obusan said on Wednesday, March 14, however, that the NBI was not involved in their investigation into Lim for drug trading and conspiracy.
"Wala kaming cooperation dito, si (Marcelo) Adorco ay sa amin at binuo namin ito, hindi naman ito operation. Hindi ako nag-seek ng assistance sa kanila (We did not have cooperation here, Marcelo Adorco is our witness and we built this up and this is not an operation. I didn't seek assistance from them)," Obusan said in a press conference on Wednesday.
Justice Secretary Vitaliano Aguirre II also said on Tuesday, March 13, that it's unnecessary to involve the NBI for now.
"Since it is the CIDG which filed this case, hindi pa siguro dapat pumasok ang NBI (the NBI shouldn't probably be involved yet)," Aguirre said.
The media learned on Monday that a panel of prosecutors from the Department of Justice (DOJ) dismissed drug trade and conspiracy charges against Lim and alleged Visayan drug lord Kerwin Espinosa on December 20, 2017.
Why is the NBI important?
The DOJ panel cleared Lim and Espinosa due to weak evidence, describing as "unworthy of consideration" the inconsistent testimonies of police witness Marcelo Adorco.
Adorco is Espinosa's bodyguard and runner, who confessed to getting supplies of shabu from Lim on 6 occasions.
The DOJ panel said inconsistencies in dates, places, and other details in Adorco's statements leave them no choice but to dismiss the charges. Aguirre has always insisted that it's not a prosecutor's job to hunt for evidence.
If not the prosecutors, however, Aguirre has the NBI under him which he has utilized in the past to conduct comprehensive case buildups. In fact, Aguirre tapped the NBI then to investigate Senator Leila de Lima. The NBI's complaints prospered at the DOJ and got the senator jailed.
Aguirre likes to use this power, issuing Department Orders (DOs) for NBI investigations in several cases involving the Dengvaxia controversy, the Disbursement Acceleration Program (DAP), former president Benigno "Noynoy" Aquino III, and even Rappler.
On Wednesday, Aguirre issued a DO authorizing the NBI to investigate the panel of prosecutors which cleared Lim and Espinosa. He is yet to show a DO which authorizes the NBI to investigate Lim and Espinosa.
Where is the NBI in the war on drugs? 
In 2017, a DOJ panel also cleared former Customs commissioner Nicanor Faeldon in the P6.4-billion shabu shipment case, setting aside testimonies made in a Senate investigation that linked him and other Customs officials.
Aguirre explained that the NBI could not be involved because President Rodrigo Duterte signed a memorandum assigning the Philippine Drug Enforcement Agency (PDEA) as the sole agency in the war on drugs.
Aguirre said that once Duterte brings back other agencies to the war on drugs, he would issue a department order (DO) so the NBI could be given a role.
Where's the Department Order?
On December 6, 2017, Aguirre issued the DO that brought back the NBI's investigative powers in the campaign against drugs.
That DO, however, appears to be general only and does not automatically apply to every case.
"I am issuing DOs to investigate illegal drugs on a case to case basis," Aguirre said on Tuesday.
The NBI has not yet responded to our queries as of this writing.
Can the NBI and police work together? 
They have in the past, such as the Kae Davantes murder in 2013.
"At times we investigate on the same concern, at times we coordinate and seek assistance from one another…(but in this case) we did not seek assistance from them," Obusan said.
Under the law, the NBI is also empowered to investigate "on its own initiative and as public interest may require."
The NBI is in some way involved in the case because in December 2016, they took over custody of Espinosa from the Philippine National Police (PNP). He was also placed under provisional witness protection program (WPP).
Aguirre said then that for Espinosa to be fully admitted to the WPP, he has to execute another affidavit. This was expected to complement his earlier affidavit on the now-abolished Anti-Illegal Drugs Group (AIDG) where he detailed everything he knew about drug operations.
According to Obusan, however, Espinosa no longer cooperated during the prosecution's preliminary investigation.
"Ang expectation ko nun kapag tinawag na siya, when in truth and in fact, tinawag siya, ay magsasalita siya. To my dismay, si Kerwin hindi nagsalita (My expectation then was, when he would be called, when in truth and in fact, he was called, he would talk. To my dismay, he didn't talk)," Obusan said.
The preliminary investigations started in August 2017. Obusan said that as early as September 2017, he wrote Aguirre a letter raising concerns about Espinosa not being cooperative when he was supposed to be a government witness.
Did Aguirre reply? Obusan turned to his subordinates who told him, "Walang reply (no reply)." Obusan turned to the microphone and said: "Wala pa raw reply, baka meron na hindi ko lang nakita (There's been no reply yet, but maybe there was, which I just didn't see)."
"If Kerwin is changing (statements), what's the use of having him as a witness and enjoying the privileges, if ever, in the witness protection program?" Obusan asked.
Justice Undersecretary Erickson Balmes confirmed on Wednesday that Espinosa is still under the WPP.
What now?
Aguirre has created a separate panel of prosecutors that would resolve the CIDG's motion for reconsideration. Peter Lim remains free.
Espinosa remains in jail on separate drug and firearms charges that stemmed from a raid in 2016.
Police chief General Ronald dela Rosa said they "will use all legal remedies to make sure they are held liable." President Rodrigo Duterte said he will review the case himself if the DOJ dismisses the motion again.
Lim, who mingles with Cebu City's political and business elite, "surrendered" himself to Duterte in July 2016 in Davao City after the President publicly callled out a "Peter Lim" as a drug lord.
Lim denied he was that Peter Lim, but the CIDG said he is the same person.
Lim has been spotted attending the same parties in Cebu City in 2016 with Duterte also present. – with reports from Rambo Talabong/Rappler.com