Comelec tries to put an end to creative ways of going around advertising limits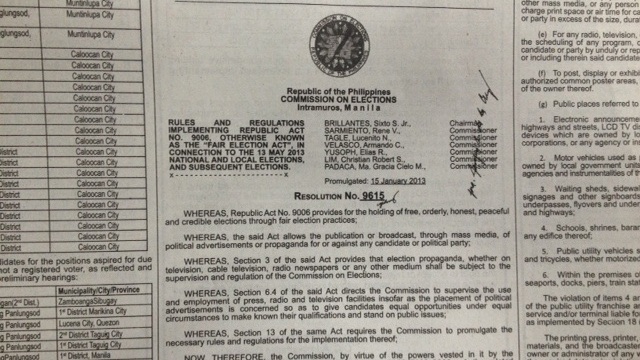 MANILA, Philippines – There's no going around it anymore, candidates. The Commission on Elections (Comelec) is putting a stop to the creative ways of candidates who try to get media exposure beyond prescribed airtime limits.
Comelec will begin counting the minutes on February 12, the start of the official campaign period, up to May 11. Each candidate is allowed 120 minutes of advertising in all TV networks and 180 minutes in all radio networks.
Comelec chairman Sixto Brillantes Jr conceded that they are helpless outside the campaign period, but he guaranteed that they will be strict starting February 12.
1. No more free rides in TV shows
For example, TV and radio appearances offered to a privileged few will now count as political advertisement and will be deducted from candidates' advertising minutes, based on a new resolution issued by the Commission on Elections (Comelec).
Comelec Resolution 9615 expands the definition of "political advertisement" to media appearances in shows that are not covered by the Comelec hour. (TV networks are asked to grant a Comelec hour to all candidates to provide them equal media exposure.)
The resolution reads: "In broadcast media, political advertisements may take the form of spots, appearances on TV shows and radio programs, live or taped announcements, teasers, and other forms of advertising messages or announcements used by commercial advertisers."
The exemptions are "bona fide newscast, bona fide news interview, bona fide news documentary, if the appearance of the candidate is incidental to the presentation of the subject or subjects covered by the news documentary."
To determine whether a guesting is allowed, broadcast stations must seek prior approval from Comelec and that "candidates [are] afforded equal opportunities to promote their candidacy."
2. No more riding on party-list groups' airtime
Political parties are also entitled to 120 minutes of airtime during the campaign period. In the past, however, voters would see party-list groups suddenly airing commercials to endorse presidential and senatorial candidates.
These, too, will now be deducted from the airtime of the candidates they endorse.
The resolution is clear: "In cases where 2 or more candidates or parties… are displayed or exhibited… in the broadcast election propaganda… the length of time during which they appear or are being mentioned or promoted will be counted against the airtime limits allotted for the said candidates or parties and the cost of the said advertisement will likewise be considered as their expenditures."
"Airtime-sharing is very clear. We've seen how senatorial candidates have taken advantage of the airtime of the party-list groups. They can still do that but those ads will be counted to both party-list group and the senatorial candidate," explained Brillantes.
3. No biographies, movies
Among the prohibited forms of election propaganda under the new resolution are movies or documentaries "portraying the life or biography of a candidate, or in which a character is portrayed by an actor or media personality who is himself a candidate."
But it means biographies that show relatives of candidates will be allowed. These TV shows have helped candidates in the past.
In the 2004 senatorial elections, the come-from-behind victory of Sen Pia Cayetano was partly attributed to the Maalaala Mo Kaya episode on his father, the late Rene Cayetano, that was aired a few days before election day.
In the 2010 presidential elections, President Aquino is believed to have benefited from the many documentaries on his mother, the late President Corazon Aquino, who died a few months before the elections. Presidential candidate Manuel Villar himself had a Maalaala Mo Kaya episode that featured his mother.
4. Candidates' 'Right to Reply'
The Comelec resolution retains the controversial "Right to Reply," which forces media networks and publications to air or publish their side on issues where they feel they were aggrieved.
Media outlets are also compelled to give the candidates' "reply" the same exposure as the first story. A similar legislation is pending before Congress, which media groups have been vigorously opposing.
The resolution reads: "All parties and bona fide candidates shall have the right to reply to charges published or aired against them. The reply shall be given publicity by the newspaper, television, and/or radio station which first printed or aired the charges with the same prominence or in the same page or section, or in the same time slot as the first statement." – Rappler.com
More of Rappler's 2013 election coverage, #PHVote 2013: