This is AI generated summarization, which may have errors. For context, always refer to the full article.
'Our task now is to restore your homes and spirits,' says the general in charge of rescue, relief and rehabilitation efforts in Compostela Valley and Davao Oriental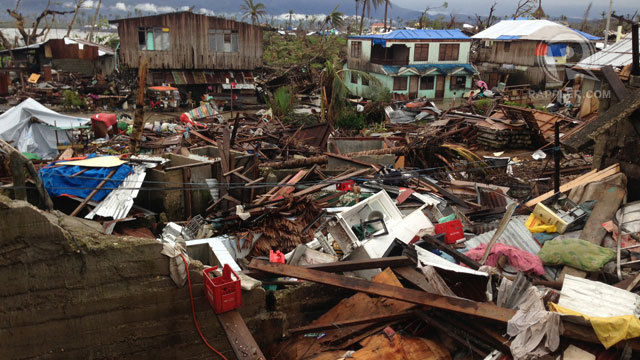 MANILA, Philippines – The military has shifted its work from rescue and relief to helping victims of Typhoon Pablo rebuild their lives in Compostela Valley and Davao Oriental.

Lt Gen Jorge Segovia, commander of the Eastern Mindanao Command based in Davao City, said that a month after Typhoon Pablo, searching for survivors and bodies had become more difficult. He said that soldiers recovered a body and found a survivor last January 12.

"During the initial days of the operations, the synchronized operations yielded significant results as isolated villagers were reached and rescued. Retrieval operations for dead bodies were also fast-tracked as additional military and non-military rescuers join the efforts. Of late, establishing the identity of the recovered bodies
encountered difficulty due to the inevitable decomposition," Segovia said.

Authorities should now shift to support operations to deliver aid and relief to survivors, he added. "In the wake of disaster, our task now is to restore your homes and spirits. We have hope that our restoration efforts will lessen the effects of the tragedy to your families. We have not lost sight of your hope to see your loved ones again. This is why we shall keep a segment of our assets active in monitoring new developments in tandem
with the restoration efforts."
In New Bataan, Compostela Valley, 437 bodies were recovered but only 139 were identified.

A total of 352 fishermen from General Santos City and 47 fishing vessels are still missing. Local authorities earlier said they have stopped the search.

Segovia said: "Fishing owners theorized that the vessels could have been destroyed and sunk by the unusually strong typhoon Pablo. This was somehow substantiated by the testimonies of survivor fishermen who revealed their ordeal and also strongly believes that their missing colleagues could have died and could have sunk together with the sunken vessels," Segovia said.

In its Dec. 25, 2012 report, the National Disaster Risk Reduction and Management Council put the total death toll from Pablo at 1,067 while over 800 are still missing. – Rappler.com
Those who want to help Pablo's victims may do so through SMS. Rappler makes this feature available through its Text to Help campaign.
For more updates on Typhoon Pablo, click the links below: