(UPDATED) The complainants say Uson's propensity for fake news makes her guilty of grave misconduct, serious dishonesty, and conduct prejudicial to the best interest of the service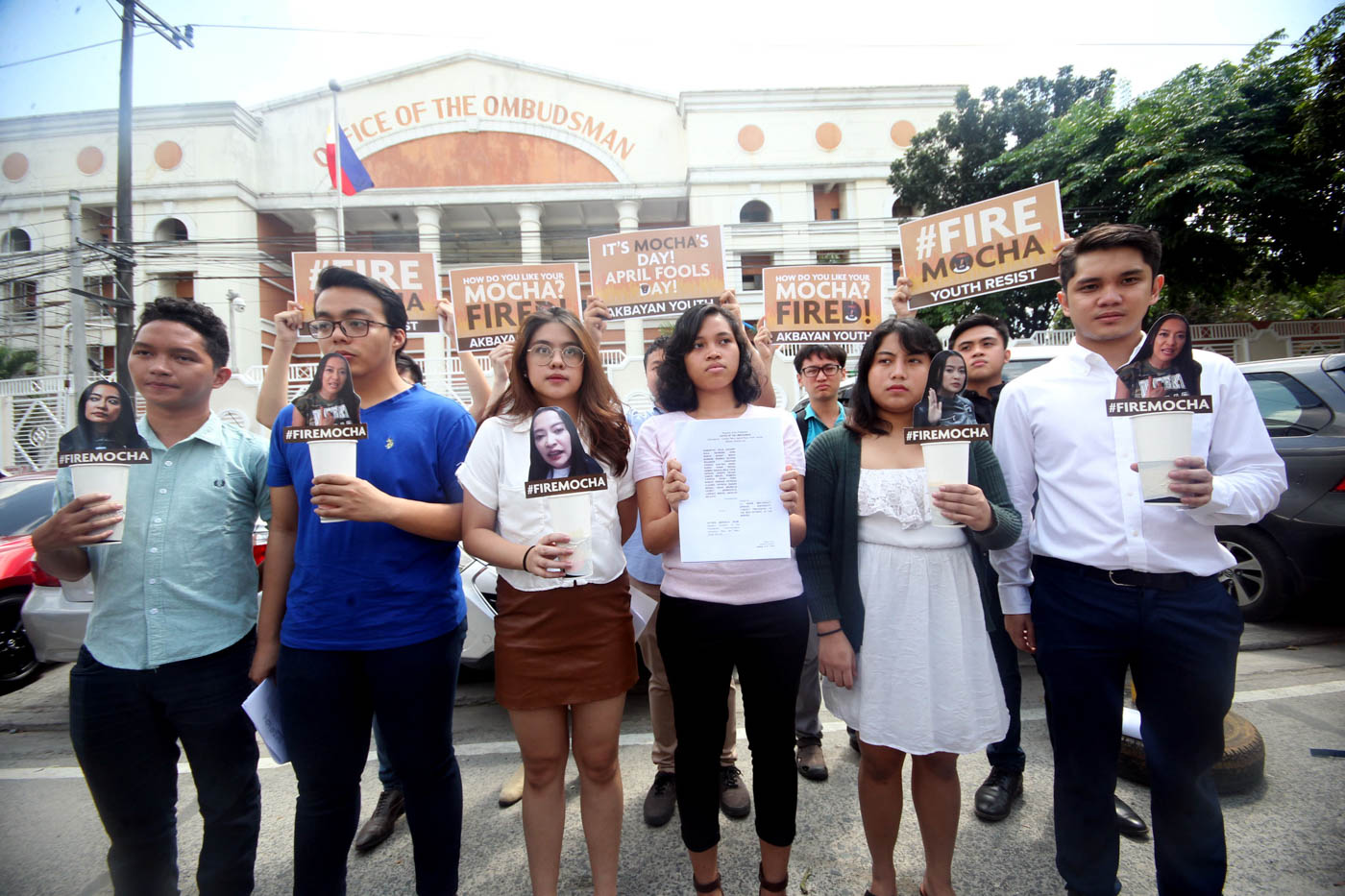 MANILA, Philippines (UPDATED) – Akbayan Youth members filed on Monday, April 2, a complaint against Presidential Communications Operations Office (PCOO) Assistant Secretary Mocha Uson that seeks to dismiss her from office over fake news and disinformation.
The complainants enumerated all the times Uson posted misleading content on her popular Facebook page and called them grounds for removal and dismissal from office.
They allege Uson is guilty of the administrative charges of grave misconduct, serious dishonesty and conduct prejudicial to the best interest of the service. (READ: Mocha Uson: Fake news victim or fake news peddler?)
In a small picket outside the Office of the Ombudsman, the youth group members held cups with a "Fire Mocha" poster above them.
Responding through a video on her Facebook page, Uson, wearing sun glasses indoors while sipping coffee, said, "Nagpapasalamat po ako sa Akbayan youth dahil binigyan nila ako ng idea sa magiging pangalan ng aking coffee shop, ito ay ang Fire Mocha cafe." 
(I thank the Akbayan Youth because they gave me an idea for what to name my coffee shop, Fire Mocha cafe.)
Grounds for dismissal
The incidents cited in their 12-page complaint filed before the Office of the Ombudsman are as follows:
In November 2016, Uson reposted an article saying schoolchildren of St. Scholastica's were forced to join an anti-Marcos rally. The reposting "led to cyberbullying attacks directed against students of St. Scholastica's College," said the complainants.
In October 2017, Uson made a statement citing Article 263 of the Constitution. The Constitution has only 18 articles.

 

 In January 2018, Uson said Mayon Volcano is in Naga, instead of in Albay. "This misinformation caused confusion to Filipinos," the complaint said.
 In August 2017, Uson shared the news of a cop who died and challenged opposition leaders to visit the wake of the cop. The news is a year old. The post was in the context of opposition lawmakers visiting the wake of teenager Kian delo Santos, who was shot dead by cops conducting an anti-drug operation.
 In May 2017, Uson shared a photograph of the Honduran military "to convey misinformation to the effect that the photograph was that of Philippine military forces."
In March 2017, Uson called Vice President Leni Robredo bobo (stupid) at least 5 times.
"Clearly, Uson continues to transgress established and definite rules of action and conduct," the complaint said.
This is not the only complaint pending before the Office of the Ombudsman against Uson. 
In September 2017, Senator Antonio Trillanes IV filed administrative and criminal complaints  against Uson, also over misinformation.
The criminal complaints by Trillanes are graft, cyber libel, and falsification of public documents. – Rappler.com