Senator Juan Miguel Zubiri works out a timeline to fulfill President Rodrigo Duterte's wish to sign the law creating the new Bangsamoro region in June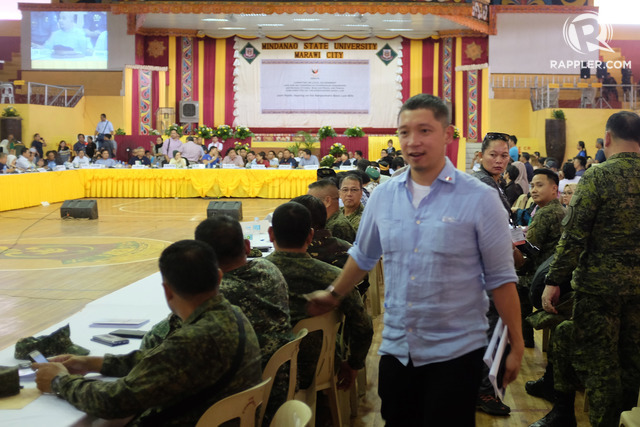 MANILA, Philippines – Mindanaoan Senator Juan Miguel Zubiri is eyeing the Senate passage of the long delayed bill creating a new Bangsamoro region on May 23, the  first anniversary of the bloody Marawi siege. (READ: Lawmakers tell Duterte they'll pass BBL by end of May)
"I will try to pass the BBL (Bangsamoro Basic Law) by the 23rd of May para (so) we have time for a bicam[eral meeting] and ratify it by the last week of work before sine die," Zubiri said on Tuesday, April 3.
The proposed new Bangsamoro region, which will replace and will have more powers than the Autonomous Region in Muslim Mindanao (ARMM), is the implementation of the 4-year-old peace agreement with dominant Muslim rebel group Moro Islamic Liberation Front (MILF). Passing the BBL is among the campaign promises of President Rodrigo Duterte. 
Zubiri, the chairman of the Senate subcommittee on the BBL, is working out a timeline to meet Duterte's wish to sign the BBL into a law in June or a month before his 3rd State of the Nation Address (SONA).
It's tight, especially as Congress is currently on break. It will resume session on May 14 but will soon adjourn for a long break on June 1. The 3rd regular session will convene on July 22, when Duterte will deliver his SONA. 
Zubiri said he will end the period of interpellations on May 21 and immediately start the period of ammendments a day later, May 22. He wants the Senate to approve it on 3rd and final reading on May 23. 
Earlier this year, Zubiri led senators around Mindanao to hold public hearings on the BBL. (READ: Senators to battle-weary Marawi: 'We will pass Bangsamoro law') – Rappler.com